I married a Wisco girl, so I've logged some serious time in Milwaukee. That's not a bad thing.
Recently in the spotlight for winning the NBA title (good job Bucks!) Milwaukee is used to being overlooked due to its proximity to Chicago. However, Milwaukee is worth a visit. It has a long, scenic, ultra-walkable waterfront right on Lake Michigan. The atmosphere is decidedly city, but fairly chill and slow-paced compared to other metros.
And with museums and coffee shops that rival bigger, cities, the parts of Milwaukee you want most to visit are downright simple to navigate— by car or even on foot if the weather is cooperating and you have a few hours to enjoy.
The third ward has great coffee and one menswear gem.
Milwaukee isn't much of a shopping Mecca. But for men's style, there's a nice streetwear spot and a really excellent modern heritage menswear shop. Add that to some really great coffeehouses, and you've got the recipe for a great little layover.
Let's check out one of my favorite neighborhoods— The Third Ward.
Stop 1: Colectivo Coffee
Colectivo was once known as "Alterra", but you don't need to worry about that. This place is like Stumptown to Portland, Starbucks to Seattle, Peets to SF…it's a Milwaukee fixture.
But Colectivo has managed to keep the local flavor. They haven't expanded too far past their roots in The Cream City and surrounding areas.
There are two locations near The Third Ward. One IN the Third Ward, and one in the Fifth Ward (pictured here). This second location is a good spot if you want to sit and read for a bit.
But all the Colectivo locations have a nice, colorful-yet neutral vibe that will please both hipsters and old heads, with good food to boot.visit Colectivo online
Stop 2:  Moda 3
Take a quick walk down the main arcade in the Third Ward and you will reach Moda 3. This has been the best spot to get sneakers in Milwaukee for a long time.
Moda 3 also offers a nice selection of clothing from well-known streetwear brands. And it's the place to get outfitted with limited sports gear for the local pro teams, and even winter gear and snowboards.
I've always liked the vibe in here, (it's hands-off but helpful), and it's a nice space with plenty of room to browse. Moda definitely skews toward the younger customer, but dig around and you'll see there's a little something for everyone here. Visit Moda3 Online
Step 3: Milworks Milwaukee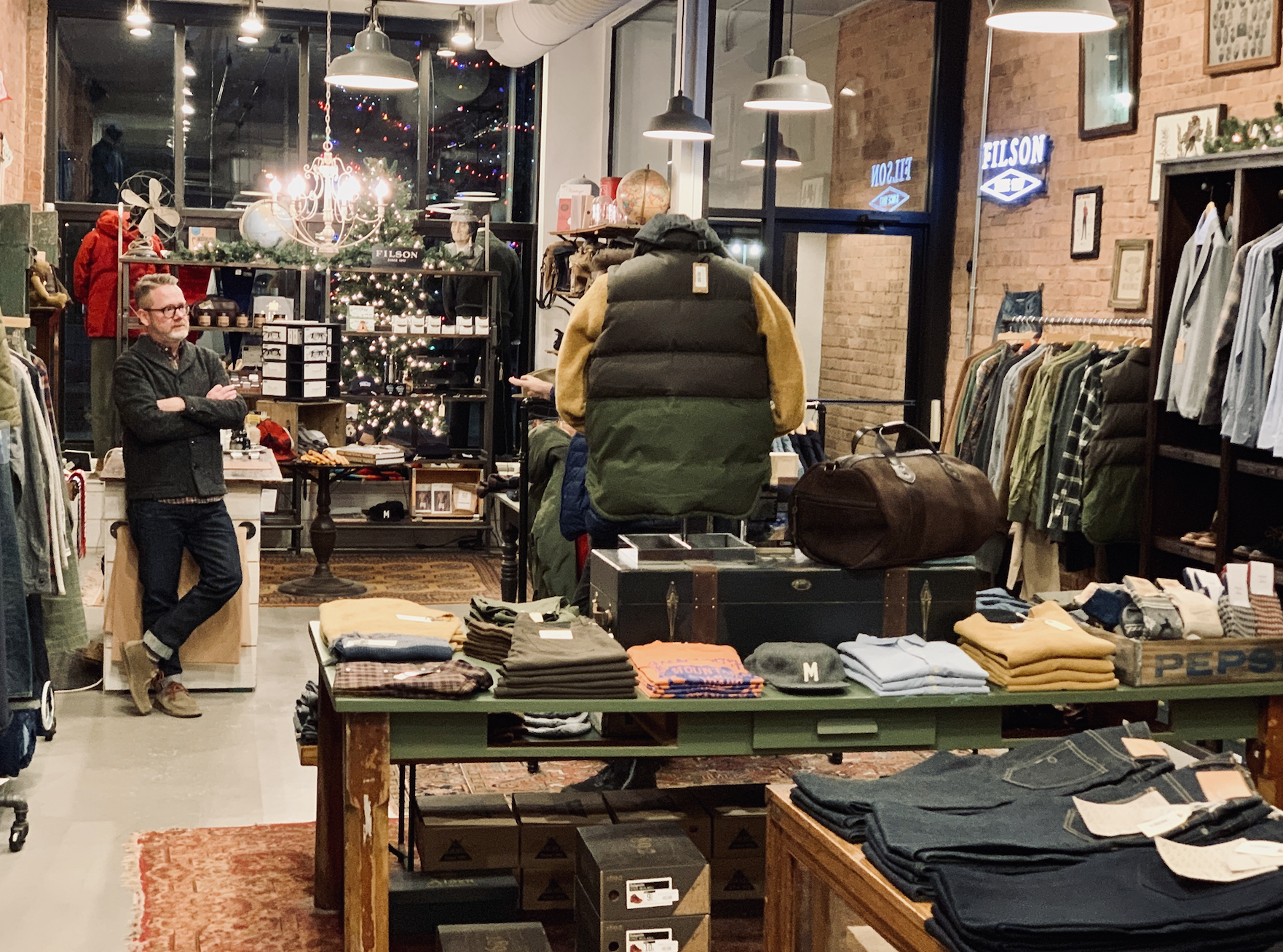 IMO Milworks is one of the best little shops in the whole U.S., and definitely worth the trip up from Chicago if you want to check out something different. They have some great USA-centric heritage brands mixed in with some Japanese heavy-hitters, such as RRL and BEAMS+.
They also stock a well-curated selection of boots and shoes, including the best that Alden has to offer and an under-the-radar brand called Astorflex.
The vibe of this shop is just perfect. Friendly, informative, and low-pressure. It's truly an oasis for quality shopping in Milwaukee.
Stop 4: Milwaukee Public Market for Anodyne Cold Brew and a Pita
Milwaukee's award-winning public market is the perfect place to wrap up your micro-trip with a pita, a salad, some pizza, or some clam chowder— they have a great selection of eateries, all under the same roof.
Also, you can probably find something with cheese in it, if you want.
And after all that, you can reward yourself for a good day with another cold brew, this time from the excellent Anodyne Coffee. Anodyne has several great spots scattered about Milwaukee (The Walker's Point location is a favorite of mine), but the ease of grabbing your cup at the market is just too good to pass up.
Enjoy your Milwaukee layover!