---
If you can do something that is good for the world, why not do it?
---
As coffee lovers, we get spoiled and expect to find exceptional coffee at the farmer's market in Venice or San Francisco, or Chicago. But discovering expertly-roasted, sustainably-grown, organic beans at a townie farmers market in the North Woods of Wisconsin? That's something not even the most optimistic of us hopes to expect.
Not me at least. So on a recent vacation to the hinterlands of Wisconsin, I was resigned to drinking what I lugged up to the lake with me. Nothing bad, but nothing new.
But magical things happen in strange places, to unlikely people.
Cut to the Rhinelander "Hodag Farmer's Market," a simple, no-fluff affair consisting of a handful of tents neatly lined in a gravel parking area near a city park. The market offers a nice selection of veggies and vendors offering everything from Wisconsin-made BBQ Sauce to fresh kraut worthy of playing wingman to the most worthy bratwurst. All that, I kind of expected. But I came in with absolutely zero expectations of anything approaching decent coffee here.
However, things got interesting quick when I sauntered over to a tent hosting a hybrid offering of fresh organic greens and coffee on a gloomy early June day and made the oh-so-welcome acquaintance of one Pete Zambon, a true local boy with great taste, serving up some genuinely delicious beans from this surprising location.
Hodag Life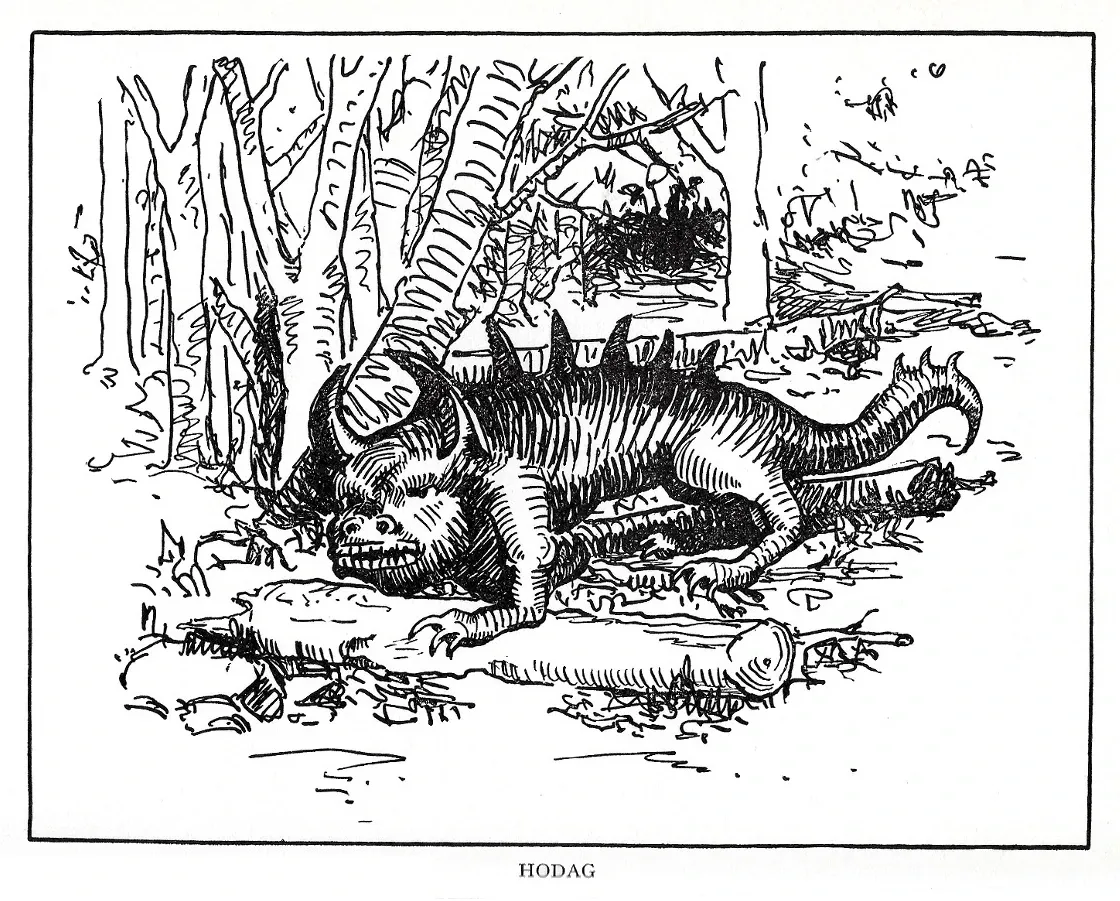 I know you are wondering, so this is a good time to tell you what a "Hodag" is. Basically, it's a mythical woodland beast, popularized a-la-Sasquatch by an opportunistic logger/hoaxter named Eugene Shepard in the late 1800s. In comparison to fantastical all-stars like Bigfoot or The Wendigo, the Hodag is a B-lister. But a mythical woodland beast it is nonetheless, and a good one at that.
Fast forward to today, and the Hodag-as-mascot has become the official talisman of the Rhinelander area, lending its name to the local high school sports teams and to all manner of local businesses. In fact, you'd find it hard to walk a block "up in the rhine" without spotting a plastic Hodag statue guarding a storefront or on a t-shirt hanging in a window.
So, naturally, a man making the best coffee in town must do some branding that incorporates the weird-but-fun hometown mascot, mustn't he?
Let's Talk About Coffee
Now let's talk about my man Pete. We all know looks can be deceiving and don't judge a book by its cover and all that. But, (as more often seems to be true in certain regions of the midwest) the book of Pete Zambon was exactly what the cover advertised— laid back but quick on the take, knowledgable, and passionate about providing good coffee to the locals and visitors of this unique town.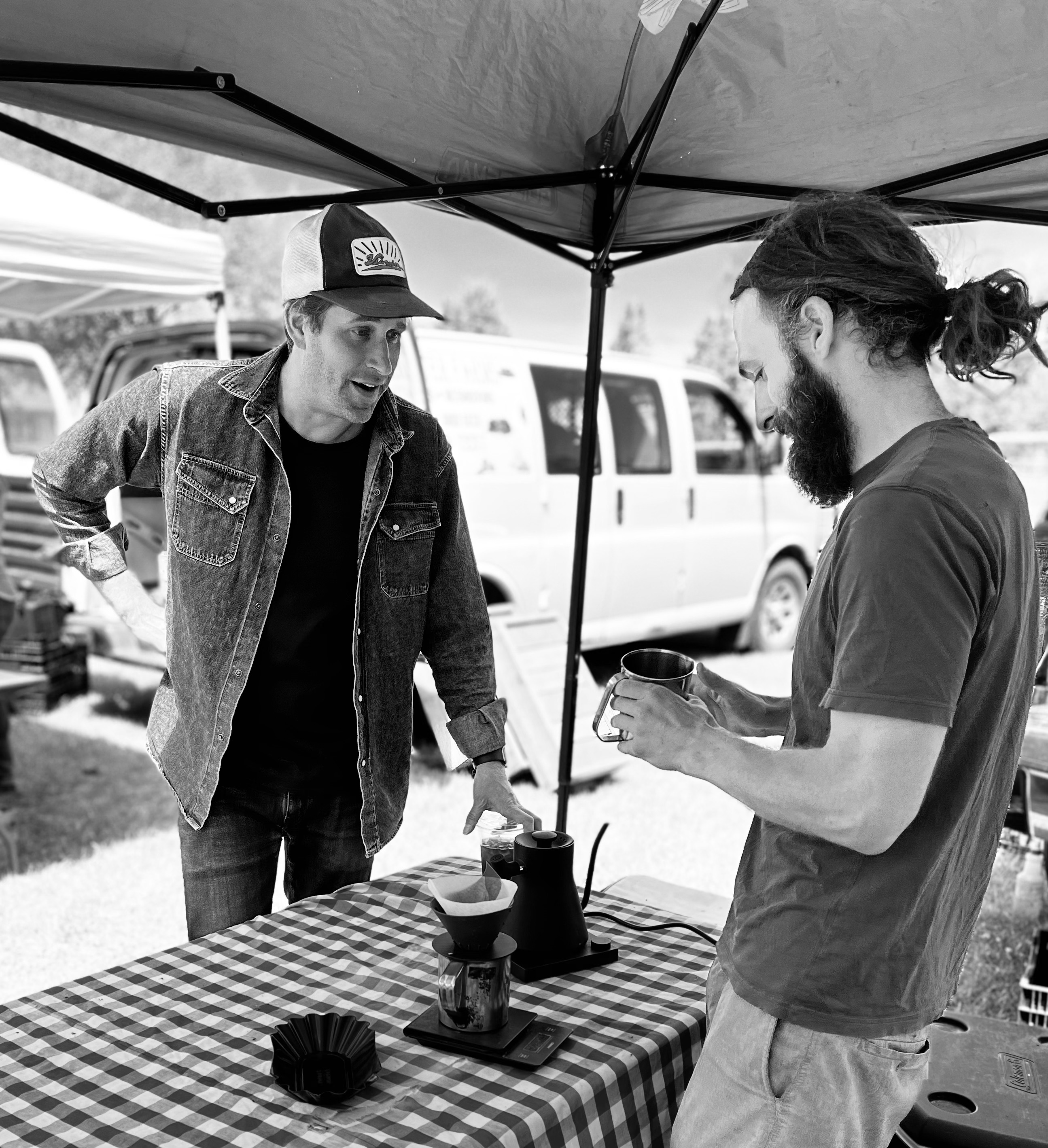 A Chat with Hodag Pete Zambon (Excerpt)
I got to peppering Pete with questions pretty quickly, and between discussing the foraging of mushrooms with his superb-greens-growing-partner Tabitha Bennish and the local waterskiing culture, we immediately bonded over the beans. You know what comes next: I relished some epic pour-overs from the tailgate of Pete's truck. In the meantime, we had a little chat— here are some of the highlights.
C: What piqued your interest in coffee production?
Pete Zambon:  "Essentially it started with my father. He was a big coffee drinker. For a boy, there's something about the connection to your father. The aroma always enticed me as a kid.
Later on, I got a chance to study in Costa Rica, and I was blown away by the coffee there. So good. So when I got back to the states, I did some research on how to roast beans and got started immediately.

C: Roasting your own beans is a big leap. Why were you suddenly thinking "I need to roast coffee myself?"
Pete Zambon: "When you have something fresh roasted, it's the best. And when you discover how much different that is from getting coffee from the grocery store, it's hard to go back. When I'm desperate I'll still drink some regular coffee. But good coffee is good coffee— there's a reason we drink it."
From a personality standpoint, I'm always curious to learn new technical things in general. When I realized it's not that different than making baked goods or popcorn, I couldn't resist giving it a go.
There is something so communicable about the love of coffee. Something about sharing with other people. And when you can make that yourself...what better gift can you give a friend?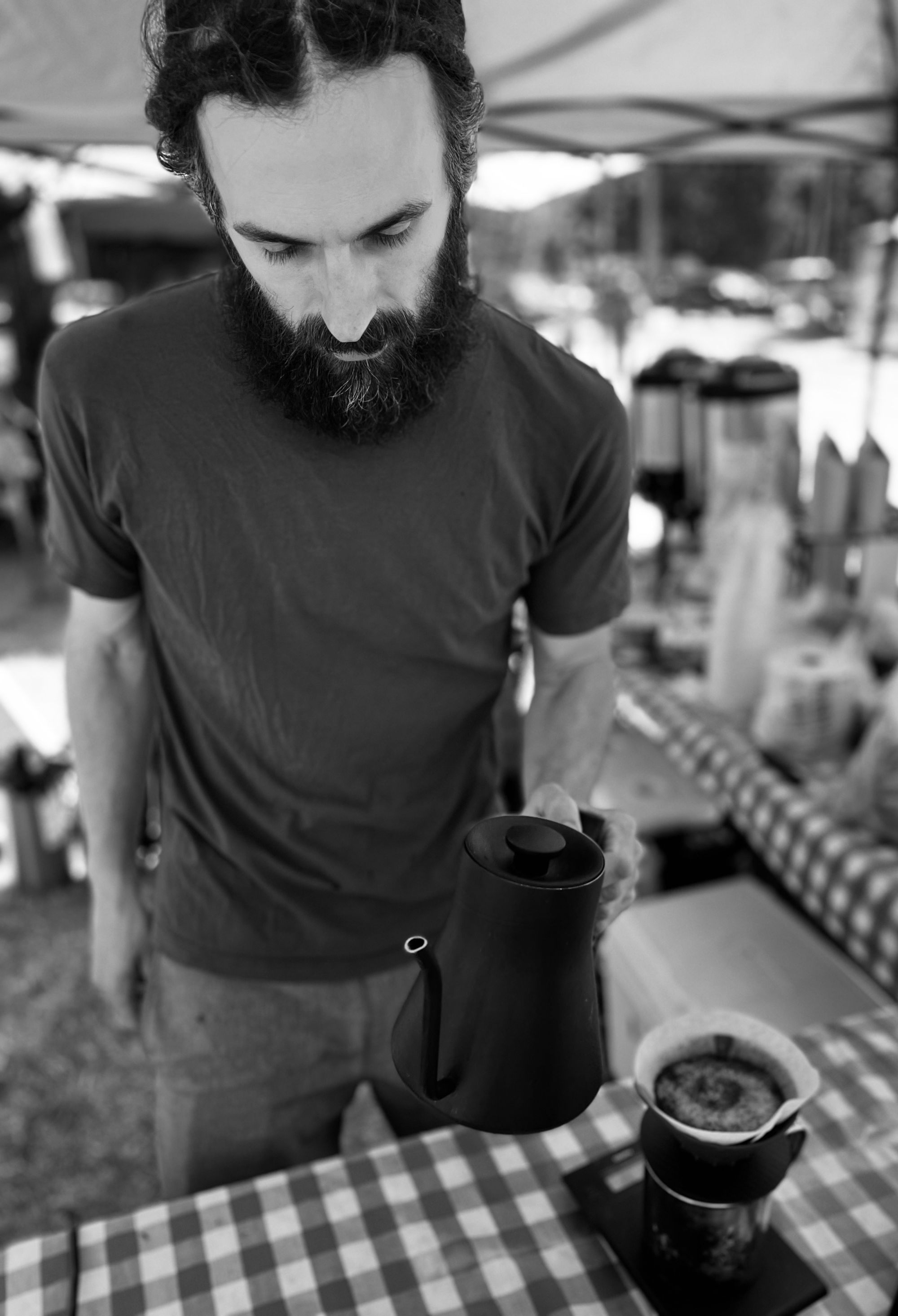 C: For sure. So where are you currently in terms of production?
Pete Zambon: "I'm focused on sustainability. I think contributing locally and providing for your community, and doing it in a responsible way is what life is all about. Hopefully in the next few years, our online business will grow with demand. And we're in the process of setting up a roastery/coffee shop at the resort owned by my family. But everything is one step at a time, and go with the flow.
But I think I'll always have a desire to be primarily right here at the farmer's market. Talking to real people and sharing the love of coffee will always create a unique connection. And that's what I'm looking for."
C: Talk more about sustainability, and organic, and what all that means to you as a roaster. People are into that.
Pete Zambon: " So for me, I make sustainability a point and a priority, whether roasting or sourcing and choosing which farms to purchase from. Or even for our packaging. It's possible to do things in a way that doesn't create as much waste and doesn't involve consuming things that we haven't tested on our bodies, as humans, for millennia.
I know that on the coffee side, having something that is responsibly grown, and fresh, absolutely enhances the flavor. It's the same thing with our mushrooms and veggies. It's scientifically proven that there are more antioxidants in your fresh blueberries than in your dried ones. And there are much higher levels in your fresh cut greens than what's been bagged, and chopped, and gassed, and sat on the grocery store shelf.
So for me, some of it comes down to health, some of it comes down to the absolutely amazing flavor, and the rest of it is, if you can do something you know is good for the world, why not do it?
A lot of the indigenous tribes around here have a concept of '7 generations.' To them, that means you don't do something unless you know that it won't have a negative effect on the next 7 generations of your people. If you don't have that security, you don't do it.
I don't have a dogma about it. But obviously it's something I take into account.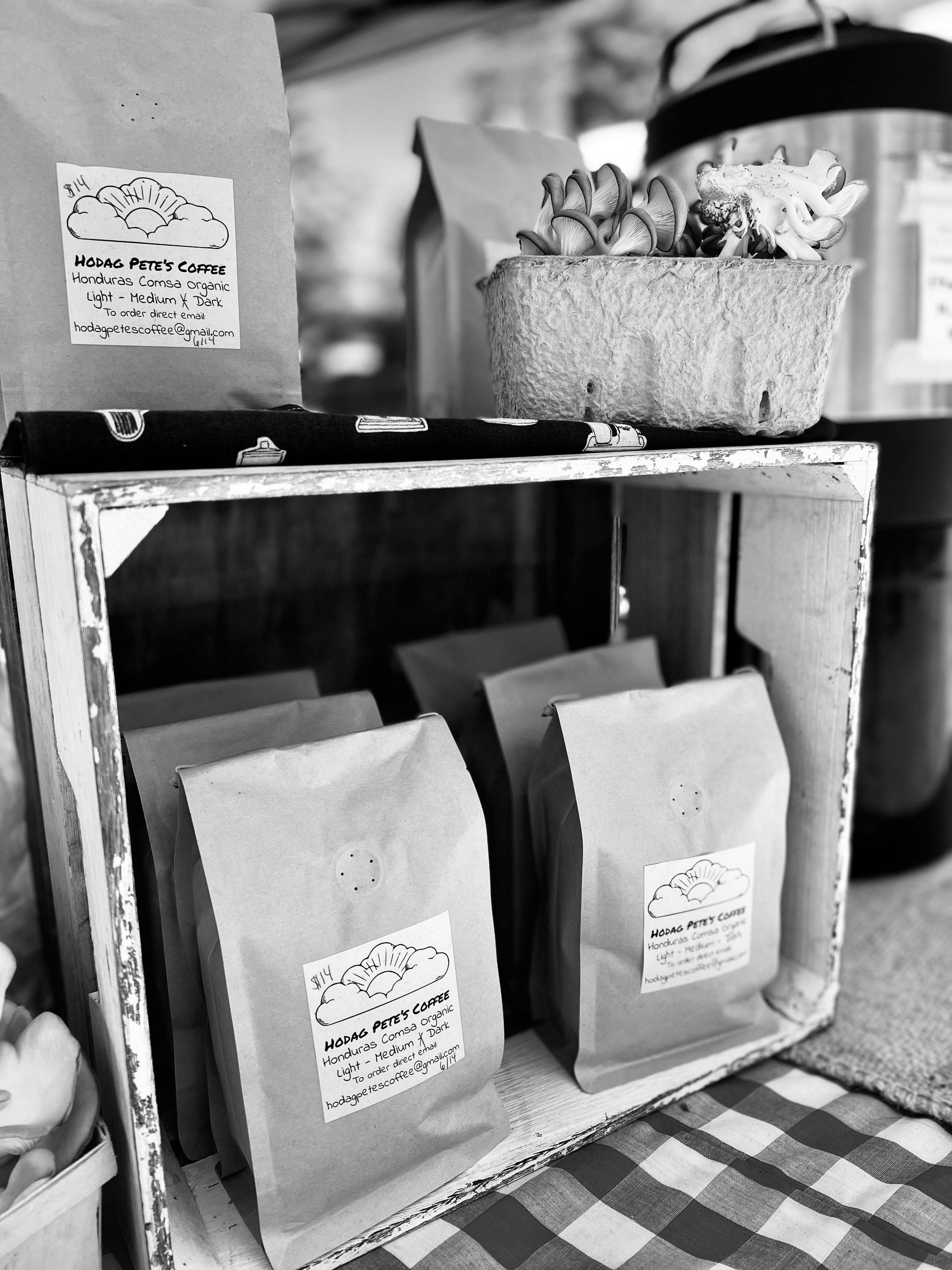 C: Just talking with you about your selection here today and the different types of beans you work with, it seems like you offer a fairly bespoke, rotating selection of great coffee. I wonder if these folks at the farmer's market know how good they have it?
Pete Zambon: I never thought about it that way but you're absolutely right. Of course, I have what I call the crowd-pleasers, I found a really good Honduras— sustainably, organically grown. It's consistent, and it's a go-to for the crowd that wants to have that consistency. That's for the people that want comfort in a cup. But I'm definitely passionate about trying new beans from different places, and offering the best of that up to our customers.
Honestly, I start my day with comfort in a cup. Then I get excited. Then I try something from Ethiopia, from Kenya, or something differently processed from any number of countries.  That keeps me excited to progress as a roaster.  
💡
Pete Zambon offers a rotating selection of sustainably-grown organic coffees.
Message Pete on Instagram
to get some of his delicious beans.