The Premier League is rich with traditions, and England is rich with rivers. And with that as my half-baked intro, I'm going to talk about five teams, by rivers, who you might consider rooting for as you dive into Premier League fandom.
(this is the third article in our Picking a Premier League Team series. Read about the Manchester teams and two teams not to root for.)
Liverpool - A Tale of Two Teams
Liverpool is situated on the Mersey River and features not one but two football teams, Liverpool FC and Everton FC. When these squads get together for their twice-yearly match, we call it The Merseyside Derby (pronounced Darby for newcomers to English football). The Merseyside Derby is a real all-city affair, as the stadiums occupied by the two teams are situated a mere mile apart.
And with no serious religious or political issues underpinning the contest, citizens of Liverpool are generally free to root for whoever they want— soccer violence between the two fan groups has been all but nonexistent.
⚽
The Beatles were rumored to be Everton fans. However, Ringo was a known Arsenal fan, while John and George didn't give a s*%t about football. Paul has stated he likes both teams, giving a slight nod to Everton due to the preferences of his birth family.
So there's your backstory. Should you root for a team from Liverpool, the city on the Mersey? Or what about these mystery riverside teams I'll talk about in a bit?
Let's chat about it.
Everton FC - The Other Liverpool Team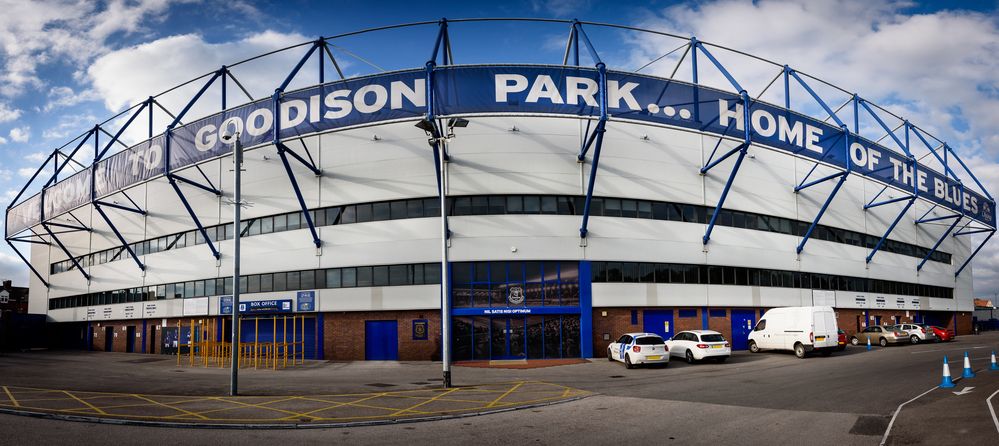 Nicknames: The Blues, The Toffees, The People's Club, The School of Science
Everton is a highly regarded, with a rich history of moderate success since its founding in 1888. Nobody seems to hate Everton, and everybody seems to respect Everton. But nobody ever seems to fear Everton.
For quite some time, Everton was a perennial contender for a Champions League spot— never threatening for the title, but enjoying decent success. The key stat is that they have not been relegated for years (since 1951) a streak that they kept going recently in a dramatic escape from the bottom three.
Lately, Everton struggled to stay relevant as other teams lined their pockets with infusions of cash and filled their rosters with top talent from around the globe.  But, for the last 20 years, they have been a dependable higher-mid-table team that carries itself with top-level confidence.
They always seem to play a fairly balanced style of football, and they often develop home-grown players, an aesthetic antidote to teams who cherry-pick players who have become stars elsewhere.
Unfortunately for The Toffees, the Premier League just gets stronger and stronger.  Everton will have to work hard to continue their modern legacy of challenging for a Europa League spot.
Notable Recent Everton Players
John Stones, Ross Barkley, Leighton Baines, Tim Howard, Romelu Lukaku, Mikel Arteta
Everton Music
Everton's unofficial theme song is "Theme from Z Cars." Read more about that here.
Uniform Rating: 9/10
Everton has dope uniforms. The blue-on-white look is quite nice on the eyes, and the home jersey is super solid to wear to the American pub. Their logo is awesome. I have only good things to say about the Everton Kit.
At-Home Stadium Rating 8/10
Everton has played at Goodison Park for over 100 years, and the stadium has just as much charm on tv as I assume it does in real life.
Should you root for Everton as your Premier League Team?
If you want to pick a team that you can root for that will give you instant "fan street cred", has nice uniforms, has an undoubtedly cool name that you might use for your firstborn son or daughter, and will probably not win anything for a long time, but you don't care, consider Everton.
You might be the only guy in the pub rooting for them, but everybody will give you probs for your choice of team. And one day, an English guy from Liverpool now living in Riverside might wander in wearing his Everton jersey, and he will smile at you, and you will have made a friend for life.
Liverpool FC - You'll Never Walk Alone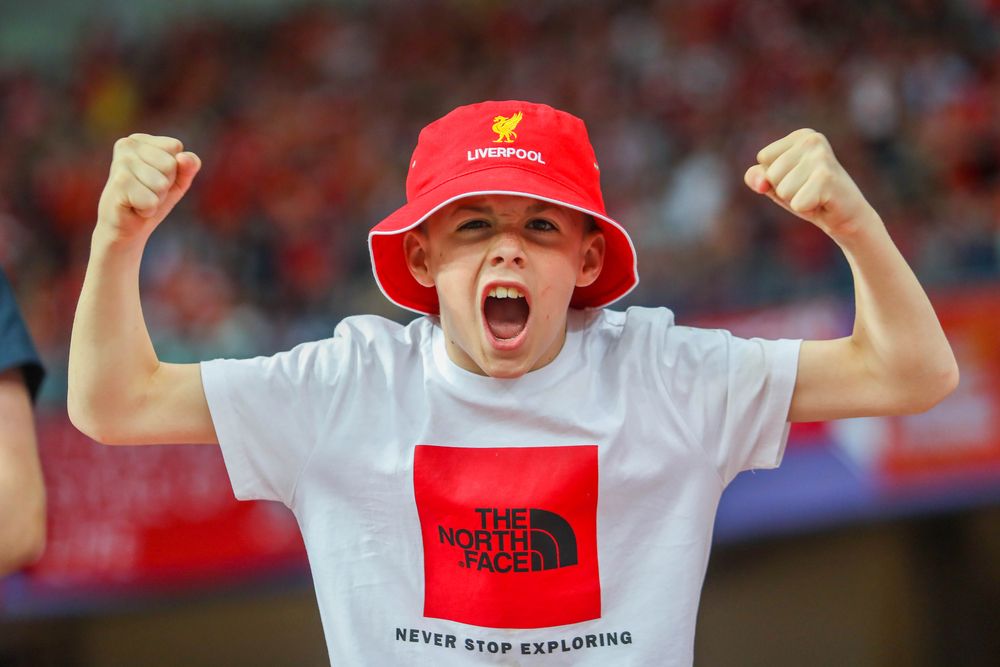 Nicknames: The Reds, Kops
Liverpool FC is a juggernaut of English Football, and over the past 10 years they have enjoyed a massive resurgence. Let's just cut to the chase here—this is certainly a team to consider rooting for to live that Premier League fan life to the fullest. There are enthusiastic Liverpool fans everywhere and anywhere, so you certainly won't be lonely.
I will say, this is one of the teams I never really considered cheering for myself—maybe because bro, 9 years of Catholic school was enough religion for me. Become a Kop, and you will be rooting with people who have a level of passion that is inspiring and awesome, but it may also make you seem like you are in a community theater production.
Also, there's a good chance you'll be hanging out with Red Sox fans who are pretending to like soccer.
Here's more of what to expect  from your awesome Liverpool fandom:
Lots of other Liverpool supporters to cheer with at pub
Your team will always be fun to watch
Liverpool players always seem like "good dudes"
Lots of fist pumping and jumping around
Changing uniform sponsors every 4 years
Playing Real Madrid every few years in the Champions League Finals
Falling in love with Liverpool players and then watching them leave for Real Madrid or Barcelona
More fist pumping
Liverpool Music
One of the raddest fan experiences (even while watching at home) is provided by Liverpool's famous anthem...
Notable Recent Liverpool Players
Mohamed Salah, Virgil Van Dyk, Saudio Mane, Steven Gerrard, Fernando Torres, Luiz Suarez, Michael Owen, Trent Alexander-Arnold, Jordan Henderson...the list goes on and on.
Uniform Rating: 7/10
I'll say it again, I don't love the mono-color uniform scheme on any team. But Liverpool has one of the most recognizable jerseys in sports, and it's a great shirt to wear with your civilian clothes.
At-home stadium rating: 9/10
Anfield is one of the iconic stadiums. Worth a pilgrimage if you are a Liverpool fan, or a Red Sox fan pretending to like football. The crowd is always into it, which makes it a great experience to watch at home.
Who Should Root For Liverpool?
Anybody who wants to a rich and fulfilling football fan experience shared with a bunch of people who probably grew up somewhere between Baltimore and Portsmouth.
Fulham FC - Hogwarts for Americans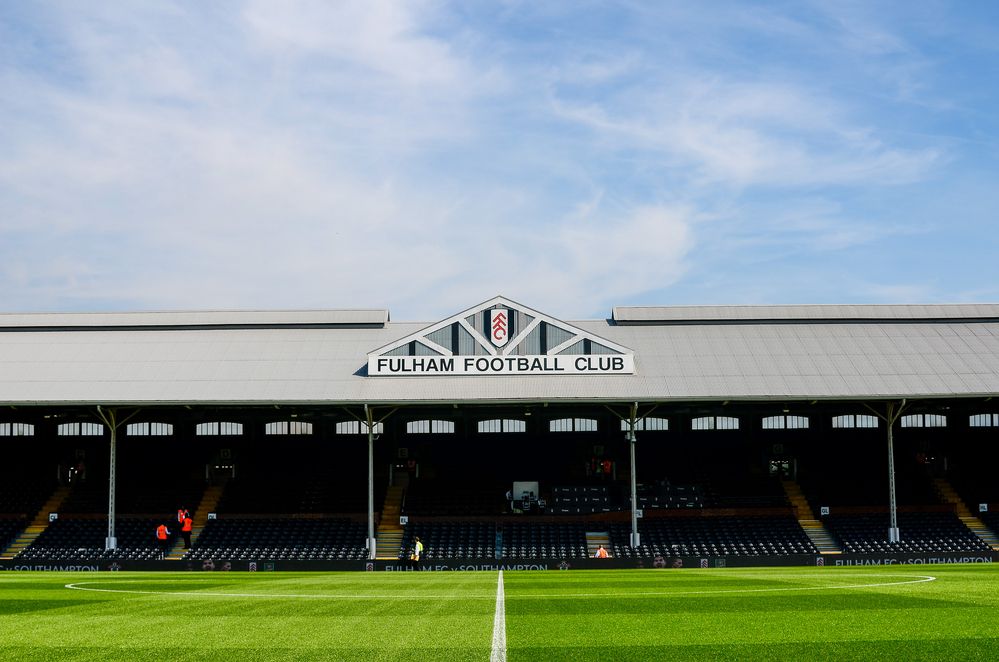 Nicknames: The Cottagers
The team on the Thames, Fulham FC has bounced back and forth from the Premier League and the Championship League over the past few years. So obviously not a ton of success there, unless you call making it back to the Premier League over and over a success.
But I'm writing about them, so there must be something worth talking about here.
Yes, there is! Fulham is a truly intriguing team, for a number of reasons, most of them qualifying as moderately to completely superficial.  Wait for it...
Fulham have one of, if not the, coolest at-home rooting experiences for the American fan.
Fulham hase a color scheme to make a minimalist fashion designer envious.
Fulham has a recent history of being "America's" team due to Texan Clint Dempsey's tenure there.
Fulham are located on the banks of the Thames River in the oldest, vibiest stadium in football, Craven Cottage in a really nice part of London.
So basically, rooting for Fulham is a sensory feast for you if you are the art school type who cares about things like typefaces and upgrading to the newest iPhone more than watching sports.
Fulham Music
I don't hate it...kinda goes with everything else I'm saying here.
Should You Root for Fulham?
So who should consider rooting for Fulham? Basically, either the casual fan who really doesn't care about winning, or somebody who kind of cares about winning, but really wants to go against the grain and values aesthetics above all else.
If you like any or all of these things, Fulham might be for you:
Cartier watches
The Name of The Wind book series
Rick Owens x Birkenstock collabs
The Wizard battle between Gandalf and Saruman
Going to one NBA game per year, but sitting one row behind courtside with your fam
Portland Maine over Portland Oregon
Edgar Allan Poe
Talisker Whiskey
The Fulham experience will be bumpy, and there will be days when you wonder what it would be like to back Chelsea. But then you will wrap your black and white Fulham scarf over your neck, creating the perfect accessory-enhanced balance between your vintage black peacoat and your milk-colored Geobaskets, before checking the time on your Apple Watch (Hermes edition) to realize there is still time to scoot down to Yale in the S4 to catch that noted scholar expound upon the illustrated works of Tolkien.
Notable Recent Fulham Players
Clint Dempsey, Aleksandar Mitrović,  Brian McBride, Dimitar Berbatov, Ryan Sessegnon
Uniform Rating: 9/10
You know, the black and white thing. It's awesome but sometimes it can get tired, and you just want to wear yellow or pink or something.
At-home stadium rating: 10/10
So good. The super-low camera angle that they used for years made the at-home Fulham experience extremely unique like you were sitting right on the field. (Unfortunately, they changed that in 2022, maybe they will bring it back 🙏🏻).
But overall, one of the top at-home viewing experiences. Look in the crowd and you might spot Hermione and Ron chilling with the ghost of Violet Firth.
Nottingham Forest - A Proper English Football Club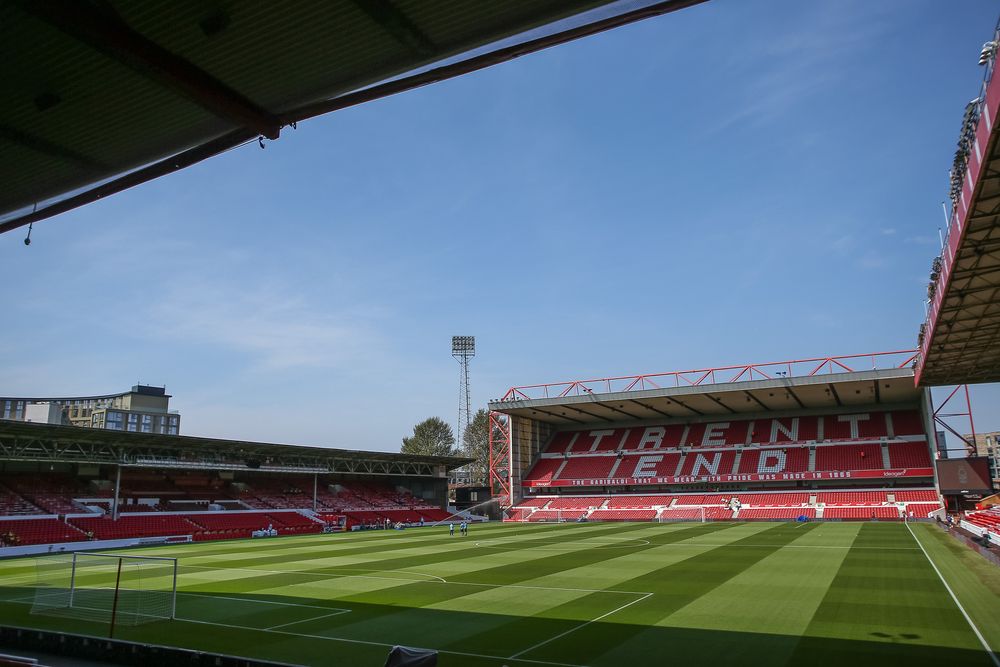 Forest, The Tricky Trees, The Garibaldi
Nottingham Forest was recently (and, I must admit, unexpectedly) promoted to the Premier League after spending many years in the lower divisions. This isn't anything to be ashamed of. Even in "The Championship", which is the second division of English Football, the quality of play is pretty damn good compared to other leagues around the world, and definitely better than the MLS, our American soccer league.
But back to "Forest". This is the team that I decided to root for when I first got into English football 20+ years ago. Why did I decide this? Because I went to see them play a couple of times at the brilliantly-vibey City Ground, on the banks of The River Trent.
I sang, I drank, I cheered for timely back-passes and expert clearances, and I squeezed into thin seats that reminded my butt of Fenway park and made me feel like this was what a sporting event should be.
Unfortunately, that early experience was about as good as it got for me, besides late ego-boosts, with Englishmen being impressed that I rooted for a "proper English football club" at the soccer pub.
⚽
Robin Hood hung out in Sherwood Forest and battled the Sheriff of Nottingham, but I'm not sure if he rooted for Nottingham Forest. More likely he was a
Notts County
fan.
This brings to the forefront a prickly issue as you pick your Premier League team: winning. The thing is, if you root for a non-perennial-challenger team, there is always a chance they will be relegated, and then they will be playing in a lower league. (Although this is less of a problem problem thanks to ESPN now broadcasting The Championship on a regular basis).
But, maybe you don't care, and you just want to root for a team with a rich (albeit ancient) tradition of football and a cool logo that sounds kind of Robin-Hoody?
May I recommend Forest? Please?
I thought I was going to have more juice for this argument, but I'm realizing here that maybe I should just admit I'm actually an Arsenal fan now.
Nottingham Forest Music
Wings is pretty dope.
And they recently played this after they beat Liverpool at The City Ground
Notable Recent Forest Players
Matty Cash, Stuart Pearce, Jesse Lindegaard
Uniform Rating: 6/10
That red color is called Garibaldi. That's kinda dope, I guess.
At-Home Watching Experience: 7/10
Not bad, but not iconic.
Who should root for Nottingham Forest?
Kids who like Robin Hood.
Newcastle United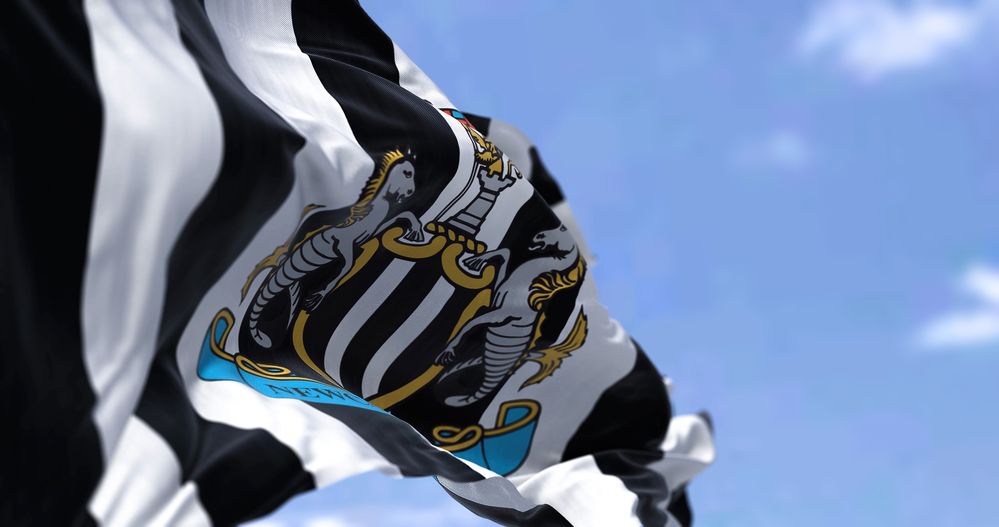 Nickname: The Magpies, Toons
New to the Premier League? You might turn on a game and wonder at some point why there are a bunch of "American Football" referees running around the pitch kicking the ball to each other. Those aren't refs— that's Newcastle, whose uniforms (kits) feature the verticle black and white stripes that we associate with the officials of games here in the states
A few months ago I jotted down some notes about Newscastle, and this is what I said: "If you want to pick a club that could eventually be bought by some sketch billionaire and have success, this club would be a good one to roll the dice on."
Well, before I got around to writing this article, Newcastle was indeed bought...but not by a sketch billionaire, but by a sketch sovereign fund. Welcome to the big time, boys!
⚽
Just so you know we're on theme here, Newcastle is a city on the Tyne River of Northern England. Their traditional rivalry is with Sunderland, from across the River. Sunderland is currently in a lower division of English Football.
Should You Follow Newcastle?
Indeed, this would be a good team to follow if you are looking for a squad that isn't "played out" in America. They are fully armed with what is now the hugest budget in world football, they are from a picturesque Northern City (making them sort of the anti-London). Newcastle is a relic in terms of success, but new money breeds new success in this game, so that's sure to come.
They have a strong tradition, loyal fans, and unique uniforms. My prediction is that Newcastle becomes a little bit of a "hipster's pick" for the current generation of upcoming fans, but hey, hipsters know what's cool, right?
Notable Recent Forest Players
Alan Shearer, Andy Carroll, Hatem Ben Arfa, Yohan Cabaye, Dwight Gayle
Newcastle Music
I suppose it's this.
American Watching Experience:6/10.
Newcastle's passionate fans are known as The Toon Army, which the announcers remind you about ad nauseam. They will also tell you how great the stadium atmosphere is. But St. James Park seems huge and cavernous on tv, and the esprit de corps doesn't really register to the at-home viewer. I don't really love the Newcastle viewing experience.
Uniforms:7/10.
You look like a ref, but everybody who likes football will give you jersey props. This would've been 8/10 if the team was still sponsored by Newcastle beer, so if you can find a throwback shirt, all the better.
American Newcastle Fans Are:
I imagine they are cool. Unless they live in Boston, in which case I imagine they are scary as hell.