Want to grab a classic men's sneaker that you can rely on in many situations and will keep you looking smooth, no matter what the current trends are? Of course you do!
Pick one of these classic men's sneaker styles to wear for years, and you won't go wrong. Shine on, you crazy minimalist.
CONVERSE ALL-STARS
The Converse All-Star is the great equalizer of classic men's sneakers. It is truly a pillar of style, and it goes well with any outfit.  Pick black, white, colors, whatever. High-top, low-top, it's all good!
Also, "Chucks" are fertile ground for excellent collaborations. One of my favorites from years past were the Converse John Varvatos with the crazy laces, which lo and behold are actually called "Converse Crazy Laces."
If you want to branch out yourself, may I recommend the Commes de Garcons Play version, and the 1970s Chuck Taylor with the more visible seams. Or if you are super bold and adventurous, try the new Rick Owens collab.
NIKE BLAZER
Pioneered by George Gervin (aka The Iceman) and skaters who gravitate to Nike,  Blazers work well for the guy striving for the classic-yet-contemporary vibe.
At one time, this was Nike's most worn basketball sneaker, but with the introduction of the famous "Air" technology, its days in the sun as a basketball shoe were short-lived. That's ok. The blazer has found a second life as one of the best go-to classic shoes for skaters, and then as a unisex shoe that has enjoyed a recent upswing in popularity.
The big fat swoosh on Blazer is iconic, and with a variety of colorways, you can style this sneaker any way you like.
Here's a great article on the history of the shoe.
ADIDAS SAMBA
‌The Samba is a solid, no-nonsense shoe with Euro credibility. Its cultural popularity ebbs and flows (according to GQ, the Samba is currently experiencing yet another "moment".) However, it's been around long enough to qualify as a multi-generational classic.
The Sambas are well-suited to pair with most casual wear, even shorts. And in a pinch, you can play hoops in them and trust your foot won't explode. (Maybe your ankle, but not your foot.)
NIKE AIR MAX 1990
Equally nice to run, walk, or just hang out in, The Air Max 1990 is probably the most versatile of these classic men's sneakers from a performance standpoint. You could actually use this shoe to do some serious running in.  Unlike most of the kicks on this list.
Many of the Air Max iterations have enjoyed moments in the sun, from the '95 to the '97. But the classic Nike look (with the swoosh and all) puts the 90's ahead of the pack.
VANS OLD SKOOL
‌Some people really love Vans, and I really can't blame them. Although I don't have a ton of personal affinity for these shoes (didn't see them growing up in New England and I don't have the nostalgia factor), I recognize that these are one of the classics that people love.
A West Coast staple, The Old Skool looks especially nice with Dickies or denim. Wear yours with pride, Vans folks.
NEW BALANCE 1400
New Balance was considered kind of lame when I was a kid. But that was a long time ago, and boy am I glad that New Balance found life as a streetwear giant because they make shoes that excel at supporting your feet. Which is what shoes are supposed to do, right?
In general, these are some of the best sneakers you can buy, especially if you non-hype-loving dad who wants his shoes to support his quest for good posture.
SAUCONY JAZZ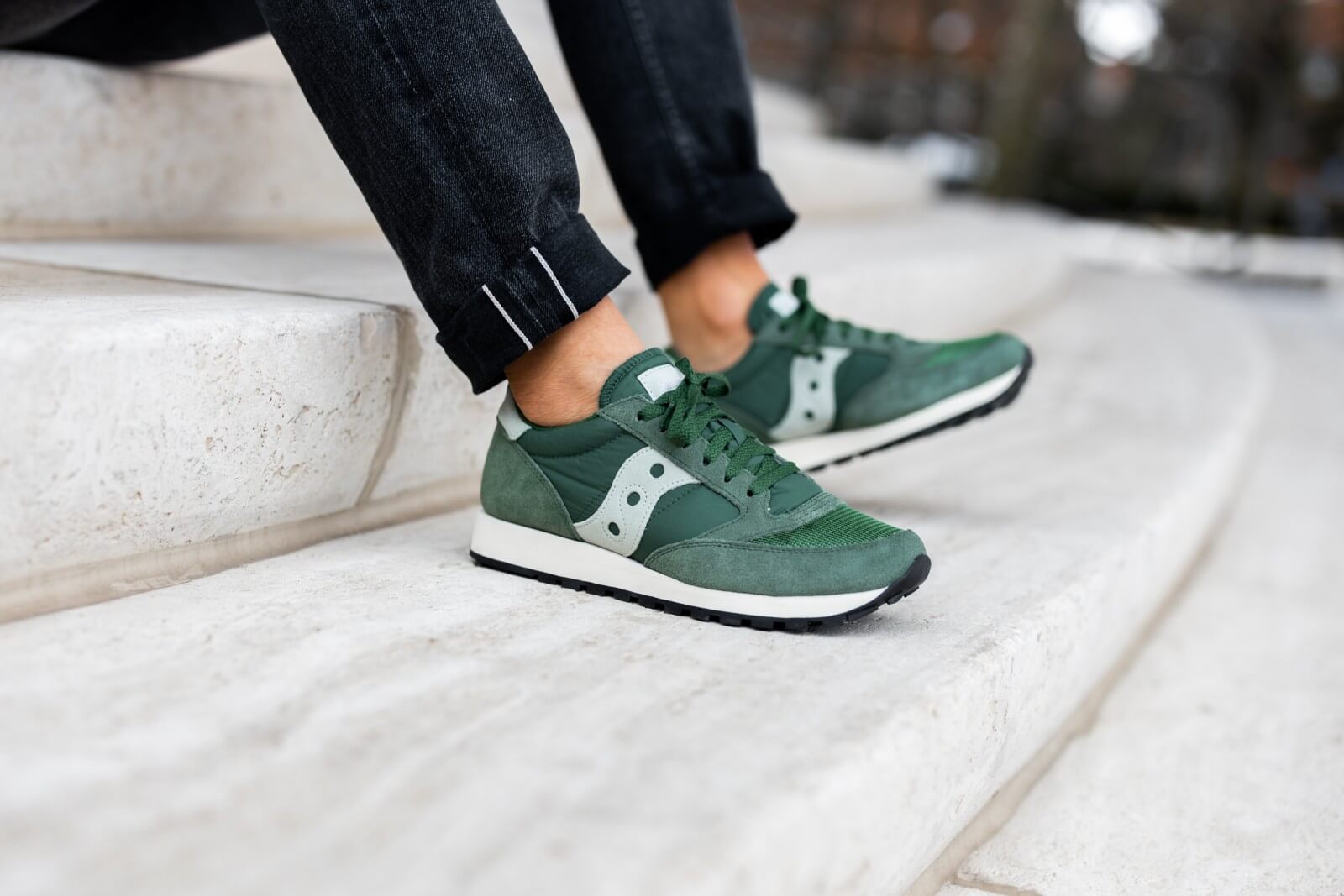 Saucony Jazz brings a smile to my face. Similar in style to the New Balance, the Jazz doesn't carry as much cultural baggage (see: streetwear, dadwear).
Where these shoes excel: they are light and comfortable. So what if they aren't as versatile or "hip" as some on this list— the Saucony stands by having no pretensions. They are just solid and great as a sneaker, doing sneaker things. Like a good friend or free filtered water at Starbucks, I'm just plain glad to have the Saucony Jazz around if I need them.
What's your favorite classic sneaker? Let us know.