Ojai is one of the coolest towns on Earth, and everybody should go check it out for a day. With an easy, mellow downtown scene, quick access to incredible natural beauty, an explosion of new restaurants and hotels, and an only-here-is-like-here vibe, Ojai is truly a must-visit.
I'm glad we cleared that up. Now let's talk about my favorite Ojai haunts.
The Best Places To Visit in Ojai
If you're researching a visit to this seminal arcadian mountain town– known by locals as "The Valley Of The Moon" you've learned of perennial favorites like:
The Ojai Valley Inn and Spa (Nice if you like golf, and being fancy, and feeling like you are visiting from LA).
Meditation Mount (inspiring and truly gorgeous)
The Farmer and the Cook (great as advertised)
Bart's Books (already on your list and it should be.)
You may have heard the day hikes are easy and fun (they are), the sunsets are world-class and pink (they are), and it gets really hot in the summer (it does).  
You may have also heard that even though it's sort-of-technically in SoCal, Ojai is 100% unique and makes you feel kinda separate from all that Southern California-ness.  Ojai is perfect for a weekend-long trip if you are in California for a vacation— or looking for a respite from your own Cali haunts.
In Praise of Ojai People
The mix of groovy seekers and (mostly) well-adjusted vistitors in Ojai only enhances the uniquely dreamy quality of the valley. For the most part, the old souls flock here— maybe there really is something to all that Ojai-as-spiritual-vortex thing.  
Ojai is home to people from all slices of life– poets, artists, farmers, actors, rich folks, spiritual seekers, and well-mannered rednecks. But don't worry if you don't fit those categories— you'll fit in here. Everything and everybody just seems to get along nicely here, because many of the people who are in Ojai just really want to be in Ojai.
Since I had the pleasure of living in the place for a couple of years during a global pandemic, I spent a lot of time walking around. So this will be a little more robust than our usual microtrip— think of it as more of a town guide. Here we go!
Where To Eat In Ojai
Boccali's
Boccali has the best pizza sauce in the universe, says me. Sit outdoors and enjoy a truly unique ambiance on the East End. Take a stroll in the field out back with the kiddos. Order Strawberry shortcake. Buy oranges that were grown in a grove across the road. Eat pasta. Drink wine. Bathe in the sunshine. Enjoy heaven on earth.
Ojai Roti
Ojai Roti is Meditteranean-meets-rotisserie, offering big plates of roasted chicken complemented by the best sourdough bread you'll ever have. Roti is located right in the heart of Ojai and it has a really nice patio. Make sure you get some scrumptious lemonade, too.
The Nest
Also located right in the middle of town (near the fantastic Topa Topa Brewery), The Nest has yummy food, on the healthy side, and a casual vibe with outdoor seating. Locals adore this place, and it's one of my personal favorites for sure, as the tico salad would attest to.
The Dutchess
When you go to the cashier, you will wonder why the sweet roll you ordered at The Dutchess costs $7. Then you will take a bite, and you will realize you are getting a  bargain for this level of deliciousness. This Dutchess is Ojai's newest "place to be", and they also carry the outstanding Bonito Coffee.
Rory's Place
Ojai's newest hotspot, Rory's place launched in 2022 and has become a favorite of residents and out-of-town visitors with its California cuisine. They use locally-sourced ingredients and time-honored culinary techniques, and if the line out the door is any indication, they are nailing it.
The Farmer and The Cook
Every guide to Ojai will mention The Farmer and The Cook, because it's a must-visit when you come to Ojai. However, be aware that it's not in the central town of Ojai— it's actually in Meiners Oaks, which is Ojai's funky little neighbor town. If there's any place that encapsulates the spirit of the Ojai Valley, it's the Farmer and The Cook.
Hip Vegan
This name says it all. This place is hip in both atmosphere and clientele, and it's vegan. I housed way too many delicious plant-based burgers here, and I encourage you to do the same. A great spot to meet a friend for lunch.
Jim and Robs Fresh Grill
Solid yummy Mexican food. This is where many Ojai folks go to eat lunch or enjoy evening Margaritas. Food can be a tad expensive in this town, but Jim and Robs always feels like a bargain for the quality of food they offer.
Local's tip: order the cheese fries and the chicken & rice soup. Also, in a shocking twist, this Mexican place has some of the best burgers in the entire town of Ojai.  
Where to Stay In Ojai
Caravan Outpost
Like glamping? You can stay in one of the airstreams for the night to get that luxury camping vibe. While it's a little outside of the main drag, it's actually quite close to two of the better breweries and some of the better shopping and restaurants in town.
The Capri
This funky spot recently got a makeover to nail the mid-century modern vibe that everybody loves. Blessed with a relaxed pool scene, spacious patios, and great walkability, the Capri has become the hottest hotel in town over the last couple of years. Having lived here for a month with my family I have a special place in my heart for the Capri.
Chantico Inn and Suites
If you want real quirkiness (as opposed to manufactured luxury quirkiness) stay at the Chantico. The convenient location makes up for some of the rough-around-the-edginess, and you are 30 seconds away from Beacon Coffee.
The Ojai Retreat
Many Ojai locals don't even know about it this under-the-radar option. The Ojai Retreat sits perched above the campus of the Oak Grove school, offering outstanding views of the valley, an occasional day-seminar, and bed and breakfast options for a romantic or single-person spiritual retreat, courtesy of the Krishnamurti Foundation. Another place that is near and dear to my heart– I once renewed my wedding views here.
Where To Shop in Ojai
Here's where to shop in Ojai. RIP to In the Field, which will be closing soon after this article is written.
Sam Roberts LA
This is the pace to get upcycled vintage creations from John Dennis, famous for his hand-shaped hats and groovy shop vibes in an old gas station on the East End of town. You never know exactly what you'll find here, but be sure you'll find something awesome. From tie-died gorpwear to military surplus to amazing native jewelry, if you want something one of a kind, don't sleep on John's selection.
Summer Camp
When it comes to Ojai, good things pop up in old gas stations. Summer Camp is one of them. This hybrid frame shop/gift shop has a fun collection of goods for the whole family. If you want a nice souvenir from Ojai, I highly recommend Summer Camp.
Blue
Blue has mostly ladies' stuff, but there are also some gems in here for men, such as hats from Cableami. It's also in the same building as Beacon, a place I will mention at least one more time in this article.
Where to Get Coffee in Ojai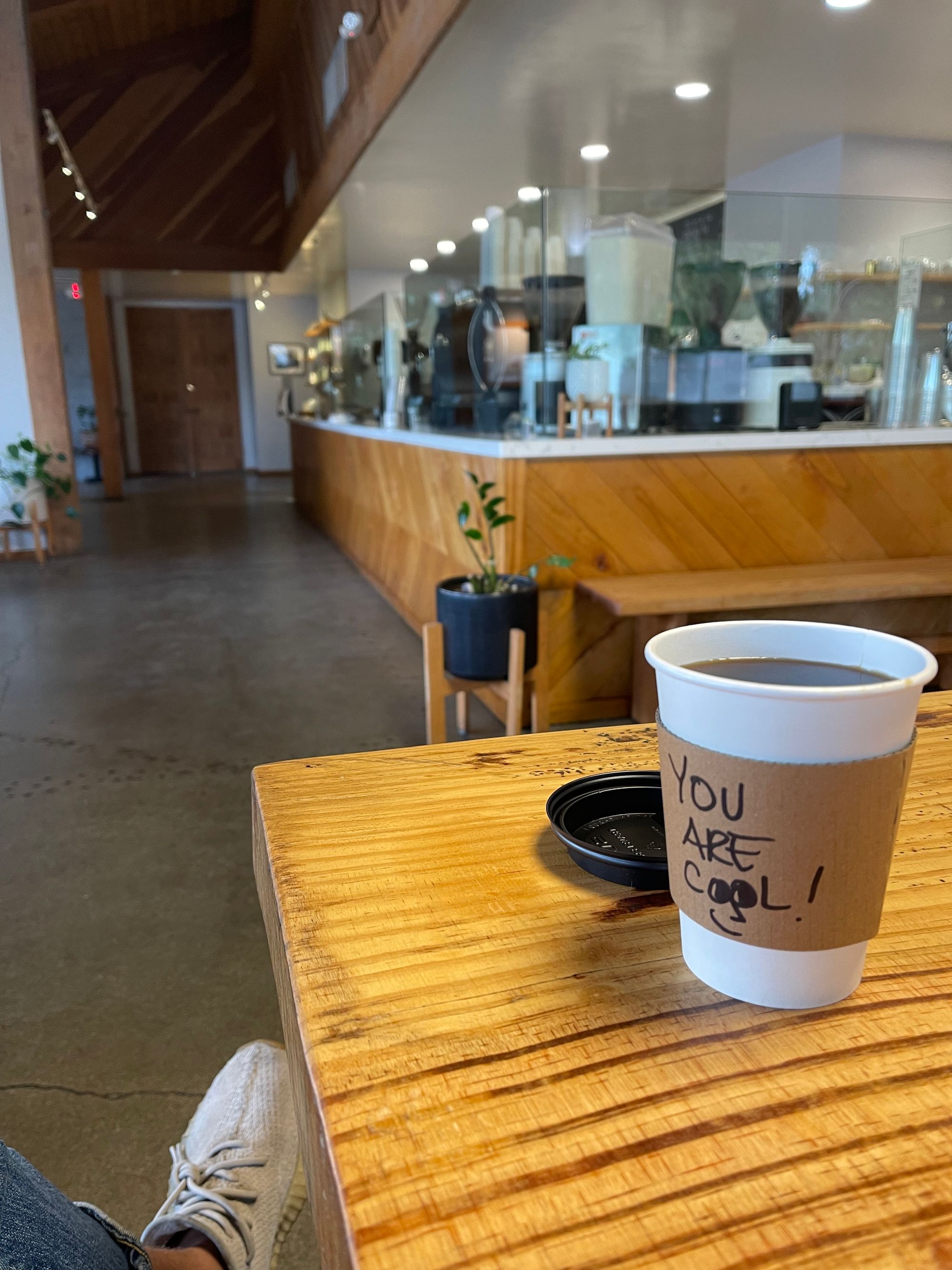 Ojai has a few great coffee spots, headlined by Beacon...
Beacon Coffee
Thanks to Beacon for saving my sanity during the initial phases of the pandemic with their pop-up-parking lot setup. Lucky for you, the cafe' is open again, and you have to visit it when you come to Ojai. The vibe is just perfect, like a midcentury-modern library filled with creative friendly people. You'll have to wait for your coffee, as they make every cup to order (like a pour-over), but it's worth it.
Beacon also delivers around the world, so don't hesitate to order on the website.
Bonito Coffee
Bonito roasts in Ojai but is served at The Dutchess (see above), so go there if you want it. And you do want it, trust me. Founder Carlos Ramirez sources his coffee from his childhood hometown in Nicaragua, and the care he puts into roasting is evident. You can also grab some Bonito to take home with you from Westridge Market in Ojai, get it at the Thurday Farmer's market, or order online.
The Local Cup
The Local Cup is on the 33 in a town called Oak View, which is on the way to Ojai if you are coming up from Ventura. It's run by a  friendly couple,  offering up a selection of organic coffee from local roasters in and around Ventura County, as well as healthy pastries. If you are looking to grab some caffeine and a bagel on your way out of town, I recommend it wholeheartedly.  
Coffee Connection
Coffee Connection is in Meiners Oaks, right up the street from The Farmer and The Cook. If you want to meet people who actually live and work in Ojai, come here for a morning coffee. It's got a funky fun vibe, and the Brit ex-pat proprietor of the place, John, is one of the friendliest guys you'll meet— just carve out some extra time if you want to talk to him about Arsenal Football Club.
Where to Drink in Ojai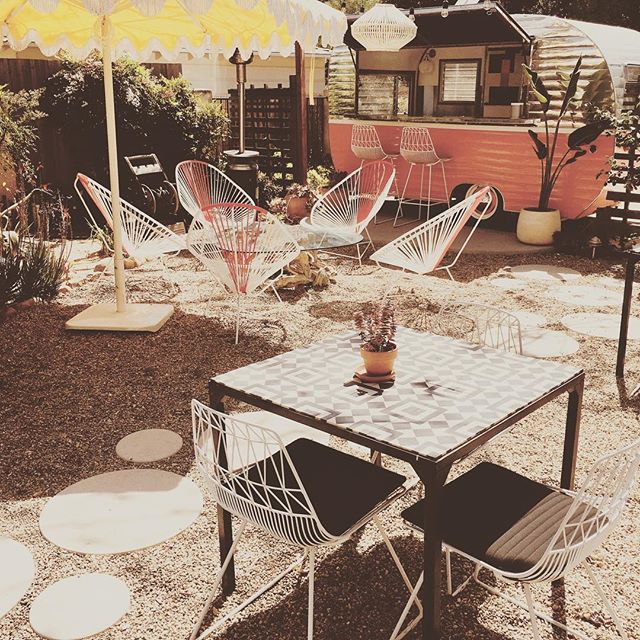 If you like alcohol or just hanging out with friends who want to drink nice beer, these are three spots you might like.
Tipple and Ramble
This was my favorite place to take Bonesey on a date, and it features fun drinks, a great atmosphere, and good food– as well as a thoughtfully-curated gift shop with home goods and cookware.
Topa Topa Brewery
Fun vibe right on the main drag, this place has fantastic people-watching from the patio and delicious booze from the Santa Barbara/Ventura County favorite.
The Ojai Pub
Right next to Sam Roberts LA, so you can get a beer and some (really good, I must say) pub food after you buy some dope vintage from John Dennis.
Ojai Valley Brewery
Delicious beer, this place is fairly new, but it's already a local's favorite for its awesome patio. If you stay at Caravan Outpost this place is right next door, lucky you.  
The Chiefs Peak
This fun bar is at the Ojai Rancho Inn (a great spot, rooms have probably been reserved for months by the hippest hipsters from LA in advance but you can try), but even if you can't snag a vacancy, you can still enjoy some delicious drinks here.  
Some More Ojai Spots I Love
Here are some other places and things in Ojai that I love.
Meher Mount
For some reason, not many people know about Meher Mount, which is the home of the Meher Baba foundation. Baba was a pretty interesting dude (by interesting I mean he didn't speak for thirty years and his followers thought he was the second coming of Christ, but not in a bad culty way if that makes sense) and the one who coined the phrase "Don't worry be happy." Can you argue with that?
Go up to Meher Mount for views all the way down to Santa Paula and park your soon-to-be-enlightened butt by Baba's tree, which miraculously survived the Thomas fire in 2018. I kid you not, this place has some of the best vibes on the planet, and if you dig people like Krishnamurti and places like Meditation Mount, head for upper Ojai and find out what all the other spiritual pilgrims are missing out on.    
Thursday Farmer's Market
Everybody knows about the Sunday Farmer's Market, but Ojai recently started a Thursday Farmer's market where you can get food and gifts as well— it's less about the produce, and more about hanging out with some townies and eating good pizza.  
Libbey Park
This is one of the best kid's parks you will ever go to. And if you don't have kids, you can still enjoy a picnic or a show at the adjacent Libbery B0wl.
Exotic Thai
Really yummy Thai food.
Love Cafe
Nice place for breakfast or midday, with a great patio.
Ojai Tortilla House
Worth waiting in line for a burrito, it moves quickly.
Ojai Coffee Roasters
Good strong cold brew for morning park runs with the kids.
Enjoy your Ojai visit
Have a great time in Ojai! You are cool.