The Converse All-Star sneaker is one of the most iconic shoes of all time. It will be forever linked to American culture and has been seen on the feet of some of the world's most famous people.
But you don't have to be famous to enjoy this shoe. I consider the "Chuck Taylor" to be a great style equalizer when it comes to sneakers. It's highly accessible, goes with anything, and will never go out of fashion.
The History of the "Chuck Taylor"
"If Naismith signed off on it, you know it's dope."
---
The shoe was created in 1917 by Marquis Mills Converse, a rubber shoe manufacturer in Massachusetts. He wanted to make a basketball shoe that was affordable for everyone, and he succeeded.

The first Converse All-Star was released in 1917 as the "Non-Skid" basketball shoe. It featured a rubber sole and canvas upper that supported each foot with a cushioned ankle collar and rubber toe cap. It was designed to protect players from slipping during gameplay.
The original design was so successful that the shoe was soon adopted by high-level old-school ballers like Chuck Taylor and coaches like the one and only James Naismith, the creator of the sport. If JN signed off on it, you know it's dope.

In 1923, Chuck Taylor joined the company as a spokesman and helped to popularize the All-Star sneaker. He gave his name to the classic design and it is still used today. In 1932, the "Chuck Taylor All Star" logo was added to the side of the shoe and has become one of the most recognizable symbols in fashion history.
Rock Stars and Converse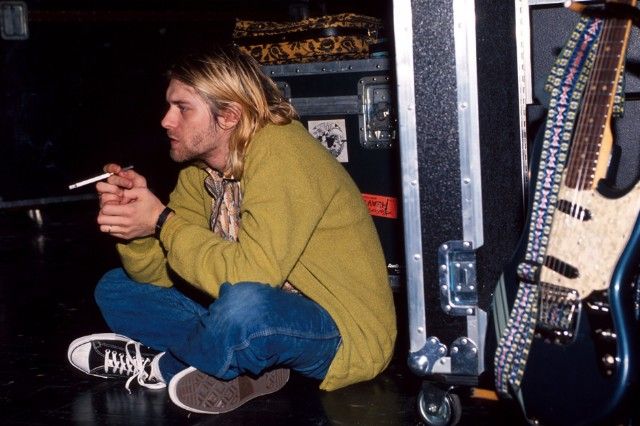 Lots of rock stars have worn Chucks.
---
Chucks really blew up in the mainstream when James Dean started wearing them. But it was some of the world's most famous rockstars who rocketed the shoes into the mainstream popularity they have enjoyed for the past 30+ years:
Kurt Cobain: Kurt Cobain rose to fame as the frontman of Nirvana, and was the poster boy of the grunge movement and the spiritual avatar for the angst of Generation X. He was known for wearing Converse All-Stars throughout his career, often pairing them with ripped jeans and a flannel shirt.

Jimi Hendrix: Jimi Hendrix was one of the most influential guitarists of all time. He was known for his uniquely flamboyant style which included wearing Converse All-Stars with psychedelic prints.

Johnny Rotten: Johnny Rotten, frontman of the punk band The Sex Pistols, wore Converse All-Stars as part of his punk style. The shoes became his signature look and were often paired with ripped jeans, safety pins, and a t-shirt with a political slogan.
Converse All-Stars in the Modern Era

"It's a timeless sneaker."
---
Since its inception, the Converse All-Star has evolved into many different styles and colors. It has been featured in movies and music videos, worn by celebrities and sports figures across the globe, and has become an iconic symbol of street style.

Today, Converse continues to produce innovative designs for the classic All-Star sneaker and offers it in an array of colors and fabrics to suit anyone's style. Whether you are looking for a classic pair or something more modern, you can find it in a pair of All-Stars.
The sneaker is truly timeless, making it a shoe for every generation.
Here are some of our favorite Converse All-Stars, from the good folks at Haven and END.