I lived in Santa Barbara for many years, spending a crazy amount of time at coffee shops in this singular beach-and-mountainside city. We're talking days upon days upon weeks. For my first decade in the Golden State, this meant lots of visits to Coffee Bean & Tea Leaf, Starbucks, and not-to-be-forgotten local spots with grimy good vibes and questionable coffee. Rest in peace, Reds & Muddy Waters.
Remember when cold brew didn't really exist? I sucked down a lot of watery iced coffee.
2009. A Sand Worm Brings Good Coffee to Santa Barbara
Around 2009, two things happened. A giant sand worm with blue eyes appeared on State Street...and Dune Coffee was founded.
Ok, maybe only one of those things happened, but luckily it's the second. Santa Barbara had decent coffee before Dune arrived, but this was the beginning of the third wave on "The Gold Coast."
Soon after, Handlebar Coffee Roasters joined the fray, and those two roasters have rightfully had a stranglehold on the Santa Barbara coffee scene in terms of quality and popularity.
But there are a bunch of good spots occupying the "second tier," including Caje, Dart, and Lighthouse, with old head Santa Barbara Roasting Company also providing good coffee and great experiences.
Santa Barbara Coffee: The Best of the Best
Handlebar Coffee Roasters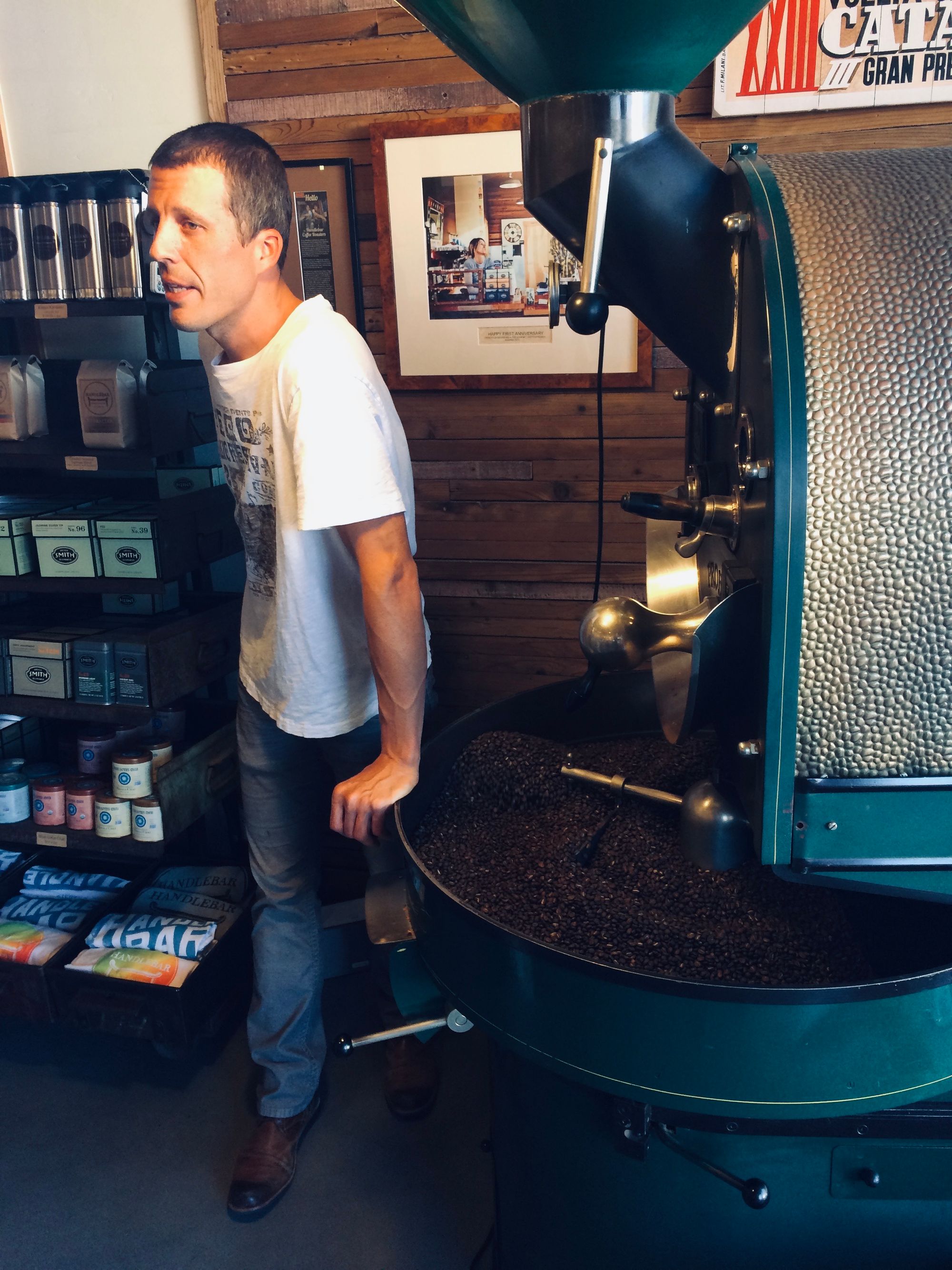 Handlebar Coffee Roasters has been setting the standard for Santa Barbara Coffee Roasters since hitting the scene 10 years ago.
Handlebar was founded by former professional cyclists (Aaron Olsen and Kim Anderson) who love racing bikes and drinking coffee, which they often while touring Europe on the racing circuit. Their experiences inspire the name of this impeccably-branded company, a clear reference to the handlebars on a road bike.
The cycling culture is still evident around the cafe, from the riding-themed merch to folks in spandex (bikers, presumably) lounging about in the alley patio of SB's most historic block. It's also a prime spot for area creatives and downtown working folks to mingle.
I had the fun experience of meeting Anderson and Olsen on Handlebar's opening week years ago, in what was then a small but charming hole-in-the-wall. The space was limited, and Olsen would post up roasting beans in the only space the roaster machine (purportedly nicknamed "Hercules") could fit in— right in front of the door! Who would know that it would become my favorite coffee shop on earth?
Although they've enjoyed great success, it seems like nothing has changed in terms of work ethic with the Handlebar crew.  Olsen still runs the roasting operation out of the newer De La Vina location, while Anderson is often behind the counter at the "O.G. Handlebar" on Canon Perdido Street. It's all very refreshingly familiar, and every time I come back to Santa Barbara, Handlebar makes me feel right at home.
☕
Handlebar Coffee Roasters. 401 E Haley St, Santa Barbara, CA 93101
Dune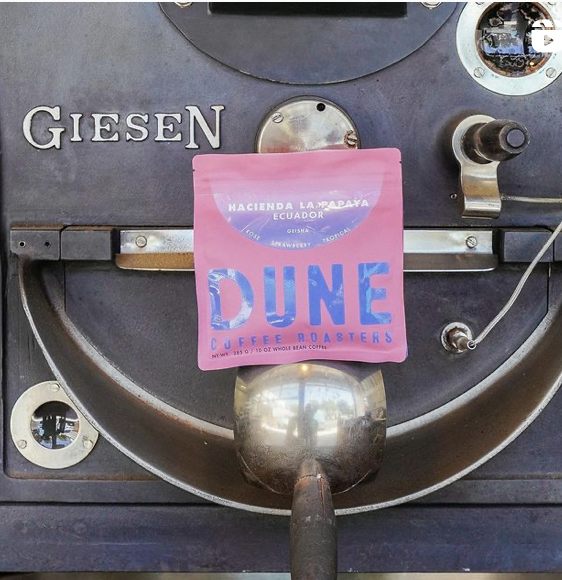 Dune is certainly responsible for introducing more folks to specialty coffee than any other Santa Barbara area roaster. With a focus on sourcing great beans and offering a vibrant, delicious daily roast that is always on point, Dune balances quality with consistency better than most fine coffee houses.
Starting out with their trendsetting downtown shop "The French Press", and then quickly expanding to their regionally-famous Anacapa street location, Dune used to roast beans under the brand moniker, "Castle". However, with Frank Herbert as their spiritual Avatar, owners Julia Mayer and Todd Stewart brought the roasting operation and the cafe under one name…Dune! Talk about nailing it.
Since then, a lot has happened in Santa Barbara. Mudslides, fires, droughts, and then, of course, the pandemic. But Dune is one of those Santa Barbara stalwarts that has weathered the changes because of its quality and attention to detail.
A must-visit when you come to Santa Barbara.
☕
Dune Coffee. 528 Anacapa Street Santa Barbara, CA 93101
Santa Barbara Coffee: The Best of The Rest
Caje Coffee Roasters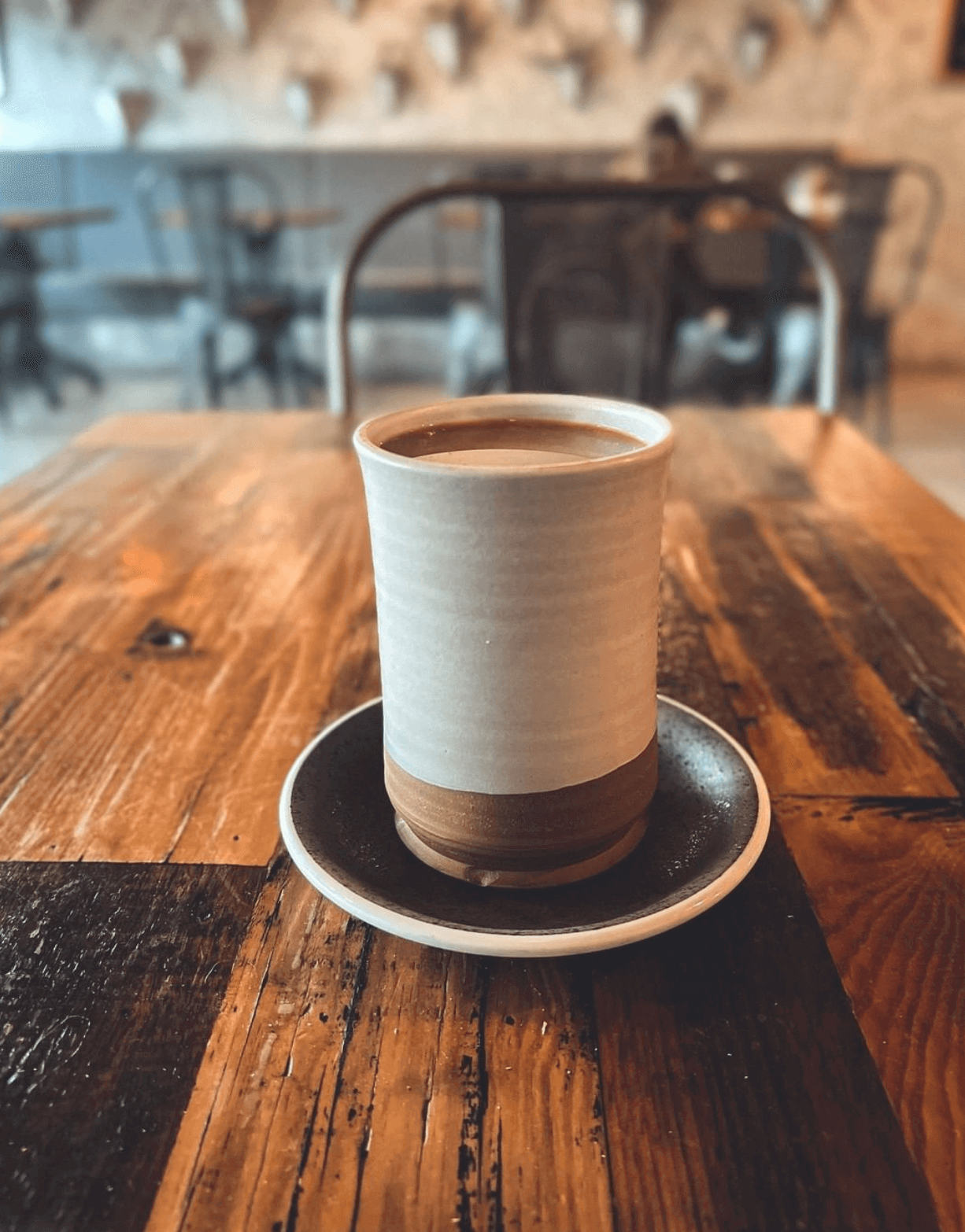 Caje Coffee Roasters is coming up hot on the heels of Santa Barbara's best coffee roasters by offering an in-cafe experience that focuses on artisanal-style drinks— and a mellow speakeasy vibe that makes for a nice departure from the norm. Caje's cred is indisputable. It's been the go-to (non-Starbucks) spot for UCSB college students in the SB satellite town of Isla Vista for 15 years and counting.
‌Blessed with an exceptional menu of options and featuring neu-decadent ingredients like activated charcoal and pomegranate ice cubes (and several locations, including a groovy spot on the locals-favorite Haley street), Caje's foray into Santa Barbara proper has been a staggering success. So much so that they have also expanded to the high-profile downtown area.
Take a look at Caje's menu and give their cafes a try if you are down for something different!
☕
Caje Coffee Roasters. 416 E. HALEY ST., Santa Barbara
Dart Coffee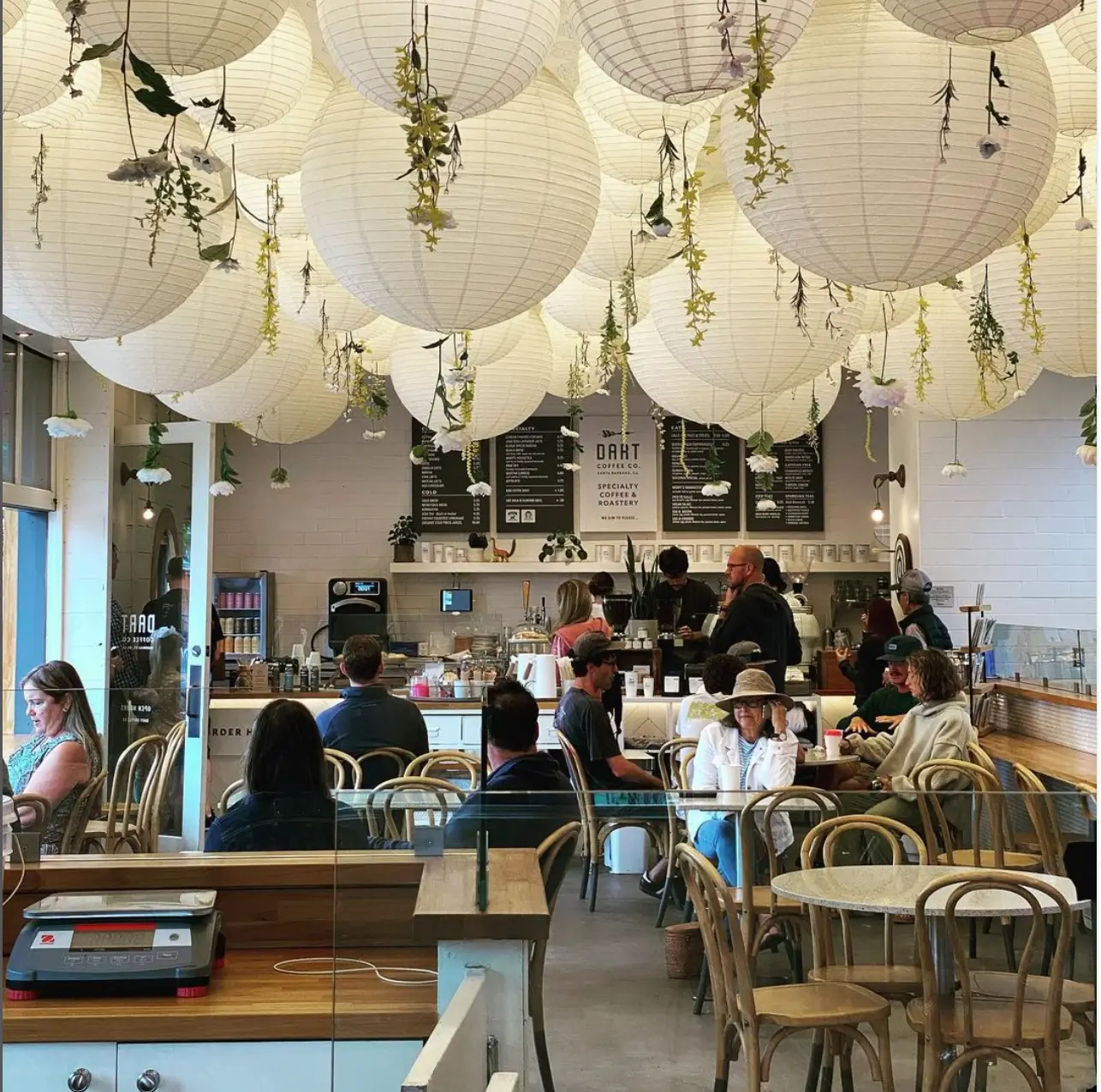 Dart Coffee roasts their own beans ✅, and they enjoy an enviable location in Santa Barbara's "Funk Zone." Years ago, The Funk Zone stood out for its cheap industrial space, which housed "funky" artists, surf shops, and small businesses, and featured a bit of a "funky" smell due to its proximity to a wastewater treatment facility.
But that's history, and now the Funk Zone (not surprisingly, the area more downwind from the smell) is the hottest section of Santa Barbara's downtown, as wine tasting, shops, restaurants, hotels, and an exceptional children's science museum have sprouted up recently.
Dart has cemented itself as the premier coffee spot in The Funk Zone, so check it out.
☕
Dart Coffee. 121 E Yanonali St, Santa Barbara, CA 93101
Low Pigeon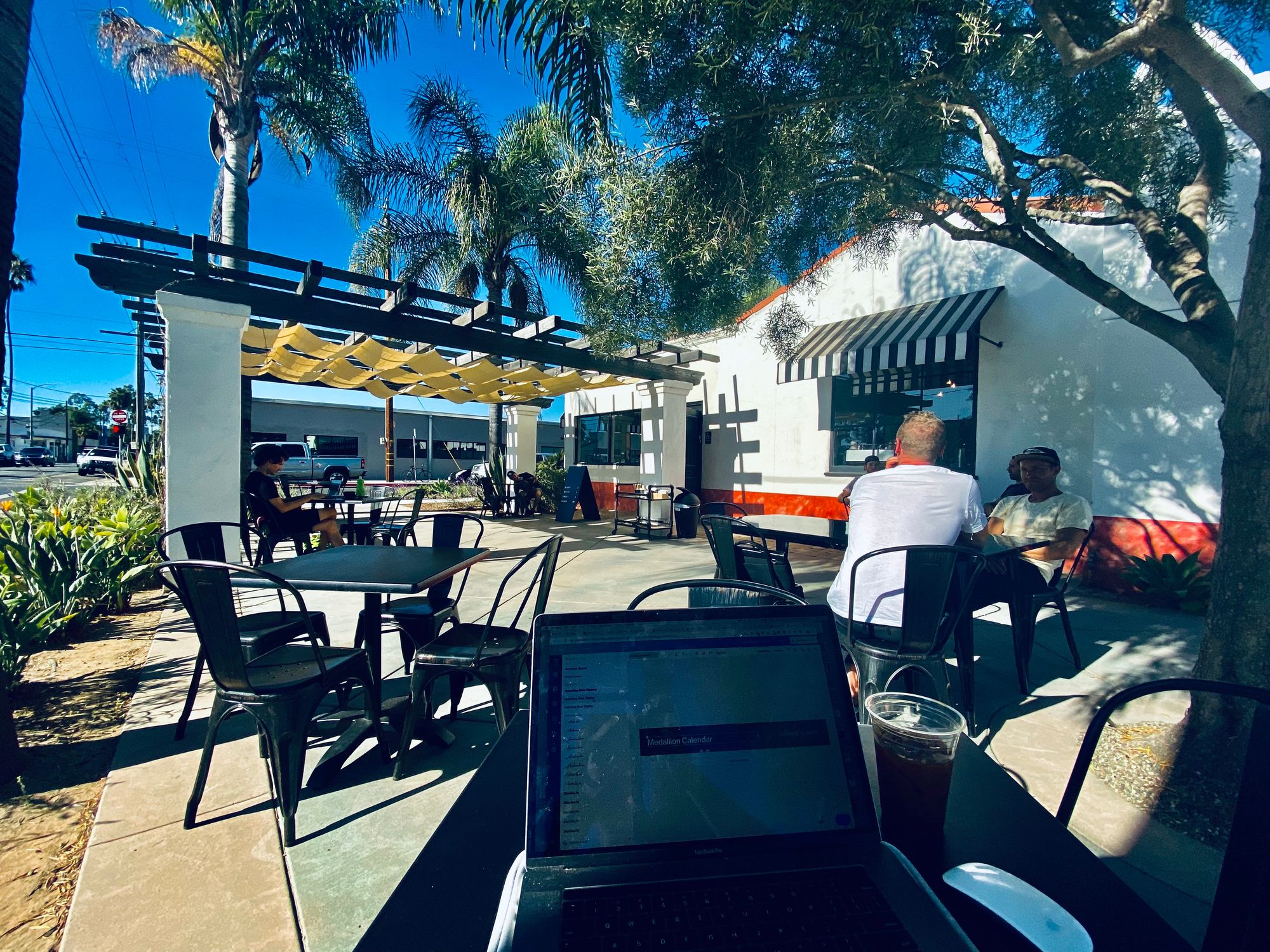 Low Pigeon formed in 2019, grabbing a prime spot on Santa Barbara's perenially-groovy Haley Street. (Just FYI it's kitty-corner to Caje's best location, so get ready to get caffeinated on this block).
LP has mellow vibes and a patio that is just perfect for lounging or blasting out some emails with help from some ace caffeinating, putting you right in the action in the middle of one of Santa Barbara's best one-way (there are a few of them) streets.
☕
NEWS FLASH as of summer 2022 this location now belongs to Lighthouse Coffee...read on. 401 E Haley St, Santa Barbara, CA 93101
Lighthouse Coffee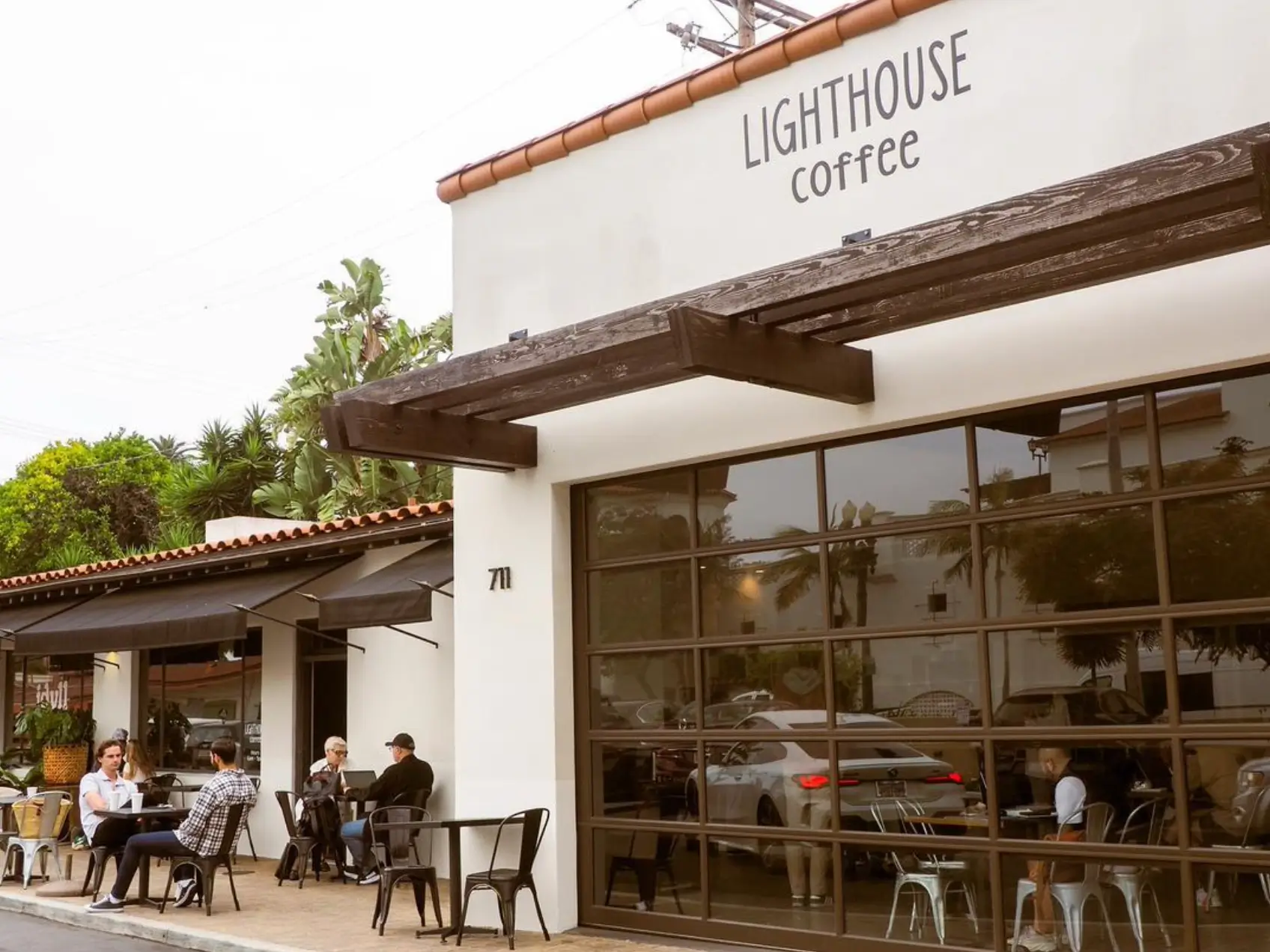 Lighthouse is a fairly new entry to the Santa Barbara coffee scene, but it's gobbled up several dope spots previously occupied by other coffee houses, most notably where BREAKFAST CULTURE CLUB (RIP), LOW PIGEON, and THE GOOD CUP (on The Mesa) used to be. So Lighthouse has some of the best Santa Barbara coffee real estate going, and you might run into Santa Barbara's legendary barista, @nightofthelivingbeth.
☕
Lighthouse Coffee. 1819 Cliff Dr suite c, Santa Barbara, CA 93109
Santa Barbara Roasting Company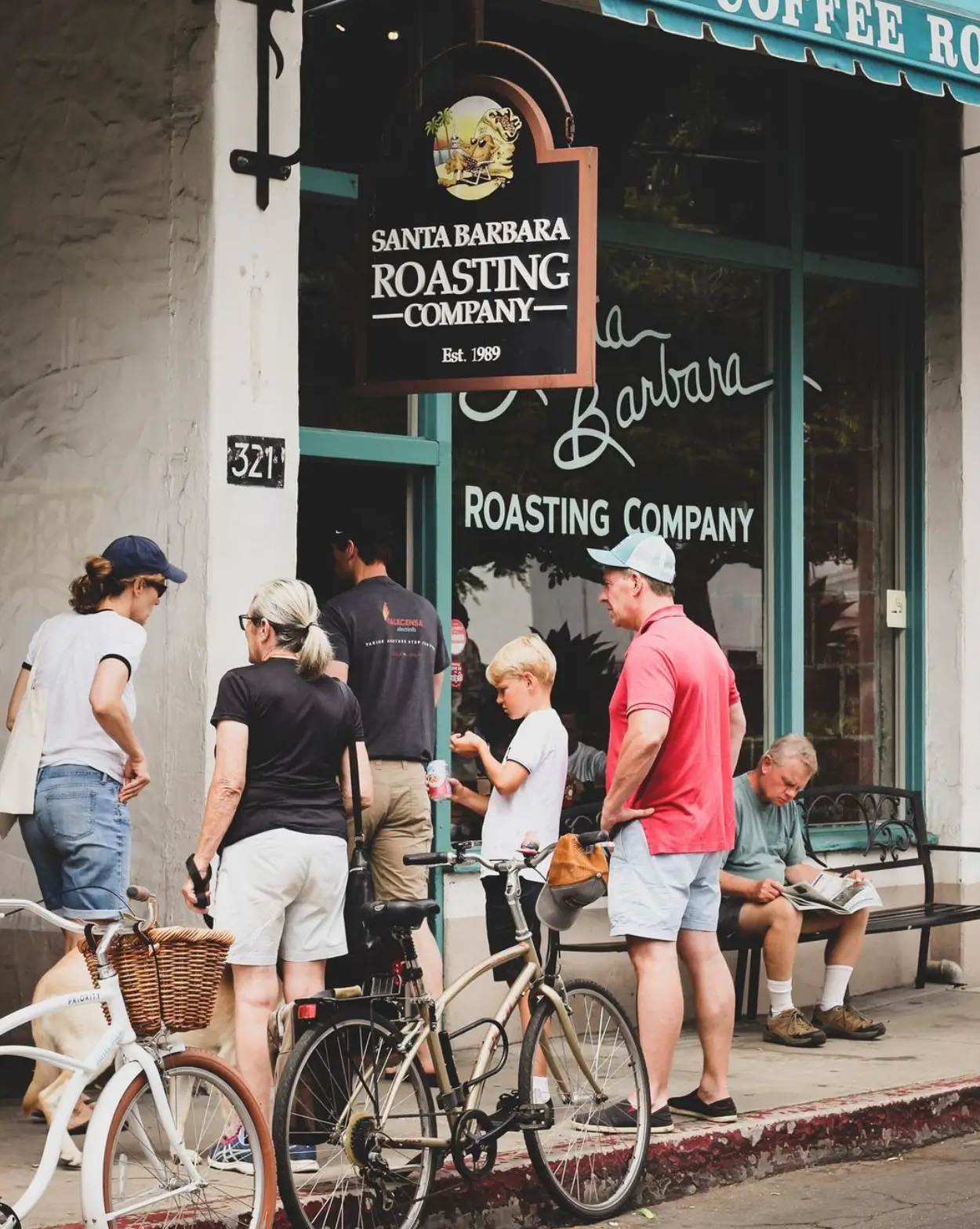 Speaking of legendary, "RoCo" has been doing good coffee for a long time, and it's always a solid choice due to its location near downtown, the funk zone, and the city's best yoga spot.
This place has been a local's favorite for a long time, so when you are walking from the funk zone into downtown proper on State Street, stop by and see what all the fuss has been about for all these years.
☕
Santa Barbara Roasting Company. 321 Motor Way, Santa Barbara, CA 93101
Enjoy your visit to Santa Barbara!