If there is one sneaker brand I would recommend as an overall style hack, it's Common Projects shoes. By style hack, I mean you can add these to your regular outfit rotation and they will add major points to your overall look. There are good reasons that these shoes appear on copious "best sneakers" lists. They are comfortable, and versatile, with quality rivaling some boot brands. When I go on a microtrip and I need one shoe to take with me during the travel, I will most likely opt for my Common Projects.
Common Projects - A Brief History
Common Projects is the brainchild of designers Flavio Girolami and Peter Poopat. The brand launched in 2004 with the unmistakable "Achilles" sneaker. Common Projects rose in stature immediately, gaining plaudits for simplicity and quality. The Achilles was an immediate hit and it is still their most recognizable style.
Since that moment, the brand has been on a steadily upward trajectory. Expanding on their constant demand, Common Projects now offers high-quality boots, loafers, wallets, and bags. They have also expanded their sneaker offerings to include various low-key, essential styles.
👟
Thanks to Portland Dry Goods for providing pics. To shop PDG's seletion of Common Projects,
click here.
Are Common Projects Still Cool?
Yes. Most Common Projects styles have been around long enough to be classics.  Think of  Ray-Ban Wayfarers, the Rolex Submariner, and Converse Chuck Taylors. These are good things that have reached a legacy apex. Common Projects are approaching that category. They are earning a perpetual reputation as the go-to style for those looking for a timeless style hack.
Common projects keep the pendulum right in the center when it comes to balancing the casual with the luxury. You'll spot Common Projects on everyone from your favorite tech founder to actors to NBA stars looking for the mellow-cool vibe when striding into the arena.  So feel free to relax in your Eames chair with your Common Projects and feel like the King of the world.

Is Common Projects a Luxury Brand?
Yes, Common Projects is considered a luxury brand.  In fact, they pretty much introduced the category of "luxury sneakers" to the masses.
The construction and leather quality are on par with what luxury should be. And, at full retail, these shoes start at about 400 bucks. At that point, you're entering the luxury category for sure.
What Is So Special About Common Projects?
What's really so special about Common Projects, and why would you want to spend the 400 bucks for a pair of sneakers?
Here's the answer:
Common projects look better than most sneakers. Remember, this is the brand that introduced the "sneaker-as-dress-shoe" category.
The branding is unmistakable, despite being super subtle. These shoes are not meant to be flashy. But they are still recognizable by those who care about this kind of thing. Like us.
They are made in Italy, a mythical place known for good food, great art, and the construction of high-quality shoes and garments.
They tend to wear more like a good pair of lightweight boots than sneakers.
The more you wear them, the better they will look. A well-worn, broken-in pair of Common Projects have a peak I-don't-care-but-I-really-really-care-in-a-good-way vibe.
How Do Common Projects Fit?
Common Projects fit true to size, although they do not offer half-sizes. Luckily, this brand is popular enough that you can usually find a shop that carries them in your metro area. So you can try on a pair for yourself before you find the best styles online.
Do Common Projects Last?
Common Projects sneakers should last longer than most of your sneakers. Even with everyday wear. It bears repeating that these are built more like a lightweight pair of boots than a traditional sneaker.
Treat your shoes with respect. However, don't worry about wearing your Common Projects to death. In my opinion, a pair of heavily-worn Common Projects look even cooler than a new pair.
What are the Common Projects "Numbers"?
One of the most low-key-cool aspects of Common Projects is their singular branding. Eschewing the in-your-face logos of most sneaker brands, they "stamp" a number on the heel. In an oh-so-utilitarian twist, these numbers are actually identifiers of the color, style, and size of the shoe.
But, despite the anti-branded-branding, don't be surprised if you get compliments on your taste when you wear your Common Projects shoes out and about.
How Do I Know if a Pair of Common Projects Sneakers is Authentic/Fake?
Since the build of Common Projects is, well, simple, it might be harder to spot a fake. This is why, if possible, it's good to buy these shoes from an authorized retailer of Common Projects.
Legit stores don't sell fakes
Quality will be spotty with fakes
Authorized retailers have occasional sales on Common Projects so you may get a deal!
Are Common Projects Comfortable?
Common Projects do tend to run a tad narrow, which is another reason to try them on at a local shop. And like most high-quality shoes and boots, the leather may be a little stiff right outside the box. But with a few wears, they will break in easily. After that, good luck taking them off! Common Projects are some of the most comfortable shoes you can wear after you break them in.
One caveat: these shoes do not have huge arches or air support. If you want a bouncy or cushiony ride, consider another sneaker. Think of your Common Projects as more of a sneaker-looking dress shoe when it comes to comfort. Although you can walk all day in these, they aren't made for running or jumping in. So when it's time to get your sports on, switch out your Common Projects for your Air Max 95's.
Favorite Common Projects Styles
Here are some of our favorite Common Projects Styles.
The Common Projects Original Achilles (Low or Mid)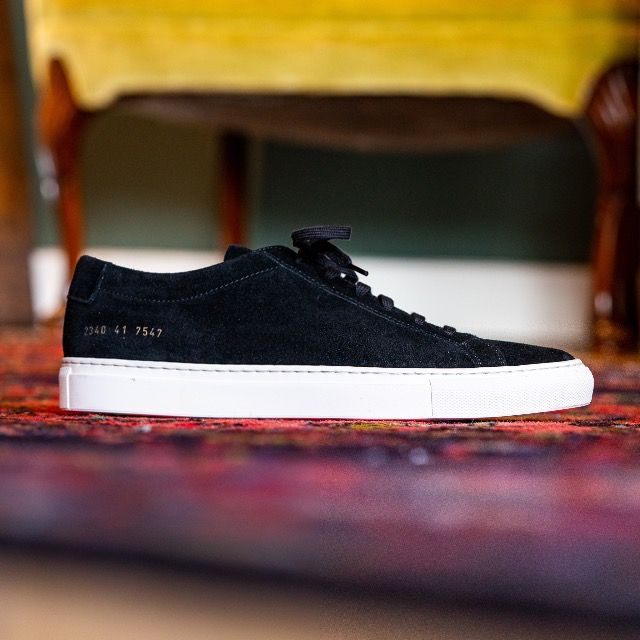 The Common Projects Achilles is the model that started at all! When people think of this brand, this is the shoe they have in their mind. The Achilles is offered in many different styles and materials at this point, but all styles retain the basic build, quality, and simplicity that made these a hit in the first place.
Common Projects Slip On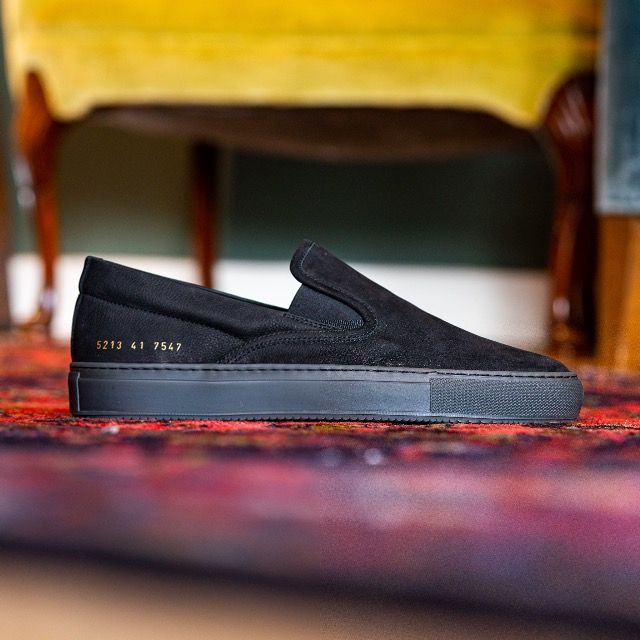 Common Projects really nailed it with their slip ons. Slip ons are some of the most versatile sneakers you can but, and in this day and age they be paired with almost anything. And if you live in a warm climate, you can use these shoes year-round.  
Common Projects Bball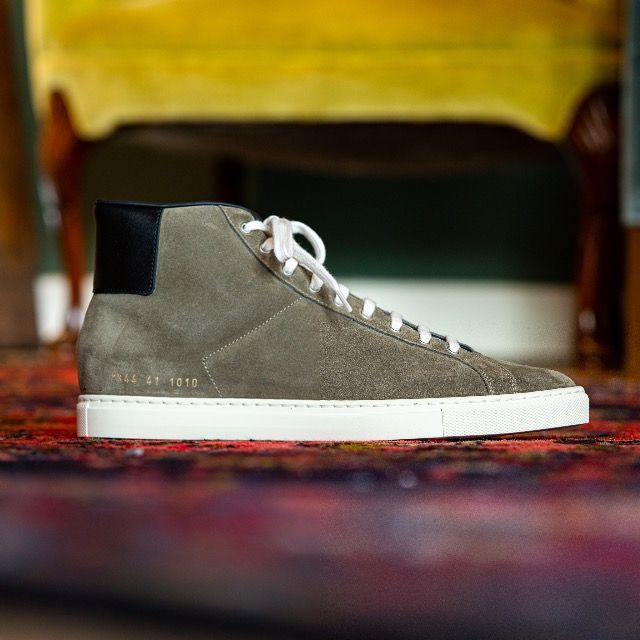 While the Bball low version of Common Projects is pretty nice, in our book the "Bball High" model Common Projects are the real stars. These can actually vary from year to year and are a little harder to find than some of the other models. So they often become sort of a collector's item if you can find them.
I am still kicking myself for passing up a pair of suede Bball highs with an ill strap that I could've nabbed on sale a few years ago. If you are looking for shoes that really stand out, don't pass up a model of the Bball High.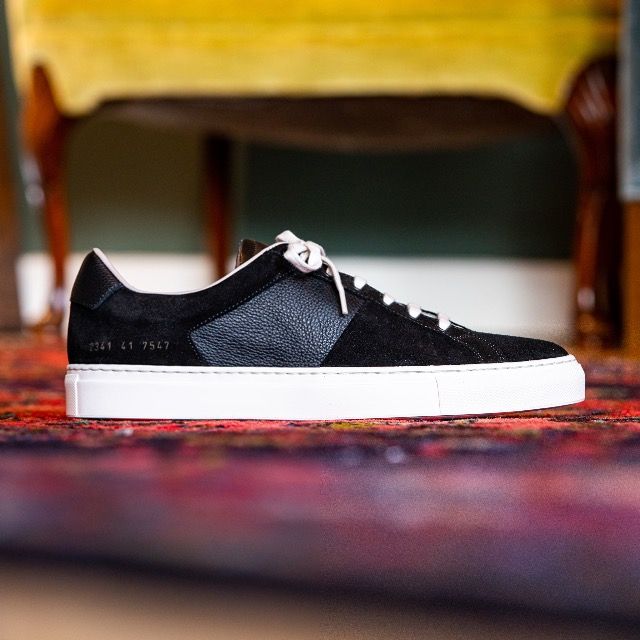 Enjoy your Common Projects! ✌🏻