Tired of online men's magazines giving you a list of cool brands to shop for, then realizing that half of them are sponsored? Maybe you just don't realize at all, and end up spending your hard-earned cash based on some publishing behemoth's "top" list because you've been sold advertising.
I'm going to give you a list of my favorite menswear brands here today, and you can be sure they are all dope. Nobody paid me to be on this list. You will not see Banana Republic, or Everlane or something like that on here, because, well, I think those brands kind of suck,
Here we go. All the B.E.A.N.S.* (aka Body Exalting Armor for Nature's Sequences aka clothing) made by these brands are certified fresh, all the time.
I'm going to build and add to this as I go, so check back once in a while as we put new additions on. There are a ton of amazing menswear brands and designers out there. These are our current favorites.
Category: Future Vintage
Visvim creates artisanal workwear collections with exquisite precision, highlighting the traditional appeal of authentic craftsmanship. Each of the finely-crafted BEANS made by Visvim represents Hiroki Nakamura's idea of 'future vintage.
In order to create their unique style, Visvim uses a variety of techniques that are all but extinct. For example, they utilize natural dyes in order to give their garments a more vintage look. In some cases, Visvim even develops their own proprietary fabrics (as in their denim) to ensure the unassailable quality of their gear.  In addition, Visvim also uses hand-stitching and other artisanal methods. By using these rad old-school techniques, Visvim is able to create clothing that has a distinct look and feel that is unlike any other brand on the market.
Category: Creative Heritage & Workwear
Originally, Engineered Garments took its brand name from the pattern maker who designed the first batch of patterns. As a result of the detailed work involved in each garment, she said the clothes weren't manufactured, but engineered. In keeping with its name, Engineered Garments excels at combining practical and beautiful details with meticulously-executed design flourishes. Engineered Garments is a great brand for the heritage/preppy l00k, and their unique cuts are classic yet utterly recognizable as Egineered-Garments-specific pieces.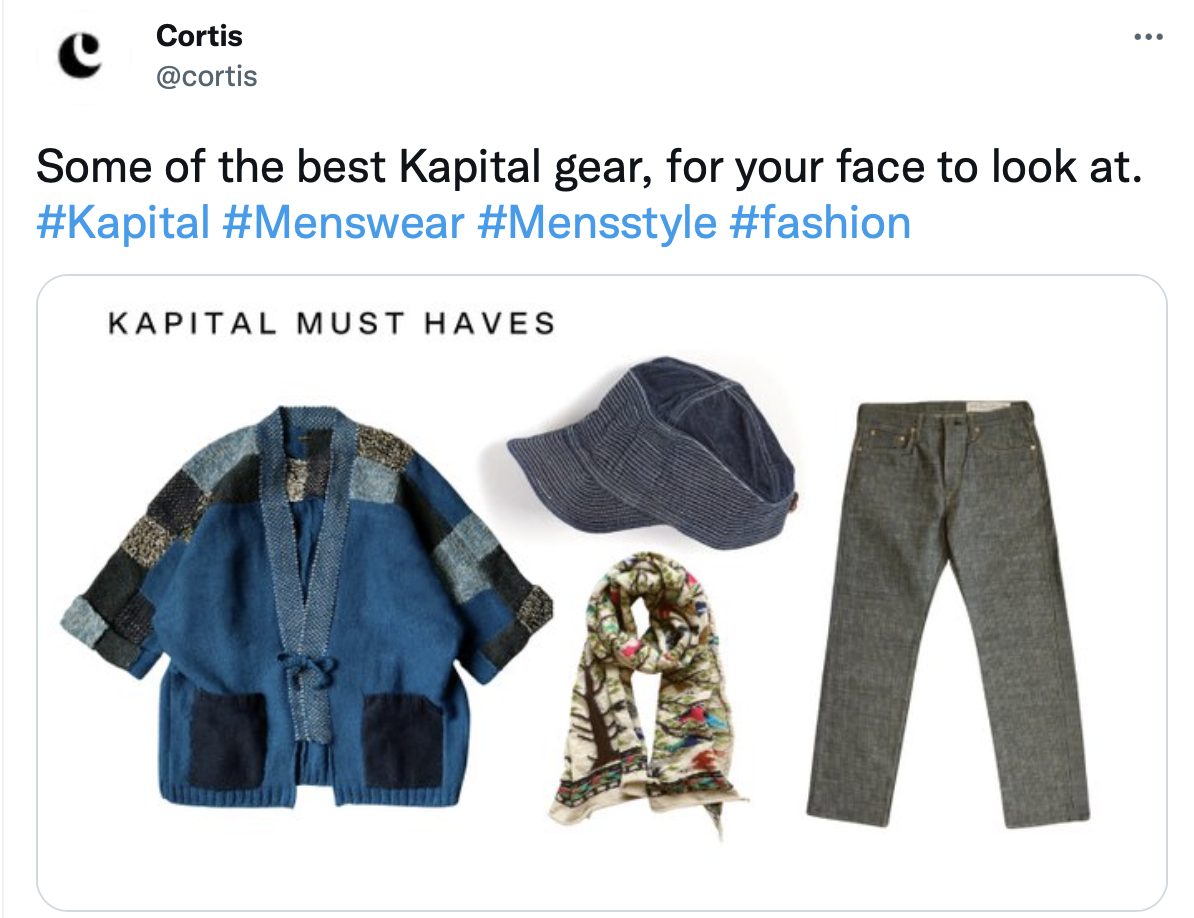 Category: Kapital is its own category
Toshikiyo Hirata founded Kapital in 1985 after many years working in the denim industry. The name KAPITAL refers to Kojima, Japan's "Denim Capital," where the brand was founded. The company is led by Toshikiyo as president and Kiro as head designer. Each product's intricate details and meticulous workmanship reflect its esoteric nature and tongue-in-cheek philosophy. Kapital Garments are a blast to wear and a blast to look at.
Category: Post-Heritage, Avant-Garde
The "post-heritage" vision of denim was coined and is being created by Matias Sandoval and his namesake brand. Founded in 2004, Matias makes avant-garde styles for the truly progressive man— fusing modern workwear and futuristic fashion.
This brand is one to watch and an incredible option if you want to wear something insanely cool that hasn't hit the mass consciousness yet.
💡
Matias is one of our favorite smaller brands, made in the USA. Definitely check them out.
Category: Luxury Casual and Staples
Each of John Elliot's staples are crafted with premium fits and fabrics that create a hassle-free wardrobe. He also introduces pieces that are highly practical and distinct, making his name brand one of the most versatile, accessible, and wearable. You can't go wrong with John Elliot.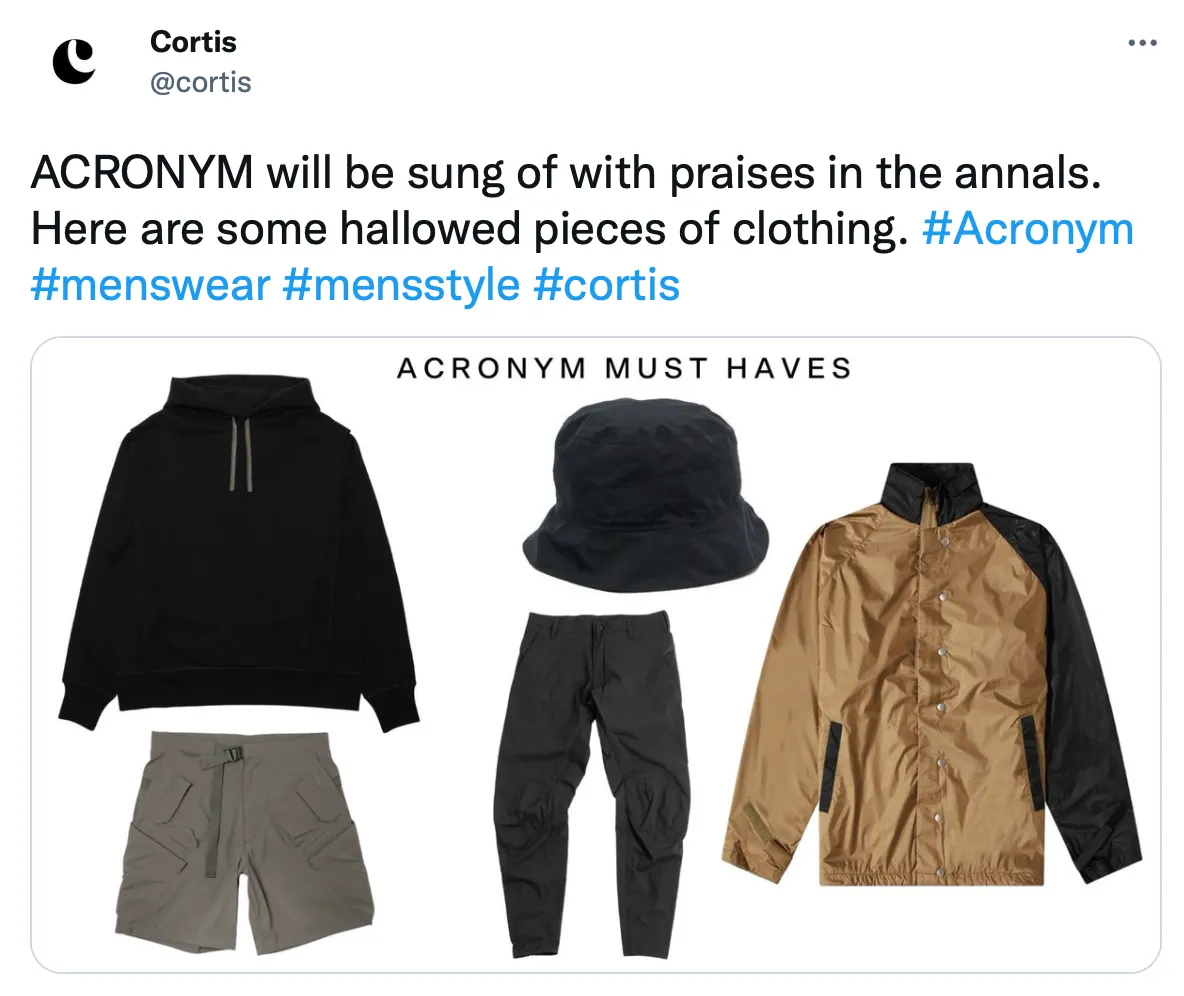 Category: Techwear God
In 1994, Michaela Sachenbacher and Errolson Hugh founded ACRONYM® as a design agency focusing on style and technology. An entire generation of technical apparel products (and dedicated fans) have emerged with the Munich-based label as their spiritual overlord. In terms of technologically advanced garments, ACRONYM® is the gold standard.
Category: Casual Retro-Inspired
Isabel Benenato debuted her first collection of menswear in 2011, showcasing minimalist silhouettes rendered in high-quality fabrics with occasionally bold prints.
Benenato's brand of low-key luxury, which emphasizes fine materials and Italian craftsmanship, features bold yet wearable designs, creating subtle wearable luxury. Using proportions in inventive ways to create streamlined variations of classic garments, Benenato has emerged as a leading figure in a new wave of minimalist fashion. If you are looking for the retro look, but with modern fits, look no further than this brand.
Category: Progressive Luxury & Casual
Founded in 2012, Fear of God is Jerry Lorenzo's skyrocketing brand. Its premium materials and streetwear sensibilities have captured the hearts of LA's A-listers. While Fear of God Mainline offers luxury takes on yesteryear's staples, the Essentials line has captured the attention of a generation bent on ditching the fussiness of fashion. Instead, they opt for basic, understated pieces that are inspired by streetwear, and Lorenzo is their God.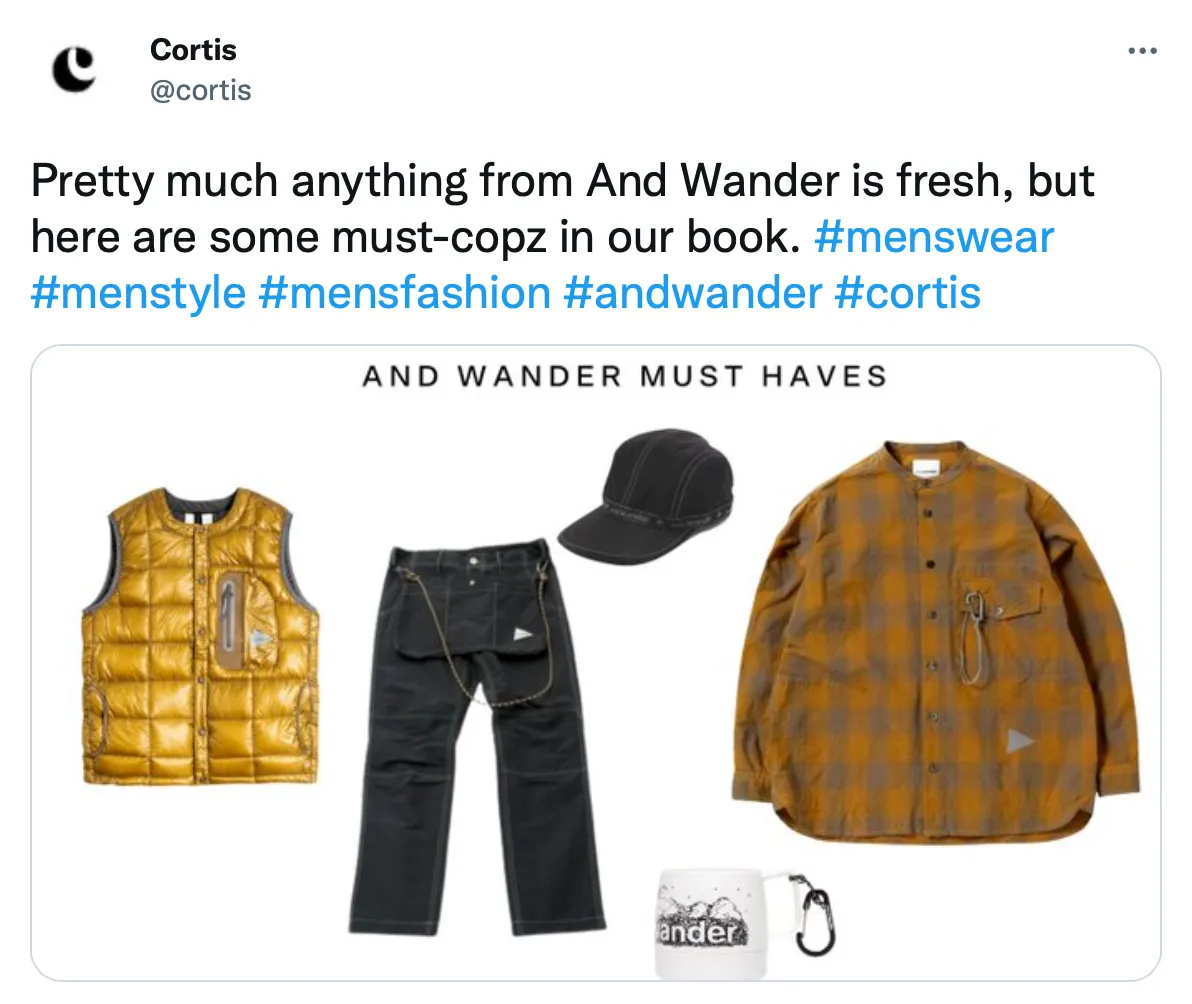 Category: Modern Outerwear
And Wander is a clothing company devoted to an appreciation of nature and the outdoors, founded in 2011 by Keita Ikeuchi and Mihoko Mori. Providing a highly aesthetically refined interpretation of the latest materials and technologies in the performance outdoor wear sector, the brand's hiking shell jackets, ultralight backpacks, fleeces, and fast-drying trekking pants are state of the art in both design and in the appreciation they have garnered from legions of in-the-know gorpheads.
Category: Modern Technical Casual
Innovative dyeing techniques and surface treatments make Stone Island one of the most recognized brands in the apparel industry. It is also distinguished by a cloth badge with a compass design and buttons on the left shoulder as well as its unintentional affiliation with soccer hooliganism and Drake. Fear not to wear. Stone Island is one of the most popular and versatile brands in its class, and if you want a touch of technical flair to your wardrobe, try this Italian stalwart.
Category: High-End Heritage-Inspired
Founder Angelo Urrutia's 4SDESIGNS menswear label is based on the principle of functionality. Its ready-to-wear ethos works hand in hand with its manufacturing process which prioritizes quality and craftsmanship.
The designs of Urrutia, formerly of Engineered Garments and Nepenthes, are characterized by deep blues, earth tones, and vintage striped patterns. 4SDESIGNS suggests the truest form of luxury is durability, standing outside of any trend and impervious to all seasons.
Category: Casual Luxury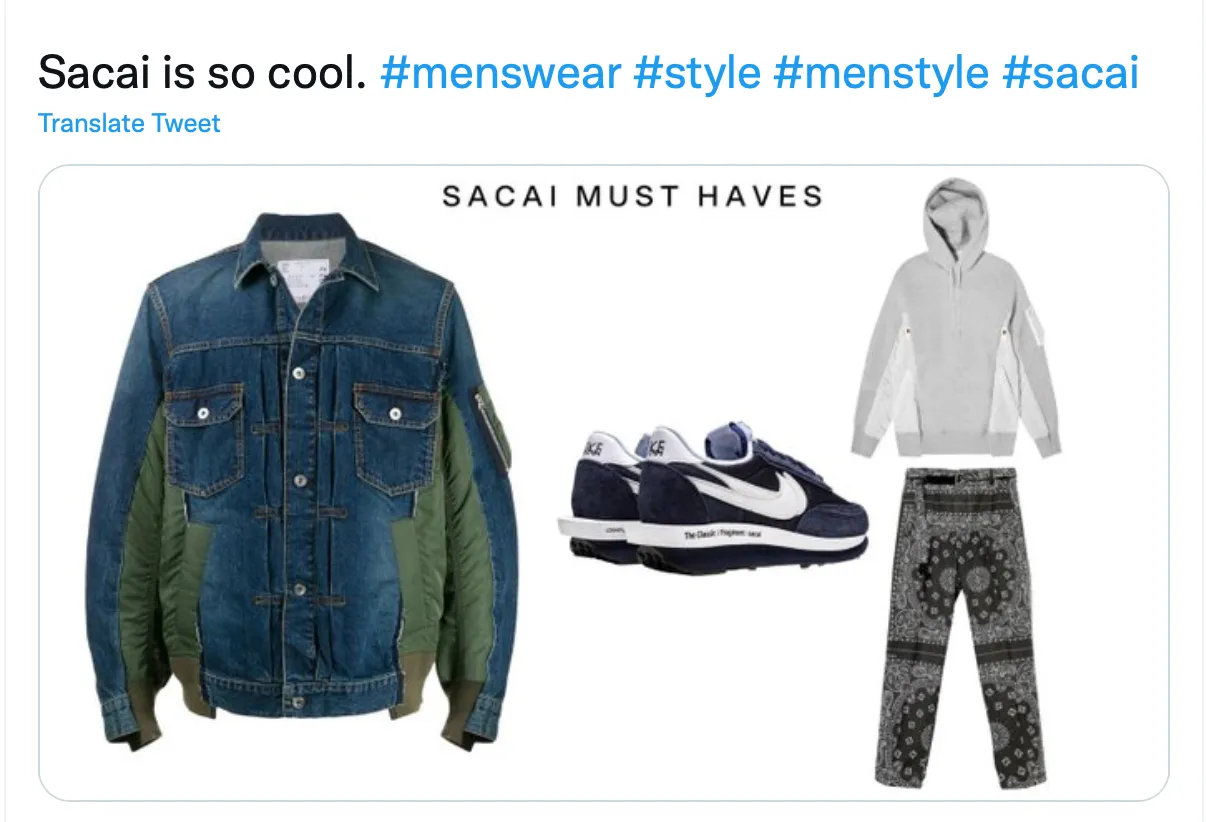 After almost a decade of working at Comme des Garçons under Rei Kawakubo and Junya Watanabe, Chitose Abe founded Sacai in 1999. The Japanese brand's seasonal collections combine sportswear cues with high couture techniques using experimental cuts and textures.
Today, Sacai's signature aesthetic is present across an expansive range of apparel and collaborative ranges of Nike sneakers that consistently blow minds and rise to the top of sneakerhead charts. Sacai is one of the coolest brands in the solar system.
Daniel Andresen
Category: Avant-Garde
Belgian designer Daniel Andresen is known for his minimalist designs and luxurious fabrics. His clothing is simple and elegant and often features muted colors and clean lines. Andresen's designs are popular with both men and women.
Category: Classic Staples
Rowan is a new clothing brand from Los Angeles, California. They are quickly becoming known for their high-quality, sustainable clothing. All of their clothes are made from quality materials. They also use low-impact dyes and practices that are environmentally friendly. Their goal is to create beautiful clothes that don't damage the environment.
💡
Rowan is a great brand if you are looking for staples that can last a long time. For more brands in this category,
read this article.
Category: High-end staples
Nonnative, from Japan, is a clothing brand that focuses on creating unique and high-quality pieces. The brand takes a modern approach to traditional Japanese style, resulting in a uniquely casual aesthetic that is both timeless and current.  Nonnative has become one of the most on-the-dl coveted brands in the industry, with a loyal following of savvy collectors.
Category: Luxury
The Row is a clothing brand founded by Ashley and Mary-Kate Olsen in 2006. The sisters are known for their takes on understated and timeless designs, and the brand has long been a favorite among celebrities and fashion insiders. The Row's collections are sold in high-end stores around the world, and the brand has been recognized with several awards, including the Council of Fashion Designers of America's Award.
Category: Casual Luxury
Acne Studios is a Swedish fashion house founded in 1996 by Jonny Johansson. The label's collections, which are shown during Paris Fashion Week, are inspired by Johansson's love of art, photography, and architecture. Acne Studios' clothing is often minimalistic and features clean lines, as well as unusual details and cuts. The brand's aesthetic has been described as "quirky and cool." In addition to its clothing line, Acne Studios also produces shoes, accessories, and home goods. Its products are available at Acne Studios stores and select retailers worldwide.
Category: High-end streetwear
Sasquatchfabrix is a Japanese clothing brand founded in 2003 by Daisuke Yokoyama. The brand's name is a combination of the words "sasquatch" and "fabric." Sasquatchfabrix. clothing is known for its unique designs, which often incorporate traditional Japanese elements into modern silhouettes. The brand's aesthetic has been described as "a mix of street and high fashion."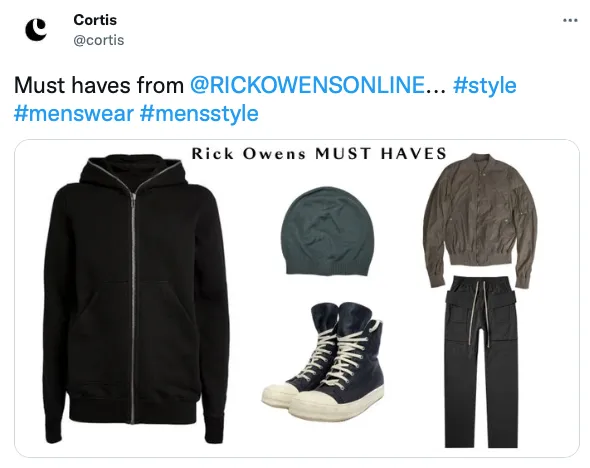 Category: Luxury Avante-Garde
Rick Owens is an American fashion designer based in Paris. He founded his eponymous label in 1994. Owens is known for his avant-garde, often deconstructed designs. His clothing is some of the most well-respected in the world. The brand's aesthetic has been described as "dark and edgy." In addition to its mainline, Rick Owens DRKSHDW offers avant-garde staples that are more consistently accessible.
Rick Owens is a true artist, and his clothing reflects that.  If you're looking for something unique and stylish, then Rick Owens is the brand for you.
Category: Luxury Avante-Garde
Damir Doma is a Croatian fashion designer based in Paris. He founded his eponymous label in 2006. Doma's designs are often minimalistic and feature clean lines, as well as unusual details and cuts. The brand's aesthetic has been described as "elegant and edgy."
TakahiroMiyashita The Soloist
Category: Avante-Garde
Takahiro Miyashita is a Japanese fashion designer who founded the label Takahiro Miyashita The Soloist. in 2007. Miyashita's designs are often inspired by punk and rock music, as well as traditional Japanese clothing. The brand's aesthetic is edgy and streetwear-inspired. Miyashita was also the founder of the cult favorite brand number (n)ine.
Category: Modern Classic Staples
A.P.C. is a French clothing brand founded in 1987 by Jean Touitou. The brand's aesthetic is clean, simple, and understated.  The brand is also known for its denim line, which includes a range of jeans in different fits and washes. This is a great brand for men looking for understated classics at a reasonable price.
Category: Military Vintage-inspired Casual
Monitaly is an American clothing brand founded in 2001 by Yuki Matsuda. The brand's aesthetic is rustic and rugged with vintage military inspiration, with a focus on quality construction and materials. Yuketen's products are made in the USA using traditional manufacturing techniques. Yuketen offers a range of handmade footwear in collaboration including boots, shoes, and sandals.
Category: Vintage Denim Reproductions
Chimala is a Japanese denim brand founded in 2005 by Noriko Machada. Based out of New York City, the brand's jeans are made with traditional Japanese methods and construction. Chimala's often-unisex jeans are also known for their traditional fits, often on the baggier side.
Category: Casual Luxury
The mother-daughter team behind Paris-based WOOYOUNGMI weaves offbeat details into clean-cut, menswear staples. Using fine attention to detail, architectural cuts, and sharp, skilled tailoring, Woo Youngmi and her daughter Katie Chung modernize t-shirts, shirts, and jackets as an alternative to monotony.
Category: Adventurous Minimalist
Aase Helena Hansen and Per Chrois Christensen founded HANSEN Garments in Copenhagen in 2010, and the company is still privately owned. The company toes the line beautifully between avant-garde and classic, fusing surprising details into their hyper-wearable designs.
Category: Avante Garde
Kiko Kostadinov is a fashion designer based in London. He founded his eponymous label in 2016. Kostadinov's designs are often minimalistic and feature clean lines, as well as unusual details and cuts.
The brand's aesthetic has been described as "elegant and edgy." Kostadinov has also collaborated with a number of other brands, including Asics and Adidas.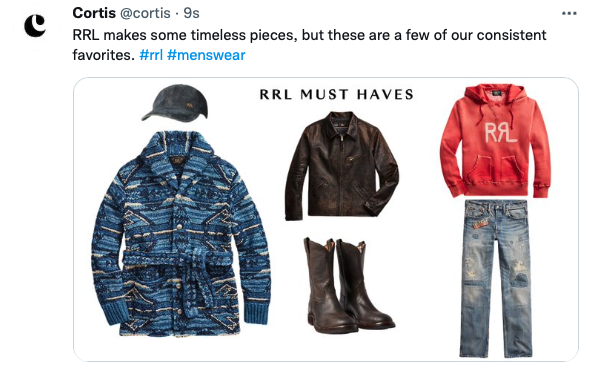 Category: Southwestern Vintage
RRL is an American clothing brand founded by Ralph Lauren in 1993. The brand's collections are inspired by Lauren's love of western Americana and the outdoors. RRL's clothing is often rustic and rugged, with a focus on quality construction and materials. The brand also produces a range of accessories, including belts, wallets, and handbags. RRL's products are available at RRL stores and select retailers worldwide.
Category: Artisinal Farm Amazingness
Tender is a British clothing brand founded in 2013 by designer William Kroll. The brand's aesthetic is rustic and authentic, with a focus on time-honored craft and materials. Tender's products are made in the UK using painstakingly traditional manufacturing techniques.
Category: Thoughtful Assemblage
Greg Lauren is an American fashion designer. He is the nephew of Ralph Lauren and the founder of his own eponymous label. Greg Lauren's designs are often deconstructed and feature distressed elements— his designs would make Mugatu proud. Make no doubt about it, though, Lauren's designs are anything but derilicte.
Category: Vintage Americana with Italian Craftsmanship
Fortela is an Italian clothing brand founded in 2007. The brand's aesthetic is rustic and refined, with a focus on quality construction and materials. Fortela's products are made in Italy using traditional manufacturing techniques. Alessandro Squarzi is the creative director of Fortela. He is also a photographer and entrepreneur. Under his direction, Fortela has become known for its reproduction of vintage classics from his personal collection.
Category: High-End Arts and Crafty
Bode is an American clothing brand founded in 2017 by Emily Adams Bode. The brand's aesthetic is inspired by vintage textiles and garments. Bode's products are made in the USA using traditional techniques and materials.
Category: Vintage & Hats
Sam Roberts LA is based out of an old gas station building in Ojai, California, but don't let it's facade fool you— this is one of the hottest upcycled vintage brands in the world. Owner John Dennis oversees this small-but-mighty operation, and he also crafts some of the coolest hats you'll find.
Category: Cashmere
Swiss knitwear brand that focuses on beautiful cashmere sweaters with unique drapes and fits. Check out their beautiful hooded sweaters and hats for a really good time.
Category: Technical Luxury
1017 ALYX 9SM is an American clothing brand founded by Matthew Williams in 2015. The brand's aesthetic is edgy and streetwear-inspired. 1017 ALYX 9SM's collections often feature technical designs with a focus on quality construction and materials.
Category: Avant-garde
Founded by Guy Berryman of Coldplay, APPLIED ART FORMS, also known as A/A/F, masterfully reinterprets the language of classic functional clothing, infusing it into the sphere of modern everyday attire. Anchored in Amsterdam, the brand is deeply inspired by Berryman's extensive collection of influential fashion artifacts, gracefully modifying their designs and utility to ensure their timeless appeal endures.
---
More Men's Clothing Brands to check out.
Those are our current favorites...here are some more we love a lot.
Byborre
Battenwear
Beams Plus
Cottle
Common Projects
FDMTL
Folk
COF Studios
Hender Scheme
Human Made
JW Anderson
JACQUEMUS
JACQUES MARIE MAGE
NORBIT BY HIROSHI NOZAWA
Nahmias
Noma T.D.
Nanshuka
Museum of peace and quiet
Ten C
The Real McCoy's
Mister Freedom
Rogue Territory
The Flat Head
Double Heliz
Yashiki
Dr. Collectors
Ziggy Chen
MIHARA YASUHIRO
Boris Bidjan Saberi
Loewe
The Row
Orslow
Junya Watanabe
Resolute
Jean Shop
Pure Blue Japan
Hollywood Ranch Market
TCB Jeans
Graphzero