Ah, the long-sleeved T-shirt. The unsung hero of any wardrobe. This wicked versatile layering piece just keeps on giving. But why wear the same long sleeve that everybody else is rocking?
Why indeed, u genius.
We let our shirt elves out of their treehouses to scour the globe like Legolas on a dope quest. They tested and tried countless options, and have come up with 7 long-sleeved t-shirts that are fit for any and all kingdoms.
From something cozy to wear at home, a base layer for your next adventure, or something unique to pair with your favorite jeans for a night out, we've got you covered with some long-sleeve pics that aren't stock and lame.
Here ya go.
CDG Play Long-Sleeved T-Shirt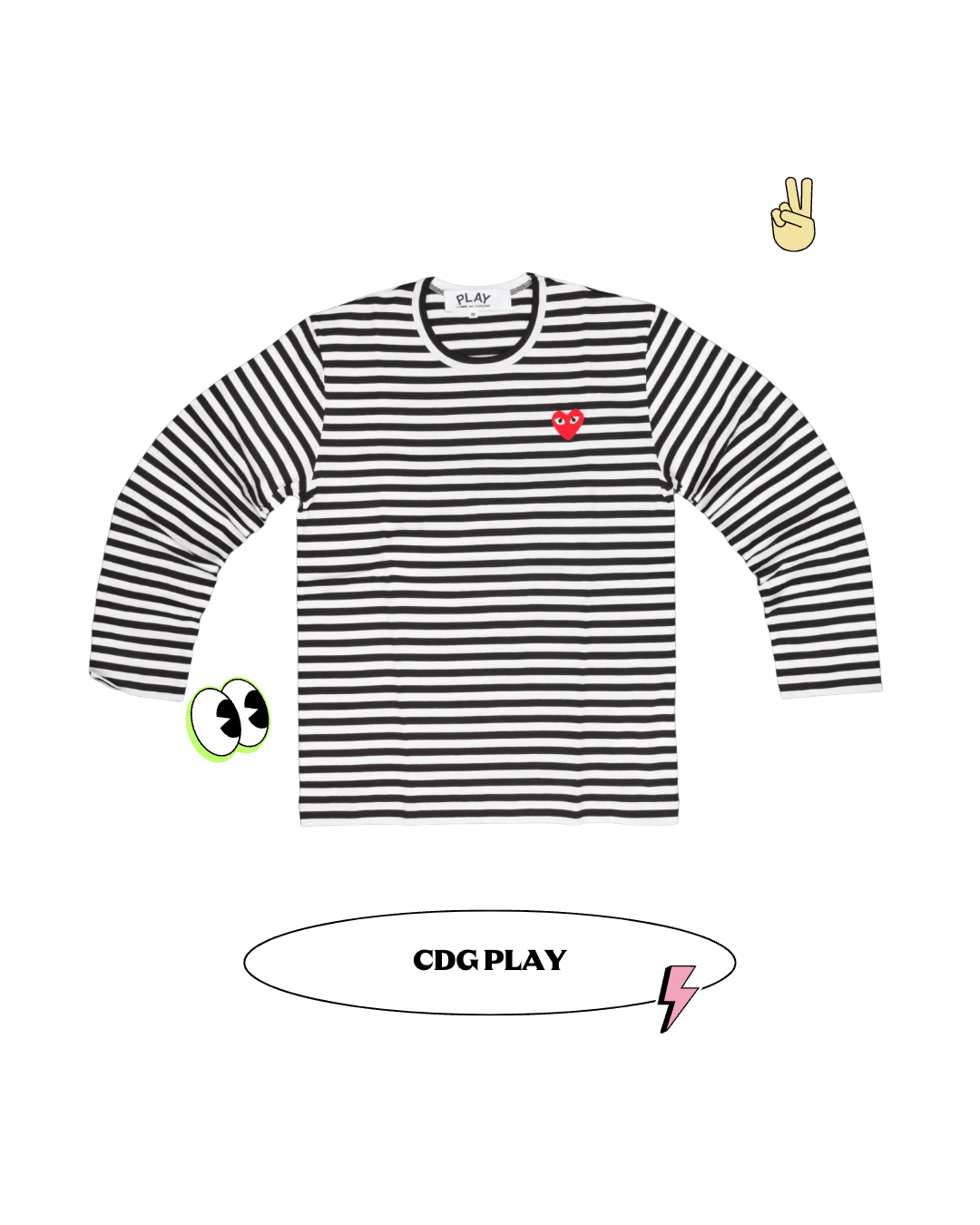 An absolute crowd-pleaser from the PLAY collection, the long-sleeved shirt is a feather-light cotton top that won't stick to your skin. It's adorned with the iconic red embroidered Play Heart logo on the chest, along with black stripes, adding a touch of sophistication to your ensemble.
You can feel all euro without having to endure language barriers, cigarette smoke, and small portions. And, to top it off, it's expertly made in Japan, ensuring the highest quality craftsmanship.
€ 140.00 at fransboonestore.com
Kapital Ortega Jersey Long-sleeved t-shirt
Add some verve to your long-sleeved shirt with this banger by the iconic Japanese brand, Kapital. Crafted from 100% cotton, the relaxed fit of the shirt guarantees ease of movement and a comfortable fit, allowing you to go about your day with ease– you'll be doing something dope in this, I'm sure.
What sets this shirt apart is the Chimayo detailing on the sleeves, adding the expected Kapital touch to the classic design. It'll cost ya, but the Chimayo pattern is a tribute to traditional Native American textiles and showcases Kapital's penchant for blending global design elements in their creations. As expected, this shirt is expertly crafted in Japan.
$304.00 at mhny.nyc
Save Khaki heather jersey long-sleeved t-shirt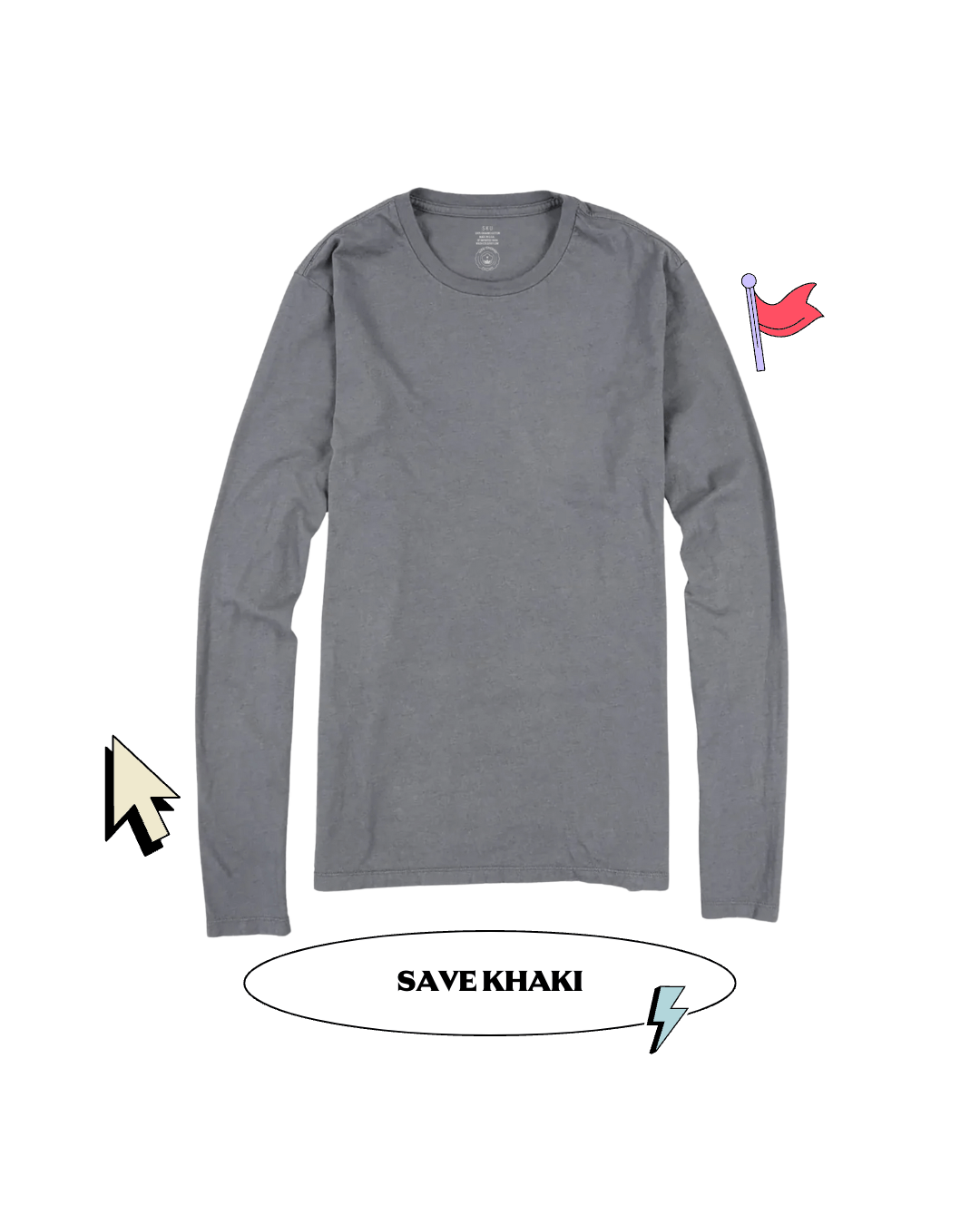 Long sleeve t-shirt from stalwart brand Save Khaki United. This versatile long-sleever is great for layering or rocking in moderate weather. The garment-dyeing process gives it a unique, worn-in look and pre-shrinks the material for added durability.
Save Khaki stuff is Proudly made in the USA, using imported yarn, ensuring high-quality craftsmanship and a commitment to sustainability.
$75.00 at savekhaki.com
Buck Mason Indigo-Dipped Long-Sleeved T-Shirt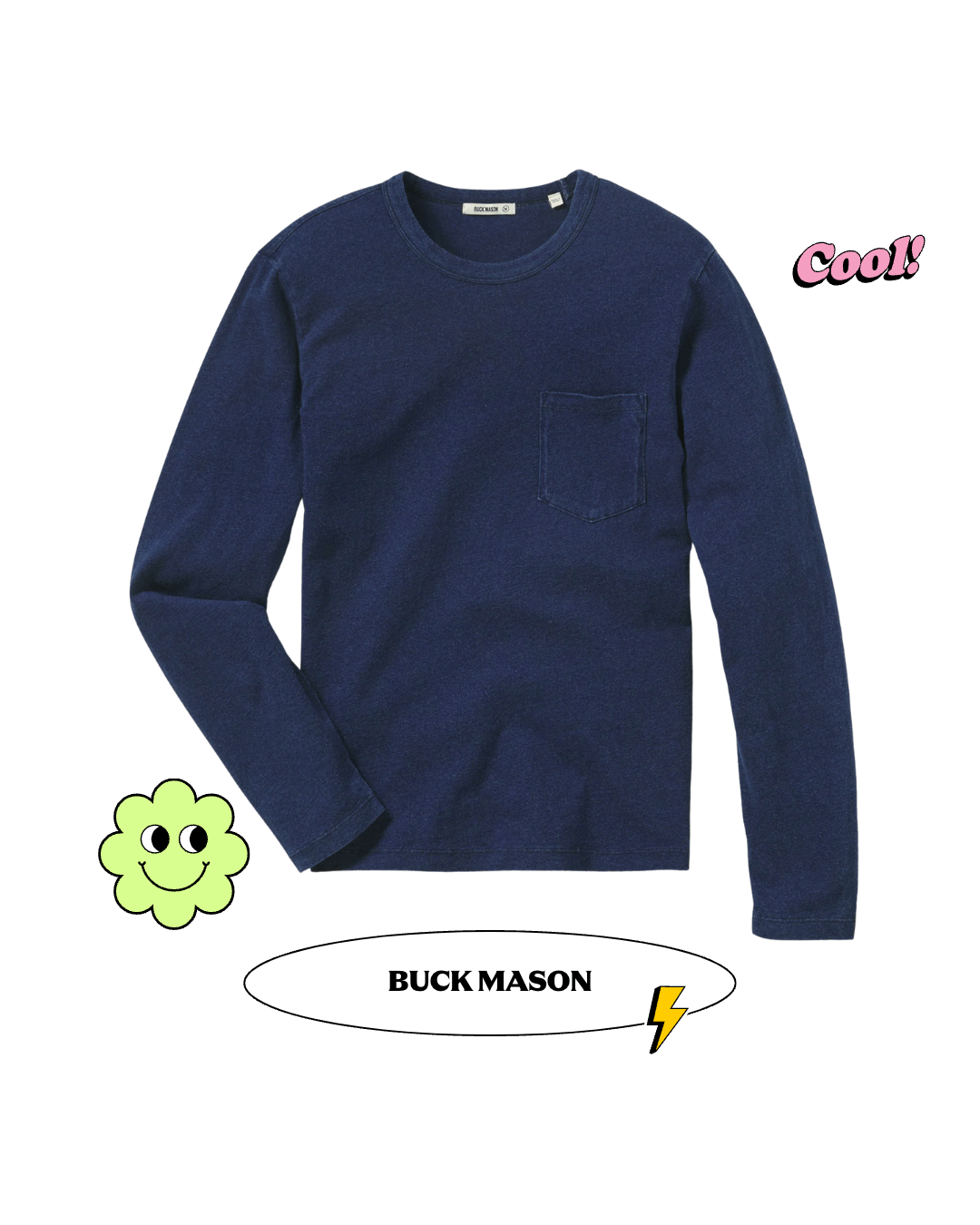 Indigo banger here by Buck Mason, the USA-based brand renowned for high-quality staples. It won't cost you an arm and a leg, but it is Mmde from 190 GSM indigo yarn-dyed cotton jersey. Do the classic indigo look to pair with your favorite jeans yo. The vintage, straight-hemmed fit ensures a comfortable and relaxed feel.
$60 at buckmason.com
Visvim Sport Lakota Slim-Fit Long-Sleeved Wool Jersey T-Shirt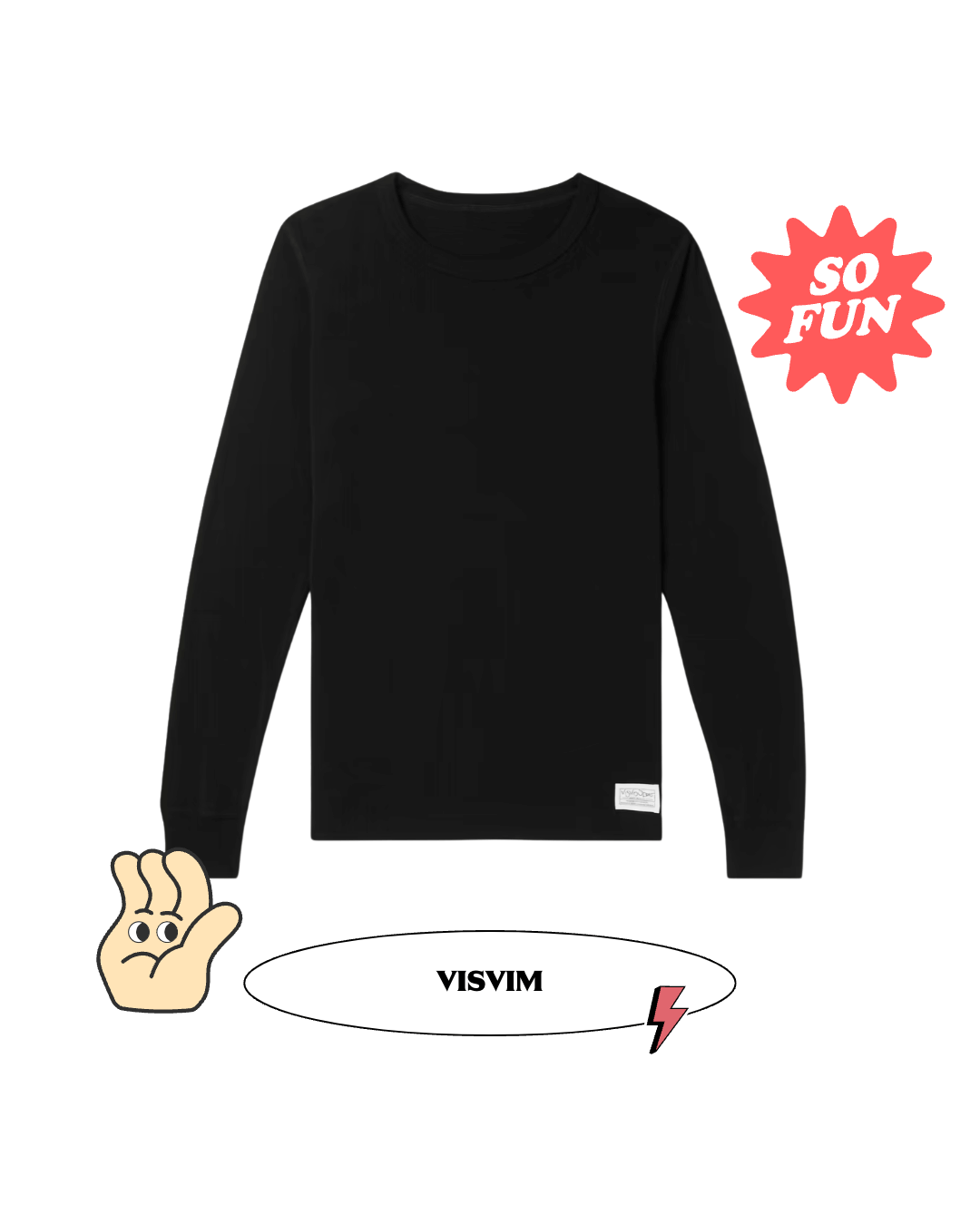 Crafted from superfine wool-jersey, this "Lakota" long-sleeve t-shirt offers temperature-regulating properties, making it a solid choice for rooting for the neutrals on the outdoor picnic tables at your favorite soccer bar. Also good for maximum comfort during physical activities.
The crew neck design Vis quality with low-key appeal, while the appliquéd emblem shows errbody what your about. Crafted from 100% wool, this t-shirt is everything you'd expect from Visvim.
$450 at mrporter.com
Velva Sheen - Pigment L/S Big Tee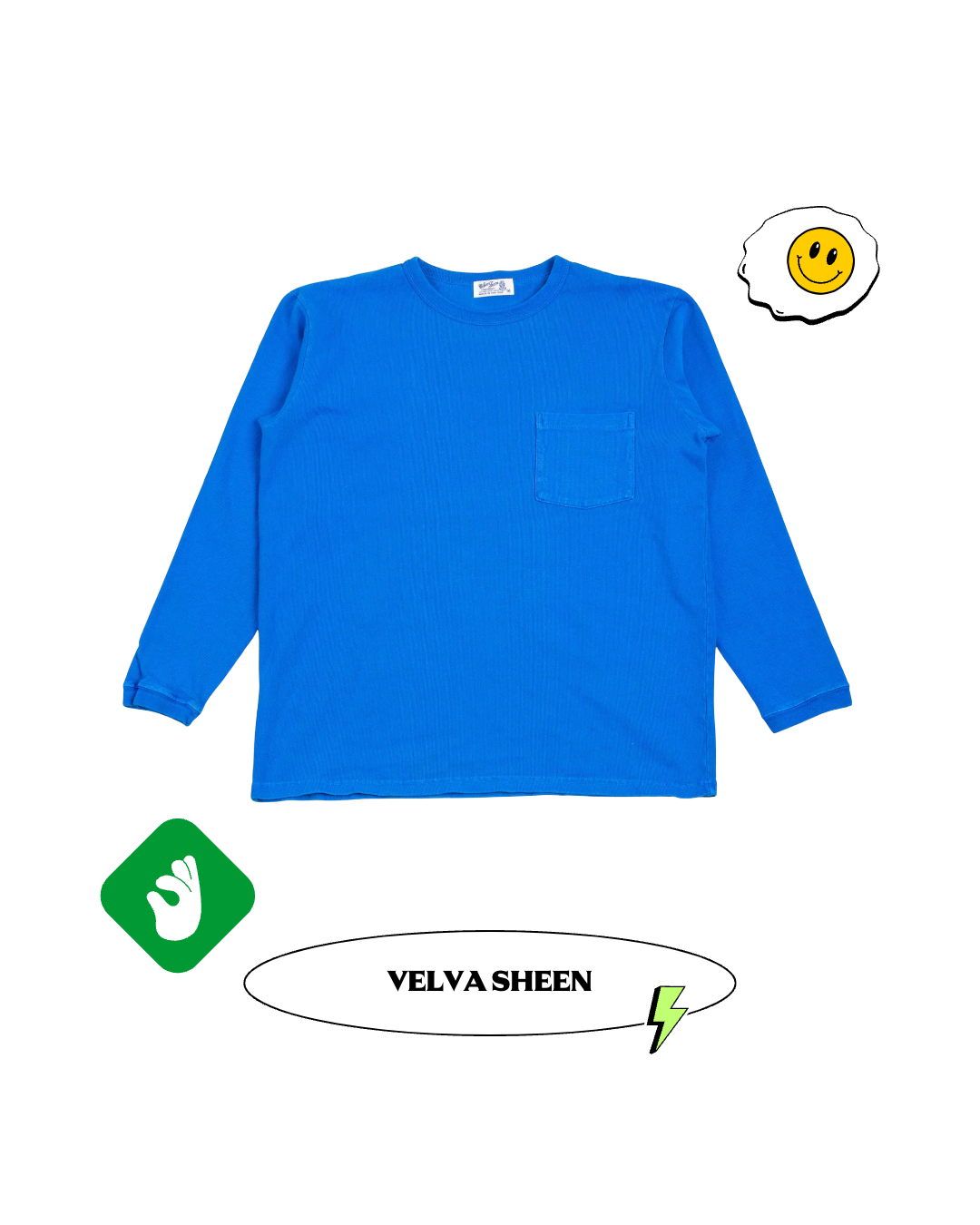 For all you chest pocket lovers, this Velva Sheen T is perfect and you can pretend you have a great personality with the epic blue color. Expertly crafted in the USA. This is a heavyweight option, adding some versatility to the comfort you'd expect from everybody's favorite t-shirt brand.
$81.00 at shoplostandfound.com
John Elliot - Long-sleeved Reconstructed T-Shirt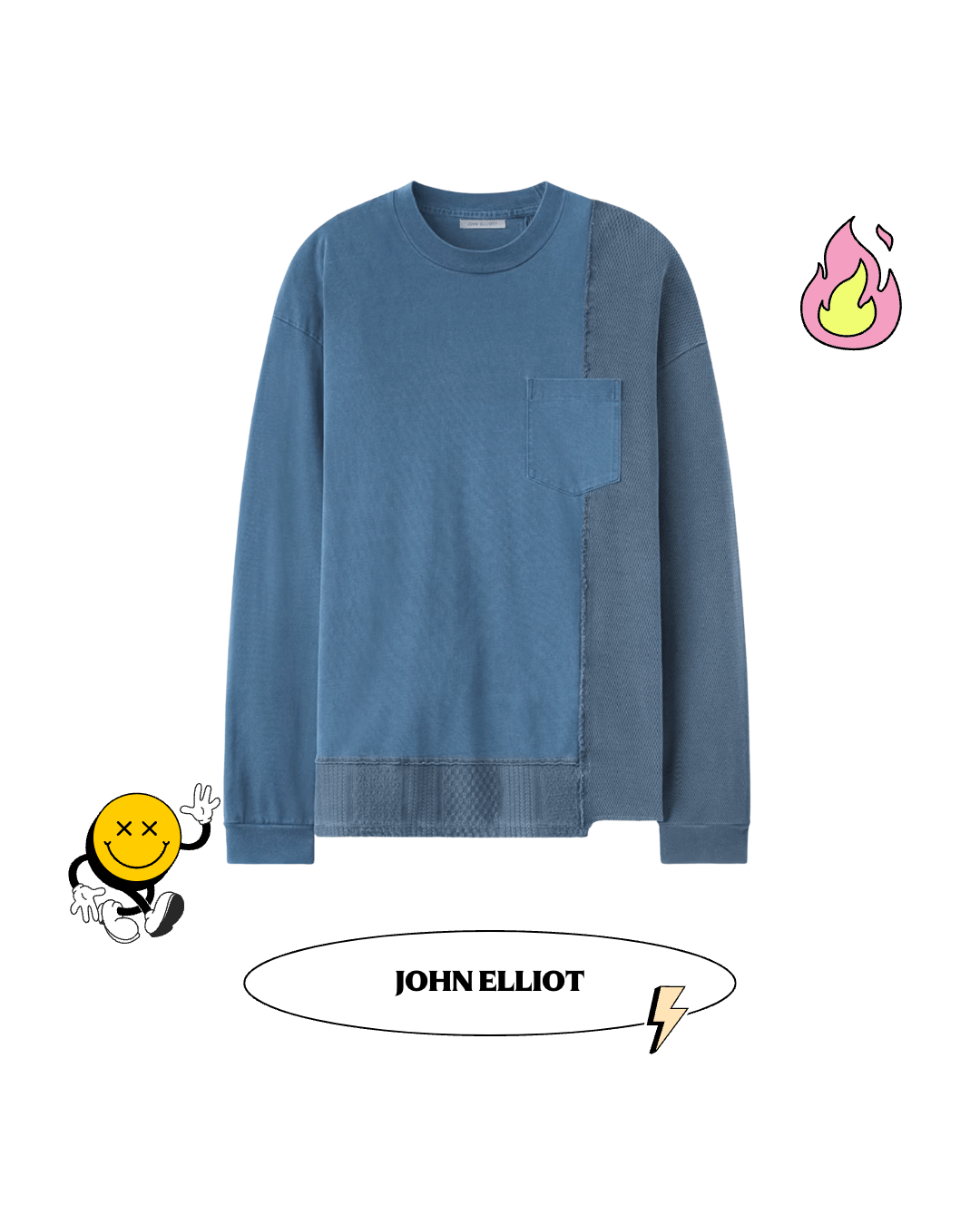 A statement piece from John Elliot's reconstructed collection. The statement: dope style lives here. Combining three different fabrics, including Replica thermal, heavy-weight jersey, and circular knit jacquard, this tee offers a unique and eye-catching texture.
Vintage-inspired blind stitch finishing and raw hem detailing at the asymmetrical side hem add a touch of edge and character. This tee is made in Los Angeles, and designed to wash out and age beautifully over time.
268 USD - johnelliot.com
enjoy your day, and your sleeves!