As the breeze begins to fill the air, there's a certain item of clothing that comes to mind: the vintage long-sleeved rugby shirt. These shirts have a timeless charm, with their thick fabric, bold stripes, and distinctive collars.
Whether you're a sportsy dude or just someone who appreciates ivy fashion, these long-sleeved rugby shirts will have you feeling laid back, but not too laid back to enjoy what life throws your way.
How About a little history on the men's rugby shirt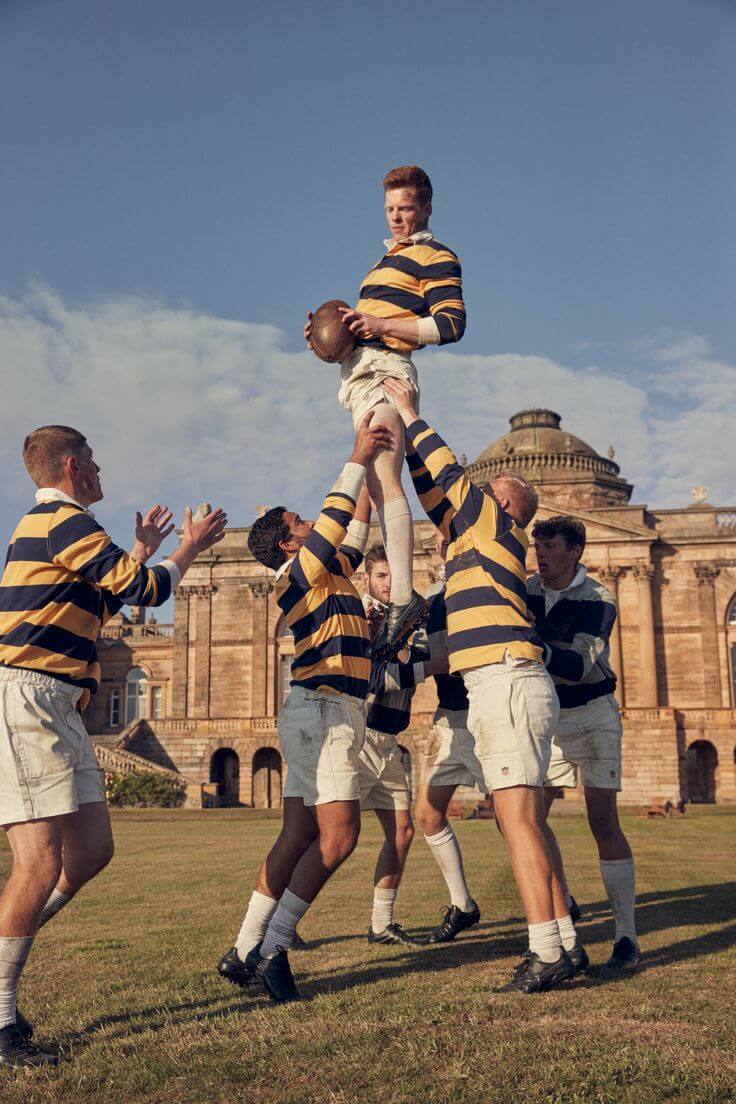 Don't you long for the days when a person could just pick up any kind of ball and do something weird with it, and then a sport just kind of happens as a result?
The history of rugby shirts is a fascinating journey through time and sport. The origins of rugby football can be traced back to the early 19th century in England, where players wore thick, heavy cotton shirts to protect themselves from the rough and tumble of the game. These early shirts were designed for function rather than fashion, with a focus on durability and comfort.
As rugby grew in popularity, so did the demand for better-quality shirts. In the early 1900s, the first striped rugby shirts began to emerge, featuring bold, contrasting colors and thick cotton fabric. These shirts were not only functional but also stylish, with a look that was both rugged and refined.
Over time, rugby shirts evolved to include new materials and designs. In the 1960s, synthetic fabrics such as nylon and polyester were introduced, making the shirts more lightweight and breathable. The iconic white collar, which was originally added to distinguish rugby players from their soccer-playing counterparts, became a defining feature of the rugby shirt.
Today, long-sleeved rugby shirts are a staple of sport and fashion alike, with their distinctive stripes and collars still a hallmark of the game. From the rugby pitch to the city streets, these laid-back shirts have become a staple of casual style.
Ok maybe I don't care about the history, just show me some dope rugby shirts.
Amen. Here are some men's rugby shirts we think are bound to continue the example of undying coolness set by their brethren.
Climber Jersey Long Sleeve Rugby Shirt - Story Mfg.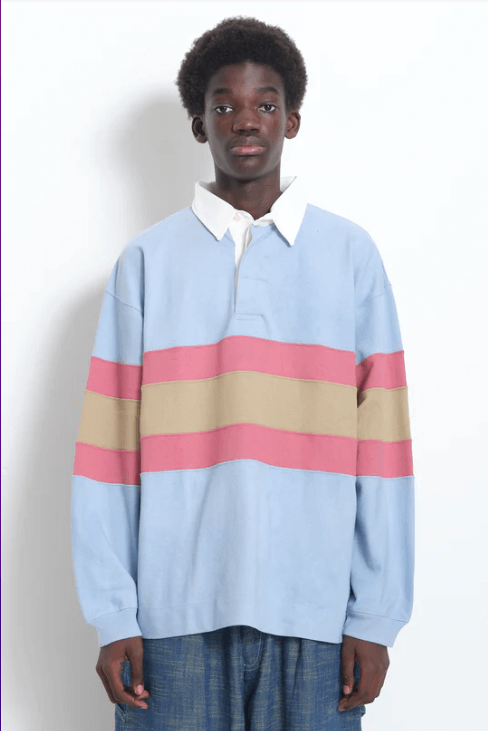 The Climber Jersey is a classic rugby shape with star elbow patches. In the 1970's Patagonia founder Yvon Chouinard discovered rugby shirts were ideal for rock climbing thanks to their tough material and easy-fitting shape. Easy, anti-fit is something we also have an affinity for, and we've reimagined the shape in custom knit fabric, dyed with plants. 100% organic cotton.Polo Ralph Lauren Men's Rugby Shirt.
£270.00
Rag and Bone Long-Sleeved Rugby Shirt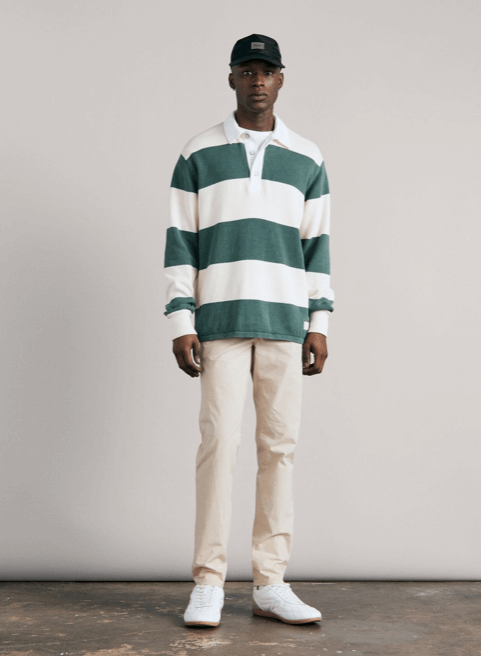 The 'Eton' polo shirt from rag & bone is a tribute to the timeless design of traditional rugby jerseys. Constructed from a soft and comfortable cotton blend, this polo features contrasting stripes that pay homage to the classic sportswear aesthetic.
A canvas placket and collar provide a touch of rugged texture, while the relaxed fit is perfect for casual wear. Undo a few buttons to enhance the effortless, laid-back feel of this versatile polo.
Whether you're heading to the office or out for a night on the town, the 'Eton' polo shirt is a stylish and comfortable choice that will keep you looking sharp and feeling comfortabl
Battenwear Men's Long-Sleeved Rugby Shirt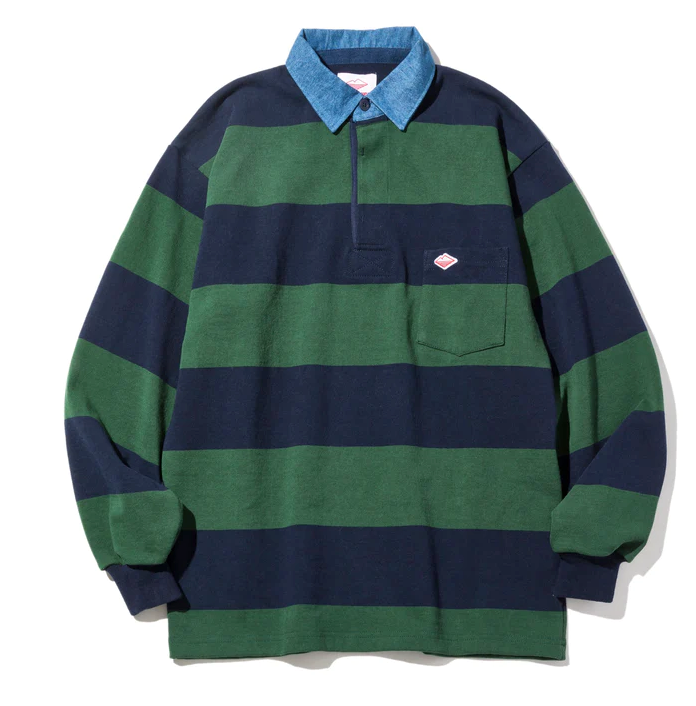 Introducing the Battenwear Rugby Shirt - a perfect blend of rugged outdoor durability and classic sportswear style. Originally established by Patagonia in the 1970s, the rugby shirt has proven to be a versatile and enduring piece of clothing that is as at home on the rugby field as it is on the mountain trail.
Crafted by a team of passionate rugby enthusiasts and outdoorsniks, the Battenwear Rugby Shirt is the result of years of testing and refinement. From the rugby pitch to the great outdoors, this shirt is designed to withstand the toughest conditions while maintaining its classic style.
Featuring a comfortable shape and durable fabric, this rugby shirt is perfect for any adventure. The bold stripes and classic design evoke the timeless style of the sport, while the rugged construction ensures that you'll be ready for anything.
Whether you're climbing a mountain, hiking a trail, or simply enjoying a day out in nature, the Battenwear Rugby Shirt is the perfect choice for any adventure. So why not embrace the rugged elegance of the rugby pitch with a touch of outdoor adventure.
$ 185
Drake's Navy and Ecru Merino Wool Knitted Long-Sleeved Rugby Shirt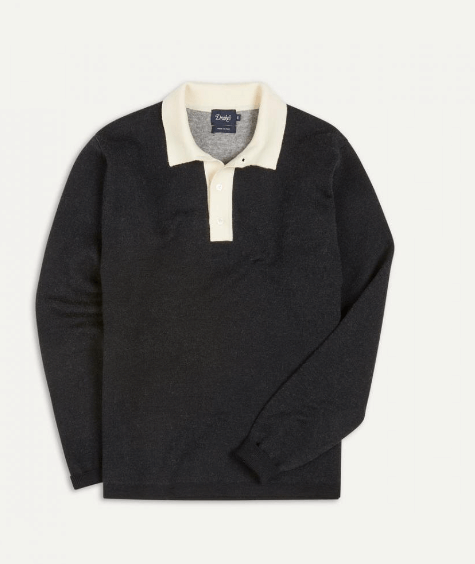 Timeless rugby shirt reimagined with a contemporary twist. Made from pure wool, this vintage-inspired sportswear boasts a substantial feel and a unique tactility that is sure to impress.
Drake's worked closely with expert shirtmakers to create a bespoke pattern that takes cues from our popular 'English Classic' style. By refining the fit and streamlining the design, they achieved a trimmer body and higher armhole, creating a more elegant and refined look that's perfect for pairing with tailoring.
The result is a rugby shirt that is less baggy and more tailored, offering a modern take on a classic design. Whether you're dressing up for a night out or heading out on the field, this rugby shirt is a versatile and stylish addition to any wardrobe.
$495.0
The Elder Statesmen Long Sleeve Rugby Shirt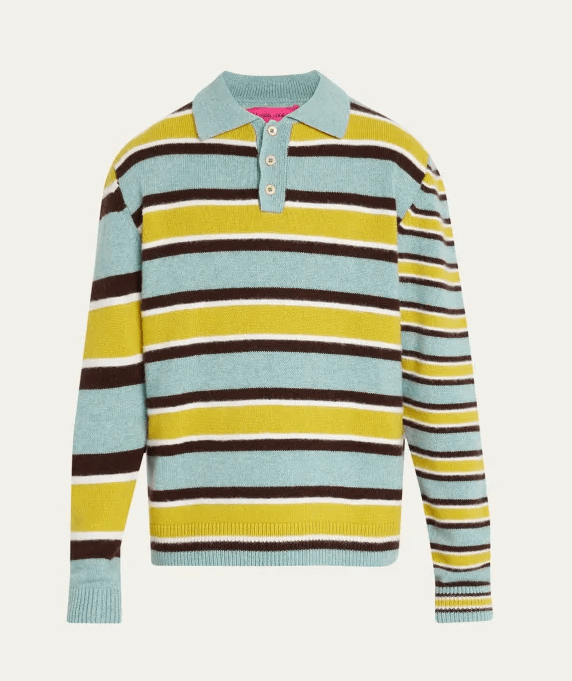 Introducing the Elder Statesman Rugby Sweater - a luxurious twist on a classic design. Crafted in the USA from a blend of the finest cashmere and cotton, this pullover-style sweater is the epitome of comfort and sophistication. With its bold block stripes in eye-catching colors, this rugby shirt is the perfect addition to any wardrobe.
Featuring a spread collar and a three-button placket, this sweater offers a versatile and stylish look. The long sleeves and ribbed cuffs and hem provide a snug fit, ensuring that you stay warm and comfortable on even the coldest days.
Made in the USA from imported materials, this rugby sweater combines the best of American craftsmanship and global style. Whether you're lounging at home or out on the town, the Elder Statesman Rugby Sweater is a versatile and stylish choice that is sure to impress.
$1,595