Madison has the perfect setup for a quick and fun Micro-trip, so consider zipping in for an afternoon (or more) if you find yourself visiting Chicago or Milwaukee and have some extra time on your hands.
Madison houses the University of Wisconsin and the State Capital, and the two coexist nicely, providing a bustling vibrancy that's given this city a reputation as one of the most progressive in the midwest. Centered around the impressively looming Capitol building, the main quadrant of this city on an Isthmus feels cosmopolitan and European in design, offering quick walking access to good shops and great coffee.
I recently took a frigid and delightful microtrip to Madison— here's the best stuff I found.  
Wonderstate Coffee
Wonderstate Coffee has exactly what you want in a coffee shop circa 2022.  Modern and friendly, with plenty of comfy wooden tables for your creative endeavors & and hip merchandise for grabbing souvenirs. (I found myself lingering in the entry, considering all manner of sweatshirts and coffee-making apparatus for my at-home endeavors.) I was eventually lured back into action by the sudden realization that it was approaching 11 am on this freezing Wisconsin winter day. Time for coffee.
With a direct line of sight to the capitol building and, a carafe of organic Peruvian on pour-over, and some downtempo electronica setting the mood, I found myself sitting for longer than expected on finely-crafted wood benches. All the better to admire the charming lo-fi details of the place; the classic amp, large speakers, the Scandinavian-esque interior.
While Wonderstate recently changed its name (from Kickapoo, to show respect for the Native Wisconsin Tribe), its coffee continues to be some of the best you can find in this coffee-friendly state. Highly recommended for getting your Madison caffeine fix.
August - For Menswear in Madison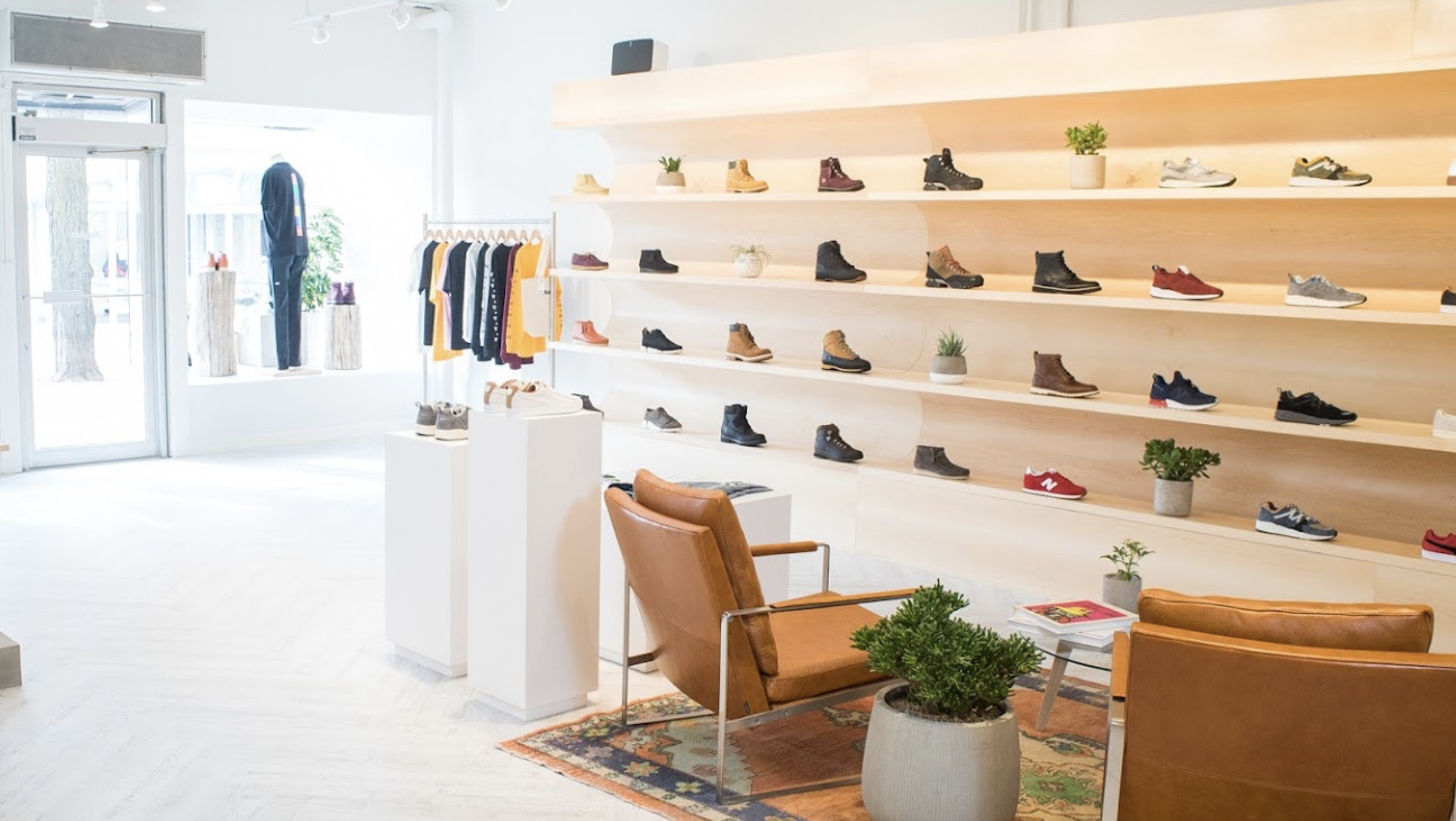 Traditional streetwear isn't my forte, but this shop got me fired up about it. State Street has long been the favorite for students of Madison's University of Wisconsin, and now Badgers looking for the latest and greatest in sneakers drops and gear from exotic locales like New York and Los Angeles have their temple de streetwear— August.
My experience here was a blast, somewhat because I saw some brands here I'd  been sleeping on. I found the shopkeeper to be engaging and not at all pushy— talkative at all the right moments. Friendly service is so hot right now, and so is introducing people to dope gear. Five stars all the way for August in these departments.
It's also worth pointing out that among meteoric streetwear brands like Brain Dead and Pleasures, I discovered some mind-blowing pieces from the tech wear gods at Acronym, as well as some misty pieces from the if-you-know-you-know legend, Sasquatchfabrix. Are you kidding me? Clearly August has the inside track to bringing the best of the best to the Midwest.
Run don't walk to this place as soon as you get to Madison.
A Heartfelt RIP To Madison Menswear Legend, Context Clothing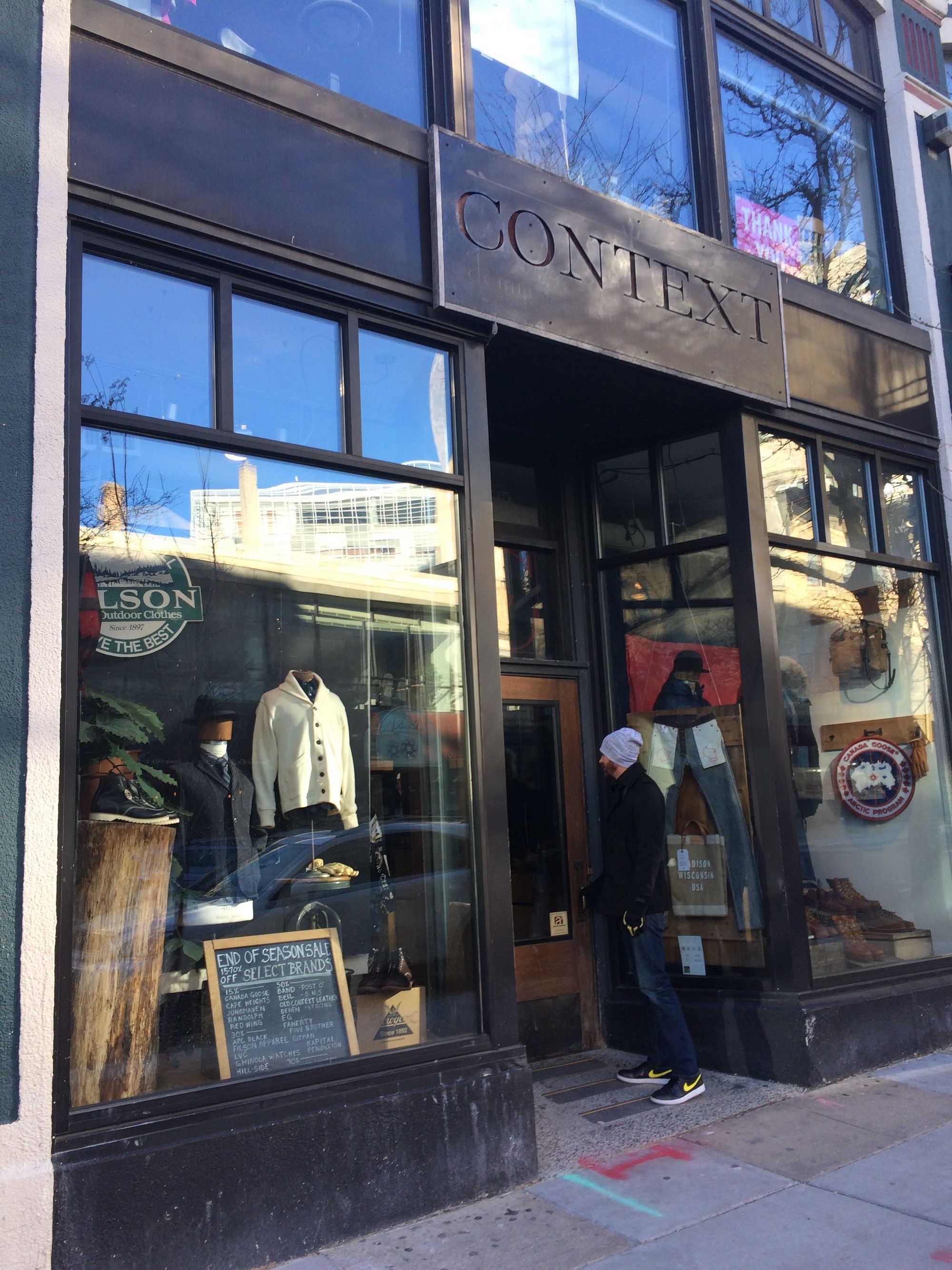 Context Clothing was one of the best menswear shops in the country in its day, but unfortunately, its day has passed. Context was known for stocking great heritage menswear (Railcar, Thoroughgood, and Alden Boots, etc.), but it also brought some of our favorite Japanese brands to the Midwest, beamed all over via its website. For many, Context was the mechanism of introduction to Kapital, Engineered Garments, and Monitaly.  If you were into fine denim, this was one of the best places to get it.
Context also had some of the sickest collaborations going, including their low-key-legendary work producing limited leather jackets and boots with Schott and Alden, respectively.  
Intel tells us that Context's owners have transitioned into the restaurant business. While we lament the loss and selfishly would have liked to have a browse in the shop one last time, we wish them well in their endeavors. Thanks for the memories, Context.
More Good Stuff In Madison, Wisconsin
There's always more to find and experience. Here are some other places you might check out in Madison, Wisconsin.
Hive of Madison
You can find some outdoorsy-type stuff to stay geared up for the long winter here.
Colectivo Coffee
A perennial favorite, Colectivo also has a location across from the Capital, making it the logical alternative to Wonderstate if you are in Madison's main square.
The Coopers Tavern
Great poutine and drinks here if you want to grab some good grub.
Peace, love, enjoy your travel!