Telling somebody I'm from Maine is always a trip. People seem to see it as an exotic locale, which I guess it is in some sense, even while I consider it the most down-to-earth place on the planet.
Even more exotic is explaining to people that I've never liked lobster— unbelievable to most. So, no lobster in this here guide. No, really I promise 🤞🏻. To me, lobster sucks, even though it provides good and steady employment to a few of my favorite people.
It's All About The Italians
Rather, let's talk about the salt of the earth. Let's talk about SANDWICHES. Here are a couple of not-really secret spots, in the greatest of states, where you can get a sandwich to remember. Take yon delicousness to the nearest coastline. Carress it. Snuggle it. Sniff it. Eat it on a rock, or find yourself a city park and pull up to a picnic table. Pop open a cold soda, unrap that thing, spread out, and enjoy. That's how the Maniacs do it. Well, not the snuggling and sniffing part, but you go ahead and do you.
The Best Sandwiches in Maine
The Coffee Pot & The Legacy - Bangor, Maine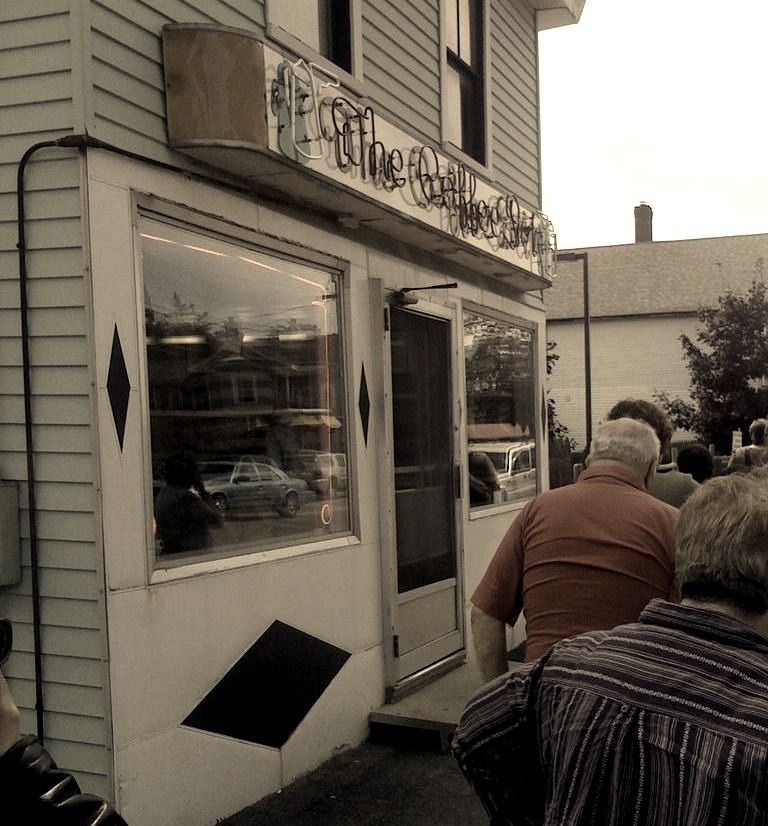 THE COFFEE POT was absolutely legendary in Eastern Maine during its heyday, which lasted 80 FRIGGING YEARS! And although its heyday passed when the original owner, Skip Rist, did a a mic-drop closing on the business, the "secret recipe" of the Coffee Pot sandwich was reanimated by some ex-collaborators in the form of two competing sandwich joints that both offer what is essentially the same sandwich, the original Coffee Pot.
If you come through Bangor on your way to Acadia, Moosehead Lake, or to hike Kathadin, do yourself a favor and grab a Super Deluxe from the Coffee Pot (or the Legacy, which operates at the original location and is the one my old man still swears by). Be warned: extra pickles means you get, like, a hundred sliced pickles. So legit.
The Coffee Pot: 652 Broadway, Bangor, ME 04401
The Legacy: 163 State St, Bangor, ME 04401
My Favorite: Turkey with Mayo, extra pickles. OR Super Deluxe, extra red.
Wallace's Market has a Wicked Italian - Friendship, Maine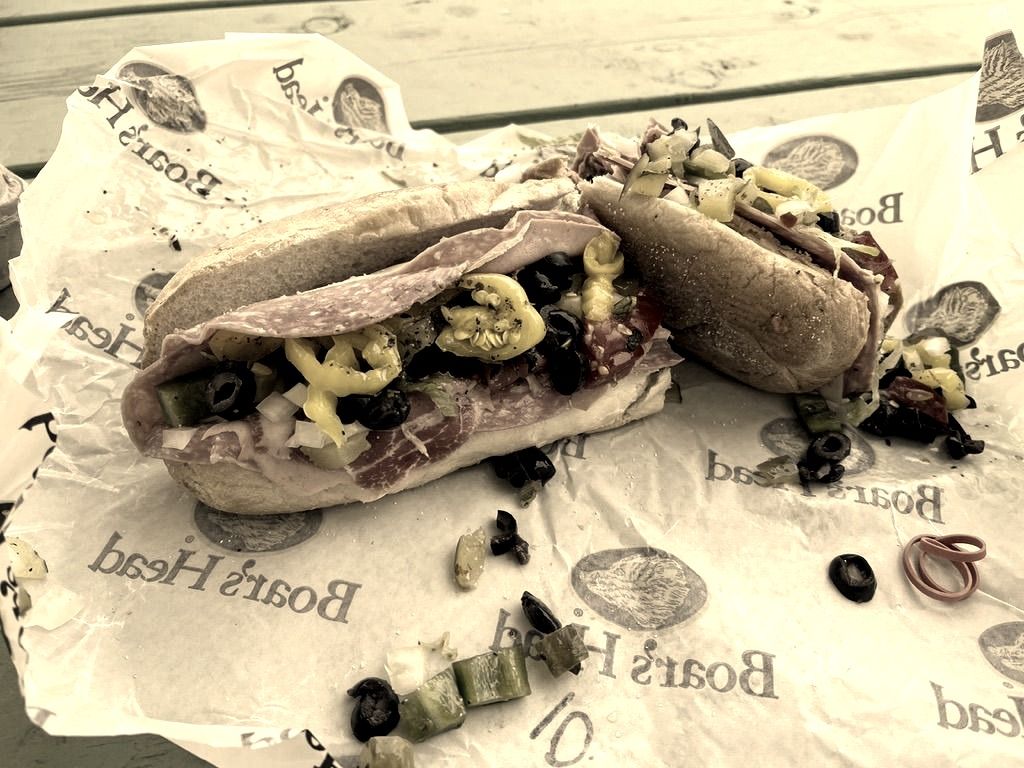 Nestled in a friendly little town called Friendship, in kinda-the-middle of nowhere, this is prime example of Maine's famed "general stores", which often act as de facto community hubs. Wallace's offers my current favorite sandwich in the whole of Maine, representing the long, upstanding tradition of Italian sandwiches that are a must in the summertime.
If you are in Rockland or Thomaston doing the coastal thing, act like a local and divert yourself for the super legit Maine sandwich experience.
Wallaces - 11 Harbor Rd, Friendship, ME 04547
My favorite: The Boston Italian
Mountain Bikers and Skiers Delight. D'Ellies - Sugarloaf, Maine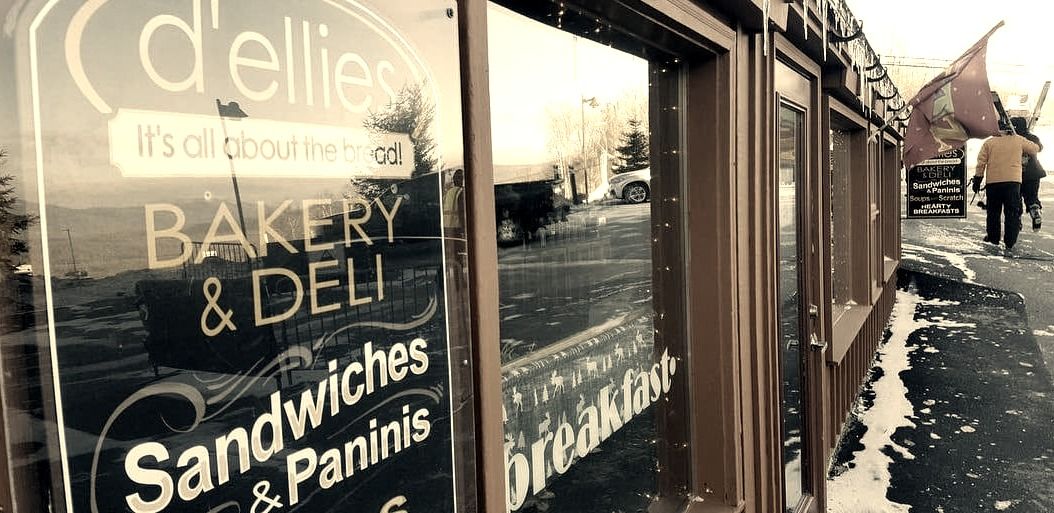 Sugarloaf Mountain is a Mainer's must in both winter and summer, and D'Ellies is where you can get the best on-mountain sandwich I've ever had. The secret is the fresh bread and the cozy, hole-in-the-wall vibe that just makes you feel good.
D'Ellies is the perfect antidote to all the dumb on-mountain cuisine you've had in the past, and eating a D'Ellies sandwich will cleanse your soul of all those bad bread bowls and greasy burgers you had at other, non-Mainey ski resorts.
D'Ellies - Village West, 9000 Main St #5, Carrabassett Valley, ME 04947
My favorite: Pastrami on Rye
Welcome To Maine. Go Straight for the Pizza and Coffee at Anthony's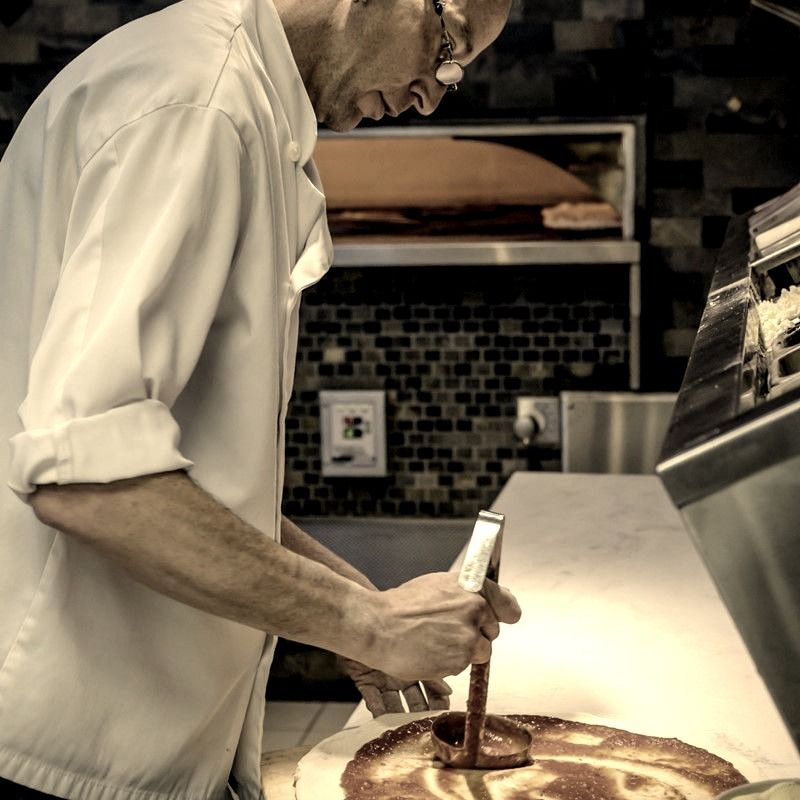 Ok this comes with an asterisk cause it ain't really about the sandwiches. But all you Massholes have no excuse not to stop by Anthony's for some of the best pizza going, cause it's right off the highway out of New Hampshire, before you even hit the tolls coming into Southern Maine. Yes, Anthony's looks like a gas station, cause it is, but don't be shy.
I would rave about the sandwiches I'm sure, but I need to keep it real here. I lived in York Harbor for a stretch and once I had slices from this place, I didn't even branch out to the Italians— I just kept getting pizza every time.
That pizza— it bakes in a custom oven that spits out pure magic and will change your opinion of "gas station pies" forever. Anthony's also roasts their own coffee on the spot, shout out to Eric, so grab yourself a bitchin' cold brew here to go with your exceptional slice.
Anthony's Food Shop 679 US-1 York, ME 03909
My favorite: um, pizza.
I lied. The Palace Grill has the best Sandwich in Maine and maybe in the universe.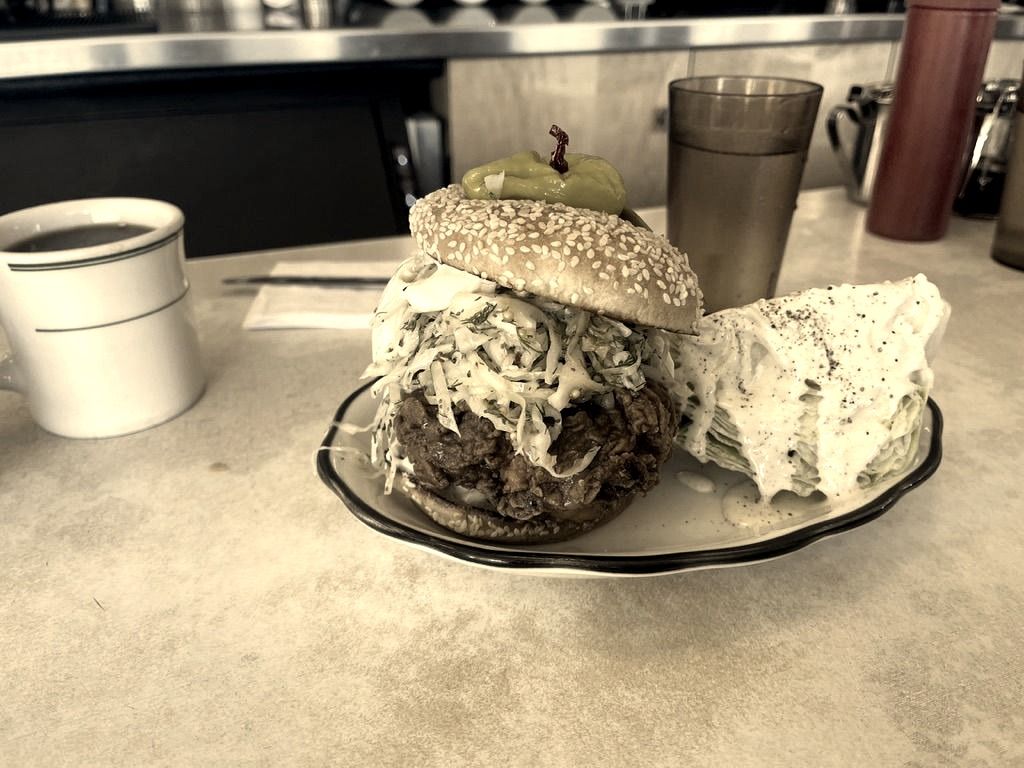 I almost forgot about the best sandwich in the history of the Universe, which is made at The Palace in Biddeford, Maine. Biddeford is the hip step-cousin to Portland, and even though the secret has been out on The Palace for a long time, Biddeford/Saco is up-and-coming gem to visit for great breweries, decent shopping, and one of my favorite coffee shops.
But let's talk about the star— the fried Chicken. In a true testament to the power of scarcity, I've rolled up to the palace at 10:30 a.m. just to make sure I get one for lunch, because they cap the amount of chicken they serve, and once it's gone, it be gone for the day. Also, the seating is limited, as the entire eatery is limited to a single railcar.
If you don't get a chicken, you can maybe nab a tuna melt, which is also delicious. But it's not the most delicious sandwich in the Universe. Look at that slaw. Look at that lettuce. Look at that CHICKEN.
The Palace- 18 Franklin St, Biddeford, ME 04005
Oh Dammit Ok, I Know You Want a Lobster Roll so here you go.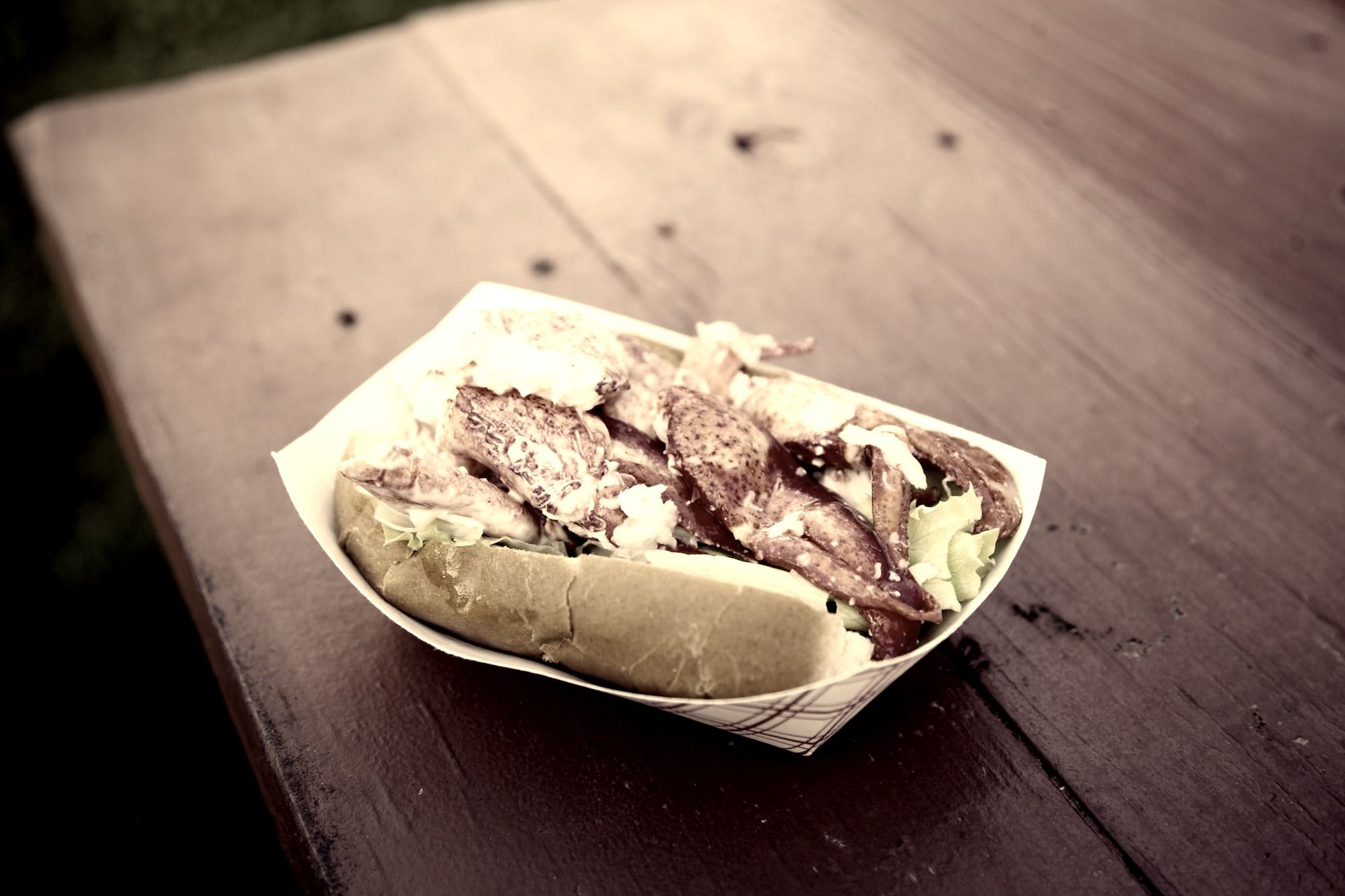 Ok, ok. I can feel you vibing me to tell you about lobster rolls. Honestly, as far as I can gather from all the damn times I've watched people ingest it, anybody who serves lobster rolls in Maine serves good lobster rolls. (Just in case you don't know, a lobster roll is a bunch of lobster meat on a perfectly-buttered hot dog roll.)
But I'm going out on limb here to recommend Cousins Maine Lobster and my old buddy Chippah Beals aka Sabin Lomac, co-founder of Cousin's who is bringing delicious lobster to all of you seafood-eating heathens, whether you be in Maine, LA, or Texas. For the Maine experience, get it at the Portland Head Light.
Sandwiches, Pizza, Lobster, whateva. Enjoy! I dub thee honorary MANIAC.